Imagine this, it's cold outside and you're sitting on your patio with a blanket. Your pup is happily running around in his plaid sweater and your heart just melts at the sight. Then you look down and notice that you're in plaid too!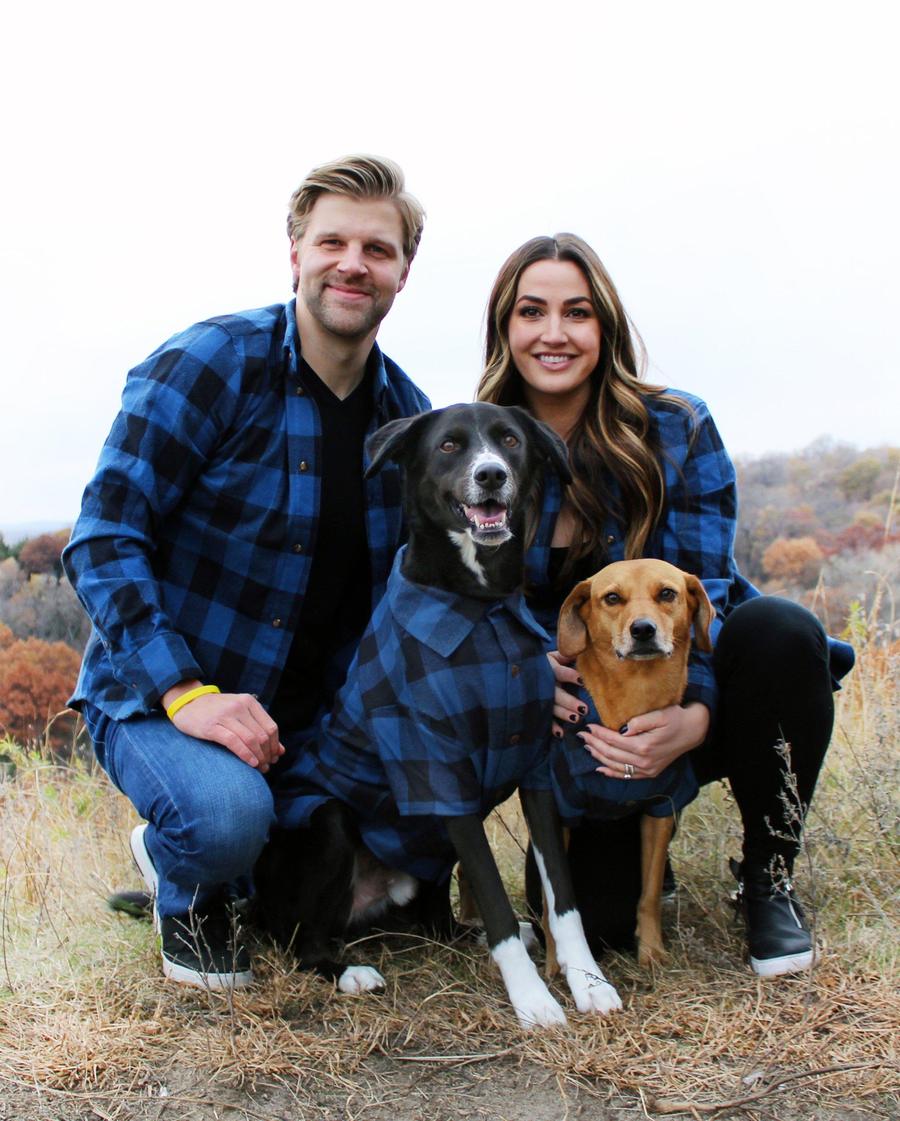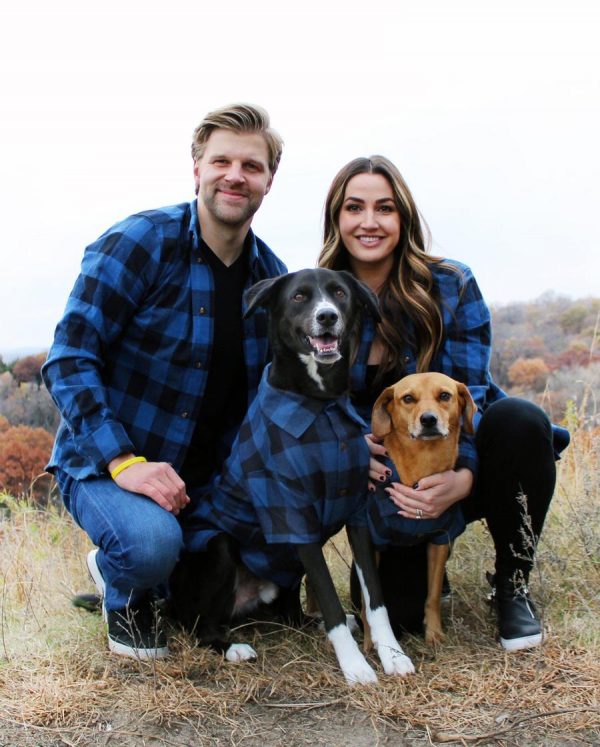 Beside this precious moment, we do know that wearing matching outfits with furry companions is not for everybody. But, it can be an adorable and fun thing to do from time to time! It can also be a lovely way to show the love for your dog which you see as a family member not just a pet.
Also, dressing a dog may come with several benefits which can be practical or aesthetic. Clothes can keep their body warm and dry in winter, and clean during a day off running and playing carelessly. Also, they may be quite helpful for dogs suffering from anxiety caused by, just an example, thunder. In fact, it is possible to find sweaters made just for relaxing dogs. Last but not least, cuteness.
Let's take a look at some fun ideas for matching outfits that dogs and their humans can wear together. We also can't state it enough that these outfits will provide you with amazing memories of your dog and great photos. It's also a fun idea for kids!
1: Make it Funny
An irresistible itch for naming your furry companion after a character you adore. Like Neo, from "The Matrix" or Dwight from "The Office." Imagine having a movie marathon or a binge watching session with your dog, while both of you are wearing a tie, or matching black attire. It may seem silly, but it's great for photos and future laughs. It will be a memory you'll be happy you captured!
You can also go big at parties with matching outfits, or just for the heck of it! If you are a dog lover and want to express your love for your four legged friend when you are not togther, a dog themed t-shirt such as on Chummy Tees is a great option. Sometimes, it's just nice to have fun with your dog, even if it means looking a little silly.
2: Sports Outfits
If you're going to a big game, enjoying a tailgate session, or just watching from home, a jersey for your dog can really help cheer on your favorite team.
Or if you're a sport enthusiast yourself, you can have your dog become your team's mascot, or your personal one. Get them a team jersey, a toy shaped like the sport or exercise of your choice, and have fun with it.
Both dogs and humans need exercise to maintain a healthy life. When you go out to exercise with your furry friend, it is a perfect moment to pose with your matching sports T-shirts or jerseys of your team.
ACL Braces
Sometimes a matching outfit can be both cute and practical. Some dogs are prone to knee issues and can tear their cranial cruciate ligament (CCL). It's a lot like tearing your own ACL: it causes pain, limits movement, and can be expensive to fix with surgery.
If your pup has had a CCL injury in the past, or if you're worried that they may hurt themselves when they're out on the court with you, then a leg brace may help!
3: Pajamas
Even if you don't want to go out dressed like your dog, this does not mean that they can't spend time at their own home dressed like their dog.
There are so many options out there online that you may not resist. Doggy pajamas that match your own are great for a night in. This time, you will hang out as pajama buddies. There will be a picture of you giving a night-night kiss to the kiddo before going to bed. It can happen. You'll see.
These are especially great for smaller, or short-hair dogs that get cold at night. This way, you can rest easy knowing your dog is both cute and comfortable!
4: Custom Socks
Another idea for strengthening your bond is custom socks. On a bright color, your furry friend's cute little face will look fantastic. If you did not see one before, you can look at the examples out there and see how fun it is. While some people prefer an elaborated photo of their dog, some others go with the silly faces.
For your dog, skip the socks so you can get them matching boots to keep their paws dry in the winter or rain! Most dogs won't need boots to stay warm, so they're strictly a fashion choice or a necessity for your house's floors.
5: Halloween Costumes are Better with Dogs
The spookiest night of the year will have a remarkable highlight when you show up as Woody and Buzz or Sherlock Holmes and Dr. Watson. You'll definitely win any costume contest and will have the most fun out of anyone there — or, at least your dog will love the attention!
You don't have to go over the top with it either. A hat, wings, or shirt of your dog is all you need.
6: It's Even Cuter with Children!
You may want to try to match the outfits of your furry friend and children. You know, dogs can be very sensitive about babies and kids and they love to show love! To highlight their precious bond, matching outfits can result in heart melting moments. If you don't have an idea what they can look like, you should definitely look for some examples, like princess costumes, matching capes for superhero phases, or wings, manes, bows, baretts, and hats to match all of your kids favorite things.
If you're having trouble coming up with ideas, old t-shirts and clothes are great for your dog. They're also easy to customize with markers, tie-dye, and scissors. It can be a fun activity for you and your kids to do together. After all, not everything needs to be planned. Sometimes, just a fun outing to the park with everyone in handmade tie-dye shirts is all you need to bring some joy to your day.
We hope this helped spark your imagination and added a bit of fun to your day. We hope you and your dog enjoyed it!