If 2020 didn't seem like the right time to get engaged to the person you love, hopefully 2021 will be your year. Perhaps you've already been looking at engagement rings and picking out designs you like, but while yellow gold bands, stacked rings and a shift towards sustainability were popular in 2020, the top engagement ring trends for 2021 will look a little different. Here are five things you can expect to see a lot more of next year.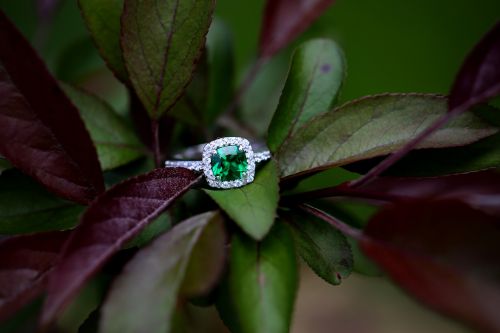 1.    Halo rings
A halo ring bears a central stone surrounded by a circle of gems, making the featured jewel appear bigger than it actually is. A classic design that never goes out of style, it's also incredibly versatile, allowing you to add as many diamonds as you wish and experiment with multiple halos, patterns and different metals. However, the 2021 engagement trend is set to incorporate even more unusual shapes like hexagons and octagons.
It's a great choice for brides who want something beautiful without being too 'bridal'. And if you can't find the exact design you'd like straight off the shelf, you might consider having a bespoke engagement ring made. As London-based jeweler Taylor & Hart notes, "the joy of designing your own engagement ring is that you can create almost whatever you want by merging your favorite elements."
2.    Gemstone color variations
Consider incorporating more colour into the engagement ring by including birthstones and precious gems such as sapphires, rubies and emeralds instead of traditional white diamonds. Blue and green stones are particularly popular, with teal sapphire providing a gorgeous blend of both and an eye-catching pop of color. While these are more brightly toned alternatives to diamonds, you could opt for a softer pastel colored gemstone too.
3.    Pearl engagement rings
One of nature's most vulnerable gemstones, pearls are becoming a popular trend for engagement rings — even actress Emma Stone picked a radiant pearl for her own one. This iridescent treasure is chic with an eye-catching shimmer that many brides-to-be adore. Anis Boudraa, chief operating officer of Japanese fine jewelry brand Kataoka who made Stone's delicate ring, says that pearls are appealing because they're "immaculately timeless and divinely pure, symbolizing beauty, integrity and abundance."
They can be found in a variety of colours, including white, champagne, black and lavender, and you can have either a classic round pearl or an uneven-shaped one. And if you're seeking an ethical engagement ring, pearls are a much better choice than traditional diamonds as they do not require environmentally damaging mining practices to be extracted.
4.    Gallery detailing
The gallery of a ring is the part that is visible from the side, where the centre stone is mounted. Gallery detailing is expected to be a big trend for engagement rings in 2021. A subtle yet lovely way of adding personality, detailing puts focus on the ring's side profile to offer an elegant upgrade to classic designs. Jewelers can include gallery elements such as hidden stones, shapes created using ring claws, or little details like an intricate love heart or infinity symbol. Details like these are perfect for incorporating something secret and special into your engagement ring.
5.    Split shank bands
Split shank bands are a very distinctive style where the band parts as it reaches the stone, providing it with a beautiful frame. This design has become more popular thanks to Beyoncé's solitaire engagement ring, which used a platinum split shank setting. These bands often consist of either two, three or four strands that are separated or interwoven. The most common design has shanks which unite at the bottom of the ring, underneath your finger, while others maintain the split the whole way round. This engagement ring has many variations, and can be as fancy or as simple as you'd, like with styles including multi-row, plain, twisting, pavé and halo split shank bands.