Oatmeal has been widely used in homemade remedies and beauty products, and let's admit it you all love oatmeal. You will want to check out these recipe for sure and make some on your own really soon. Scroll down and see Homemade Oatmeal Remedies That You Are Going To Love and recreate the one you like the most!
Homemade Honey Oatmeal Face Scrub
To make this wonderful face scrub you will need oatmeal, honey and sweet almond oil. Put the oatmeal in a blender until you get a fine and smooth texture and then add the rest of the ingredients. Stir well and transfer the mixture in a glass jar. Apply it on your skin and scrub in circular motion.

Almond Oatmeal Goat's Milk Soap
The ingredients that you will need for this soap are oats, honey, vitamin E capsules, sweet almond fragrance and goat's milk soap base. Melt the soap base on a double boiler or in the microwave and then add the oats. Stir them well and then add the rest of the ingredients. Mix them all together and add them in your soap molds. As simple as that!

Soothing Oatmeal Clay Mask
This mask will do wonder to your skin and I highly recommend that you try it as soon as you can. The ingredients necessary to make it are oatmeal, lavender essential oil, clay and organic chamomile bag. All you have to do is to insert all of the ingredients mentioned above in a food processor and blend them until you get them in a powdered form. Then insert them in a jar, add enough water to get a paste consistency and you are done! Apply it on your skin for 20 minutes and rinse it with cool water.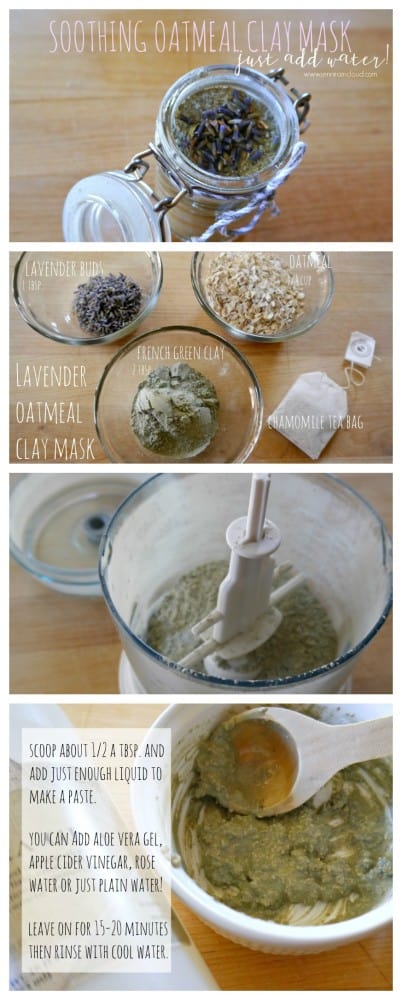 DIY Oatmeal Shower Bags
Do you love to take shower bags into the shower with you? If yes, it's time to make some on your own. Oatmeal is perfect for all types of skin and has a lot of benefits that you will notice from the first use. Buy some shower bags from the store or make your own ones and then fill them with the oatmeal mix. To make the mix you will have to put some oatmeal, grated soap and a few drops of your favorite essential oil in a bowl and stir them well. Then just transfer the mixture in the bags and enjoy your bath time!