It officially winters out there. The weather is becoming colder and colder. With the colder weather comes the season of richer and deeper colors. Which are the most popular shades for the season? Burgundy is definitely on the top of the list of most popular winter colors to incorporate into your wardrobe. The classic browns, oranges, and olive greens are also the colors that we will be seeing all around us this winter. Year after year, the dark red shade is popping up on the runways and on the street style magazines. If you want to keep it fashionable this winter, stay with All for Fashion Design to learn how to style the most stylish burgundy outfits.
The color itself is a color that can blend with almost any color, from neutral tones to shades of bright blue. This so versatile hue has gained the love of many modern women. We can see them wearing it in everything from monochromatic suits to burgundy-colored accessories. In the article below learn how to style the most eye-catching burgundy outfits ever. Insert this amazing hue into your closet and color your world in the most romantic shade of dark red.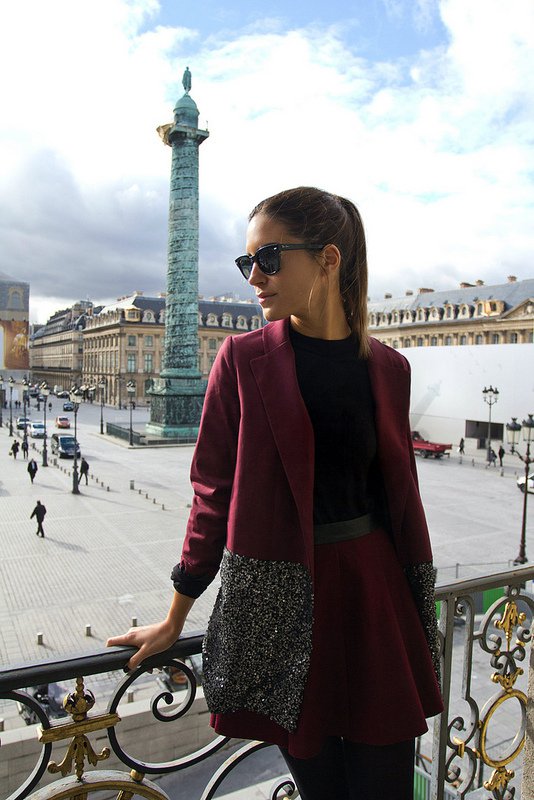 source
Mix burgundy with bright shades
This winter we recommend you to go bolder if you want to be noticed. Mix burgundy with bright colors such as light blue if you want to style some eye-catching outfits. These two daring shades will make a surprisingly good combination that will turn heads wherever you appear. Olive green and bright red are also two hues that could make a perfect mix with burgundy outfits. Experiment with all these shades until you find your most favorite one.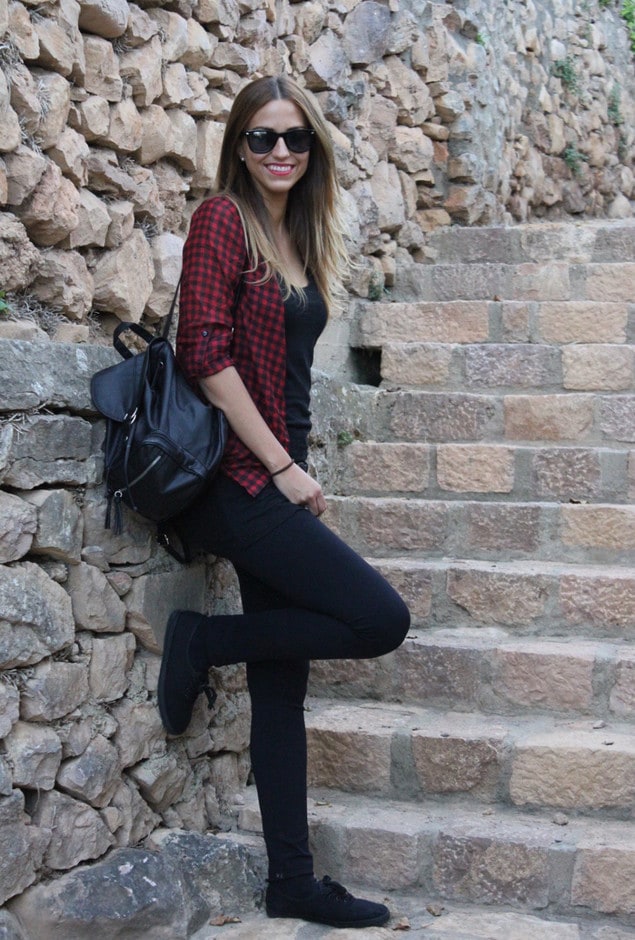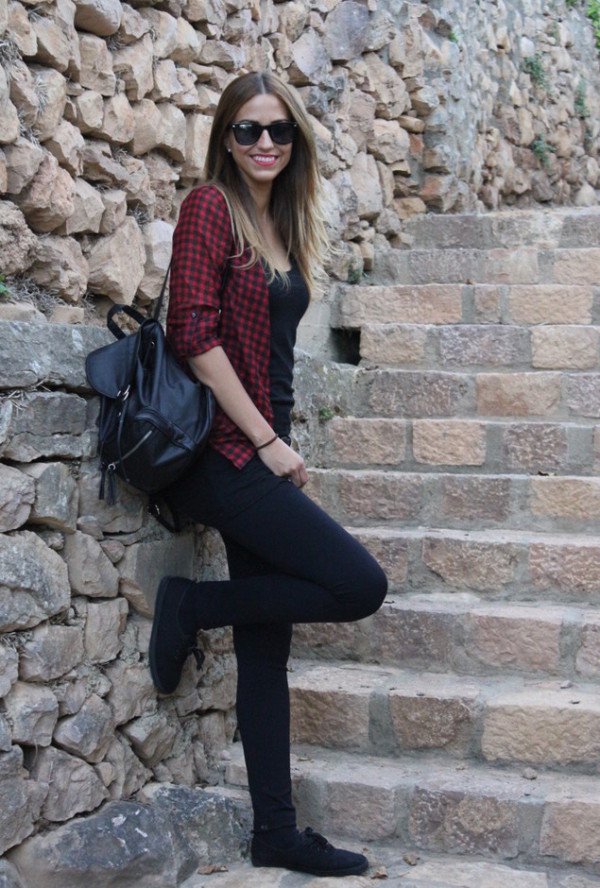 source
Play with different patterns
One of the funniest ways to wear burgundy this winter is in patterned form. Patterns and prints are very popular nowadays. If you want to experiment with different patterns, you can wear the burgundy shade in floral print, stripes, plaid, or animal prints. This way you will add an interesting and at the same time elegant touch you any outfit you style. Wear some floral burgundy dress or try a plaid burgundy shirt. Wear the patterned piece with other basic pieces to make it the accent piece in your outfit.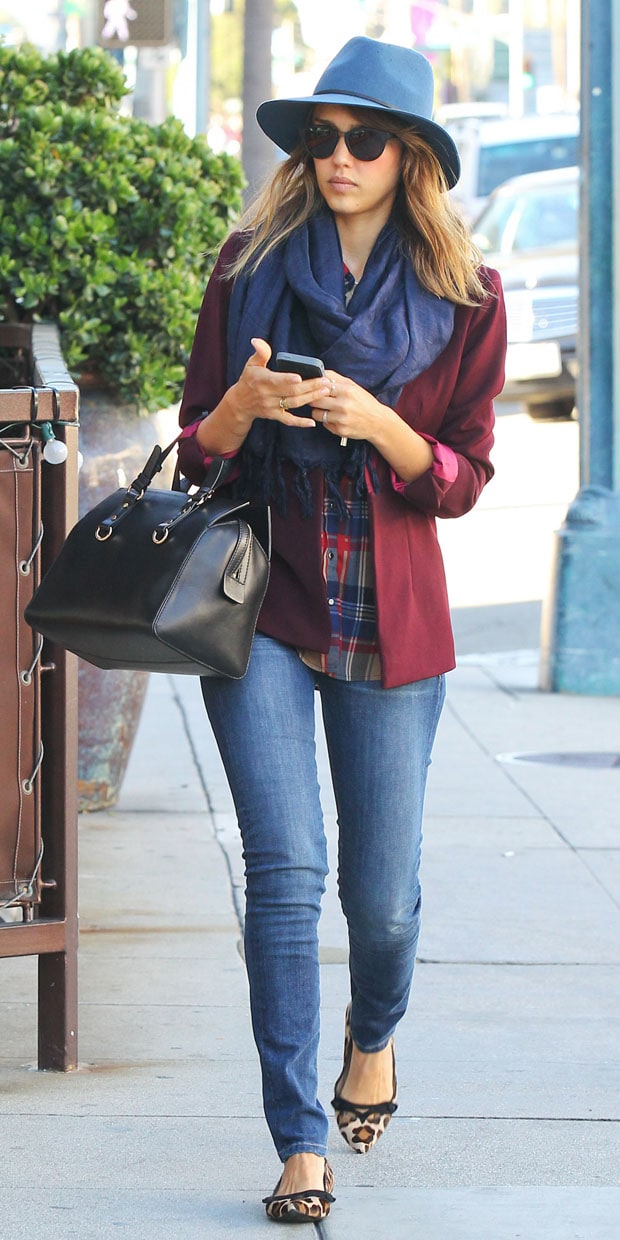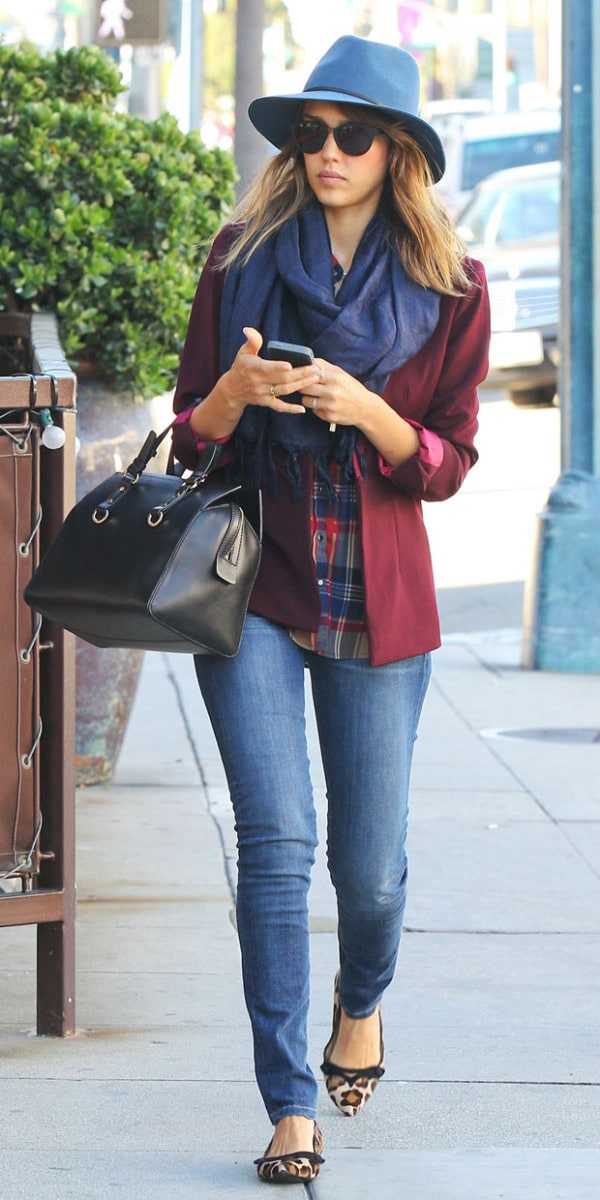 source
The burgundy leather pants
Leather pants are definitely the biggest hit for this winter. If you want to keep it over stylish swap out the basic black leather pants and instead choose some deep red colored ones. This is a perfect way to add an instant pop to your look. When stylish such burgundy outfits, we recommend you to keep the rest of the outfit simple. Keep the balance by choosing a plain white top. Add a blazer over the white top to style some office-approved burgundy outfits.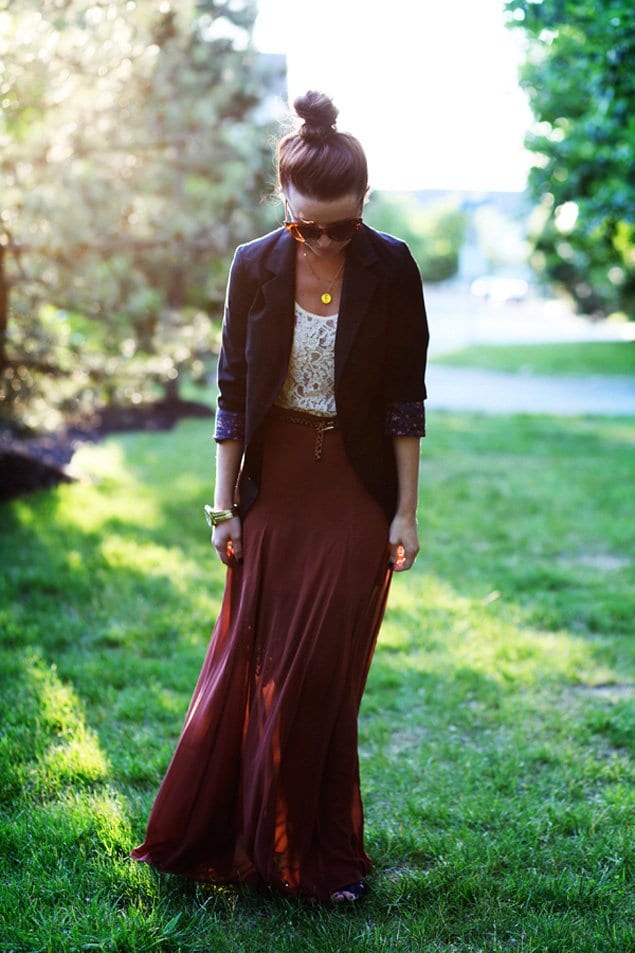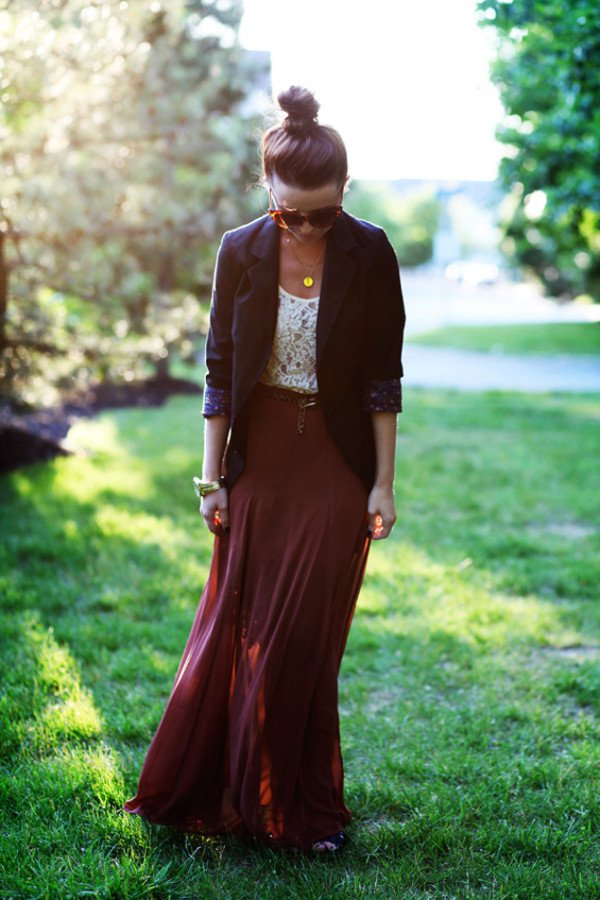 source
Rethink your LBD
Winter is the perfect season to style your favorite LBD. But, this winter makes an exception and replace your little black dress with a little burgundy dress instead. This easy switch will help you embrace the most popular color for the season. Style it for fashionable nights out. the color is so versatile, so you can easily pair it with black boots or neutral heels, according to the occasion.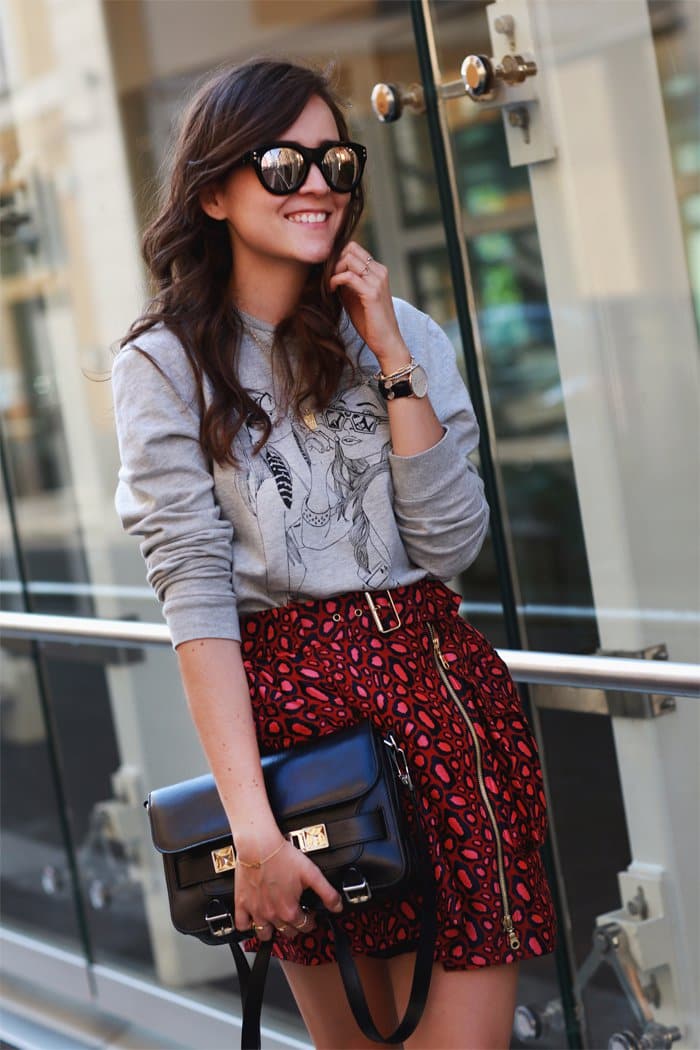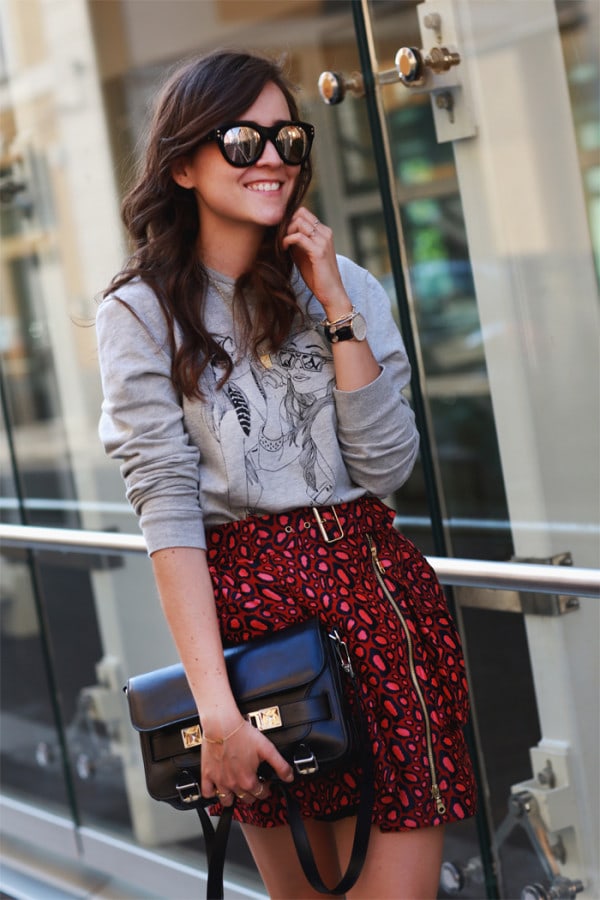 source
Stock up on burgundy basics
Winter is sweaters' season. Sweaters are among the biggest winter essentials. This winter keeps your look stylish and fashionable by investing in some burgundy sweaters. Stock your wardrobe with some stylish burgundy basics. Use them as the perfect laying piece for stylish some comfy and warm winter burgundy outfits.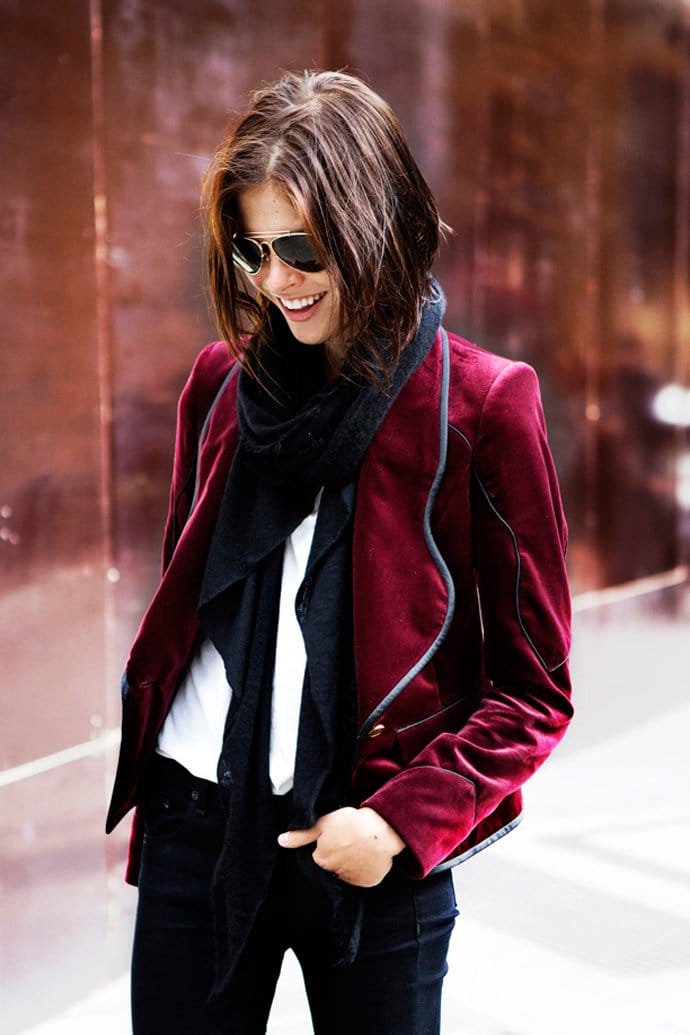 source
Put on a burgundy jacket
Cold weather is a perfect chance to wear your most favorite burgundy jacket. In order to keep it stylish and warm at the same time, skip the basic black and have fun with some burgundy outfits instead. A burgundy jacket could be a perfect replacement for the classic black leather jacket. This piece is definitely slightly unexpected charming, and at the same time is a perfect way to test put the color you have been waiting to wear the whole year. Slip this layer over your outfit and go.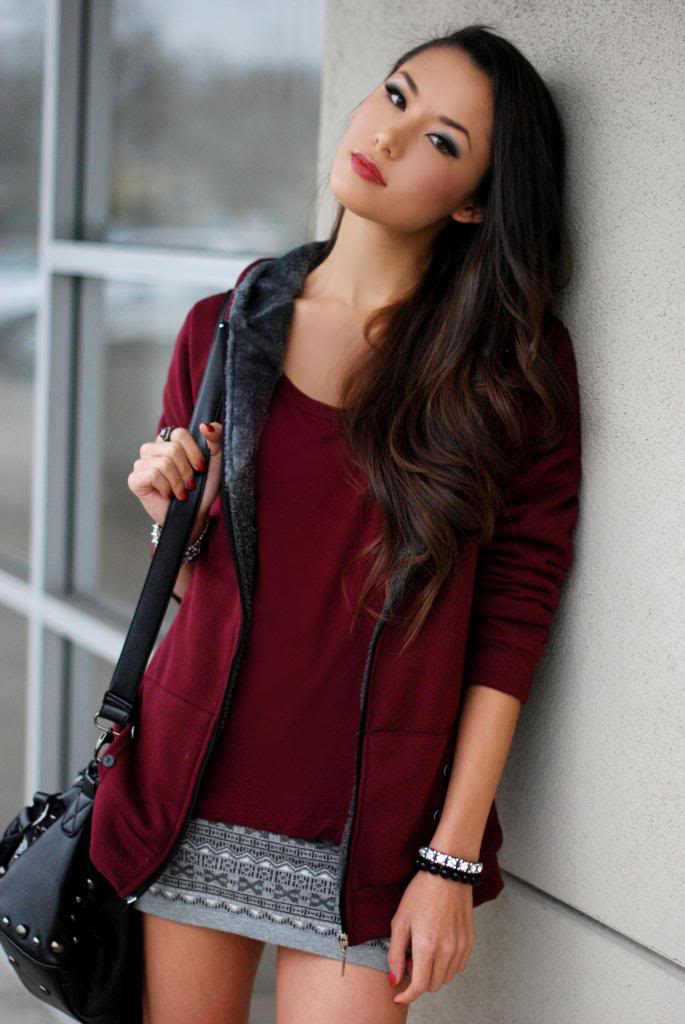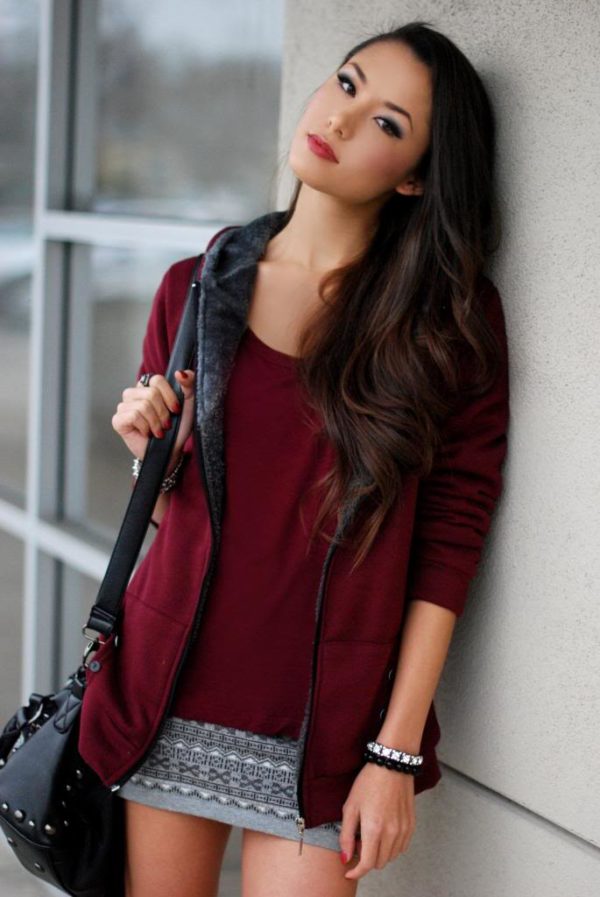 source
Add a burgundy accessory
One of the best ways to add a pop of color to your outfits is by accessories. They are a perfect way to stay on-trend without revamping your entire wardrobe. You can choose a purse, a pair of shoes, or some jewelry pieces in burgundy if you want to add a dose of color to your outfits. Burgundy accessories are perfectly fitting neutral outfits as well as all-black outfits.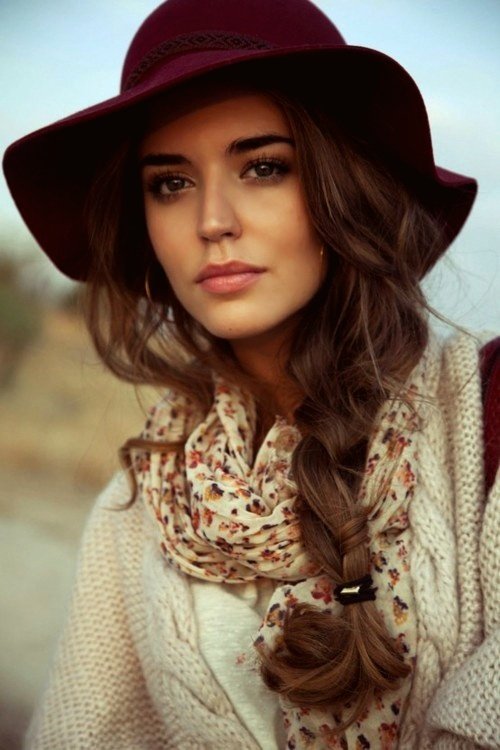 source
Try a burgundy jumpsuit
If you want an outfit that is definitely a winning combination then you must try on the burgundy jumpsuit. Layer it over a turtleneck or a sweater to add warmth to the look. Combine it with some leather black booties. For some elegant burgundy outfits, you can wear them with heels too.