Most women really hate ironing. The rest do it pleasantly. But, there are some of them doing it, but doing it wrong. Yes, there is a wrong ironing way. There are so many mistakes to make during ironing your clothes. Sometimes you use the wrong temperature for the clothes fabric. Other times, you adopt the wrong technique because you don't know any different one. All this can damage your clothes. Once when that happens, you will need to try some cleaning hacks to keep your clothes away from damaging. In order to avoid ironing mistakes (as one of the biggest clothes damages), let us help you with some handy ironing tips every woman should know. Read them below and get ironing like a pro. Your clothes will be thankful to you.
Make use of the entire ironing board
Always make sure you are using the entire ironing board. There is no point in faffing around with clothes handing over the sides of the iron. So, when ironing, try to place long items landscape on the board.
Also, use the thinner end of the ironing board for getting to creases near armholes. Place the clothes over the end, carefully ironing without stretching the fabric. Then, iron into the stretched-out crevices.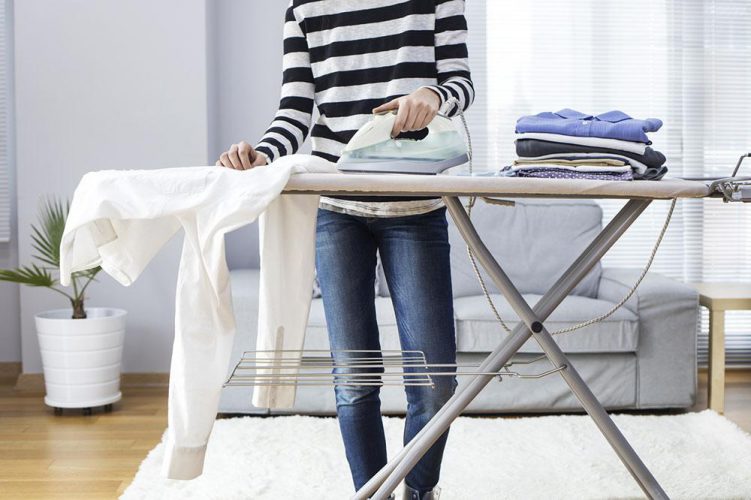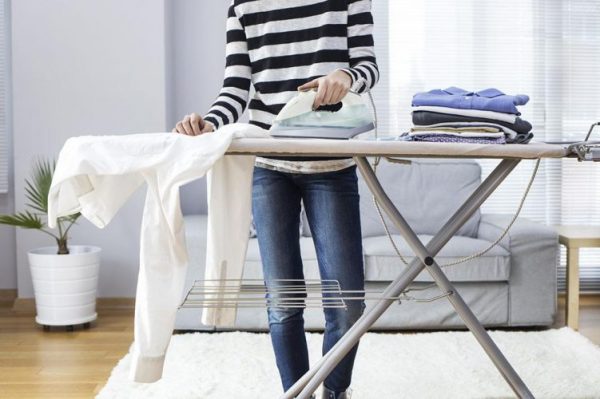 source
Remove iron scorch marks with vinegar
No matter how much you care while ironing, there is always some chance to make a little error while doing it. Well, good news! T is not the end of the world as you may think. You can always quickly fix the ironing scorch stains using white vinegar. Dip a clean cloth in white vinegar and wipe over the stain with it.  Make sure to wipe with a clean part of the cloth so that you avoid spreading the stain even more. Finally, wipe with clean cold water.
Use the correct ironing technique
For those wondering if there is a correct ironing technique, here is the answer. Yes, there is. The best way to iron your clothes is in long, straight strokes. Avoid wiggling the iron around too much, in order to avoid further stretching of the fabric. This kind of new creases you create with the iron are even tougher to remove.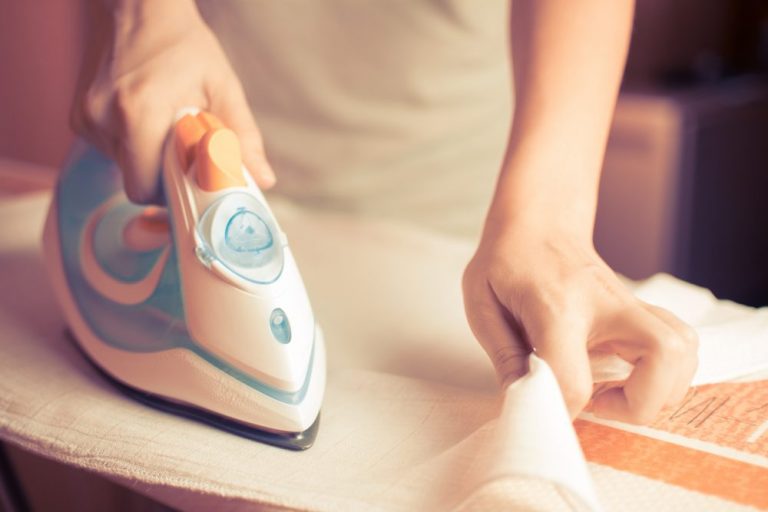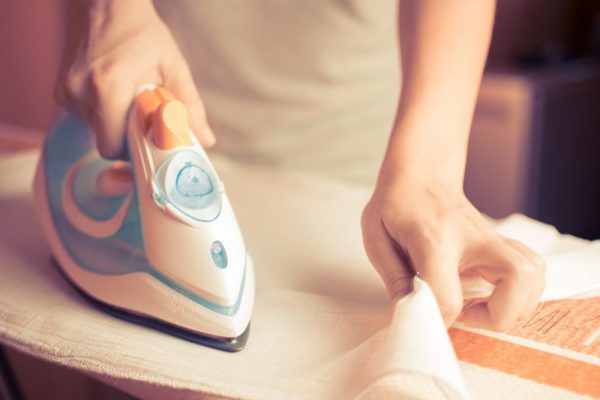 source
Boil the ironing water
Here is one of the most important ironing tips from all. The more you care for your iron, the more it will last you! One way to properly care for it is to always boil the iron water. This is especially a must if the water that you are using is a hard-water. Why is boiled water a must? Because if you use hard water, you run the risk of blocking up your iron. Once it happens, it can lead to many ironing problems, such as stains on clothes and reduced efficiency.
Don't miss ironing around decorative objects
Most women hate ironing around decorative objects such as zips and buttons. They even avoid doing it.  And, of course, it is a big mistake. One of the ironing tips you should always remember is ironing the entire piece of clothes. Don't miss the zips, the buttons, the sequins, glitter, or very fine lace. The areas around them often do not even need ironing, but, those that do need, don't miss it at all. Iron them inside out at low temperature. But don't miss them.
Iron inside out where possible
Sometimes there are some slight sheens left on dark clothes post-ironing. These marks are caused by the heat of the iron. And they look definitely awful and make your clothes appear damaged. In order to avoid it, try to iron it inside out wherever possible. This way you will protect the appearance of your clothes and keep them looking greats and not damaged.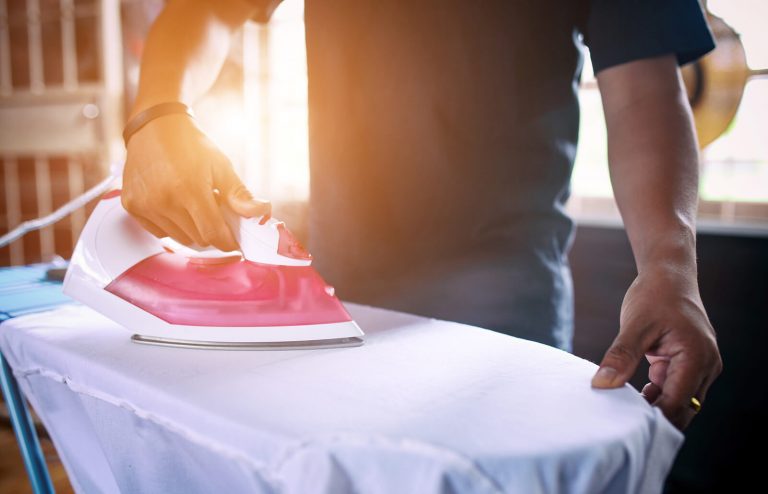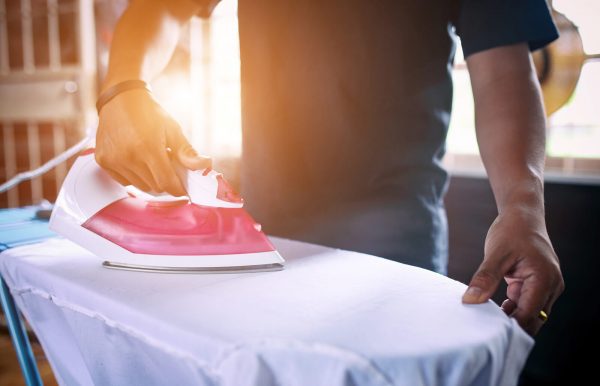 source
Use bobby pins to secure your peats
One of the most helpful ironing tips ever! Has it happened to you to have to bother about moving pleats all the time? Well, say goodbye to this problem forever. How to do it? Using bobby pins to secure the pleated items you are ironing. This way you will keep the fabric into place, keeping yourself concentrated on ironing instead of moving the pleated over the ironing board constantly.
Position your ironing board correctly
How to correctly position the ironing board? Well, start by position it correctly so to avoid black pain. Before you start ironing, position the iron board at the right height for you. No woman would like to stoop or bend over too much, right?
If you are already suffering from back pain, then you could try thick rubber shoes that support your weight, so to reduce the strain.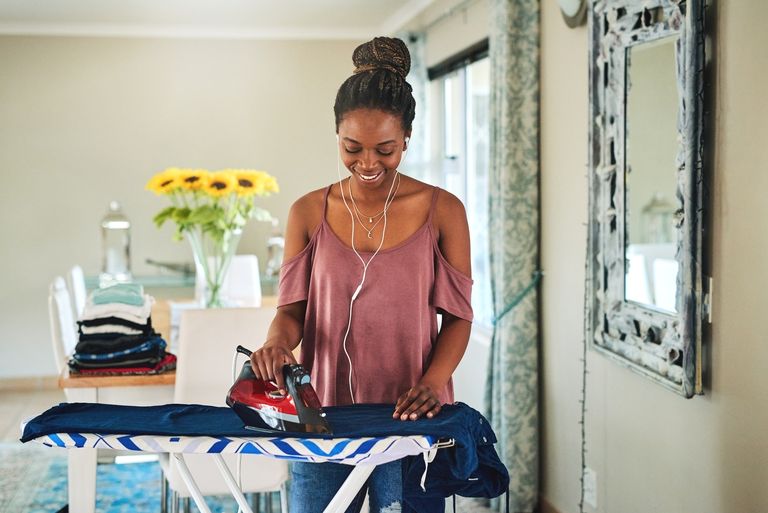 source
Iron on one side only
Another helpful ironing trick you need to know is to iron on one side only. Most women make the mistake of ironing both sided of a garment even when it looks good after being ironed on one side. Try to avoid doing it you too. This way you will save yourself time. And, at the same time will keep your clothes from damaging.