You finally did it! You found the right one! (The right wedding dress, of course!) And, now that you're done with the most difficult choice, it is time to accessorize. Selecting your wedding jewelry may be a really hard thing to do. You will face a dizzying amount of choices to make. So, the question is how to make the right one?  Don't worry at all. After reading these top style rules for accessorizing your wedding dress, you will feel better. We are about to make this hard decision so easy for you. Just remember that jewelry and accessories make the dress belong to the bride. So, when making the big choice always trust your instincts and wishes.
You can mix borrowed with new
One thing is more than sure; the days where everything is matchy-matchy are far away from us. Modern women dare to experiment with different styles. They are freer to mix and match different wedding jewelry styles as long as the general shape echoes the same tone. That makes it a perfect opportunity for you to blend something borrowed with a new piece. Try to incorporate some old piece of jewelry, like your grandma's brooch or bracelet in your bridal look, keeping alive your style too.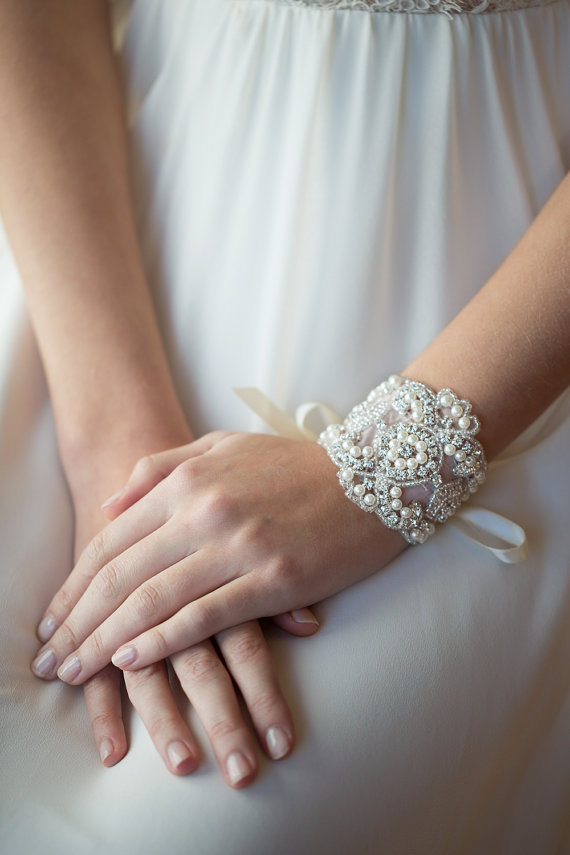 source
Never wear a necklace with an asymmetrical wedding gown
The one-shoulder gown is already a statement itself. Adding a necklace over an asymmetrical wedding dress is something you definitely must skip. The necklace in this combination will make you look unbalanced. But, it will also ruin the interesting line of the gown. Instead, you can opt for a spectacular pair of earrings or a bold cuff.
Bring your headpiece with you when trying on earrings
Many modern brides decide to add a headpiece as one of their wedding accessories. If you are wearing one too, be sure to bring it with you when selecting the wedding jewelry, especially the earrings. One thing why you need to do it is because you need to consider the proportion and the finish of the embellishments against the line and style of the gown.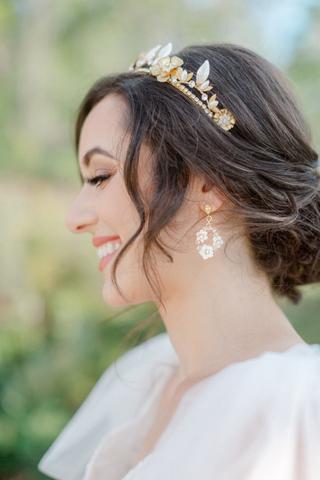 source
Never wear a watch with a wedding dress
Yes, you may have a schedule to keep during the big day, and may need to have some orientation about what time is it, but, this is your special day. Forget about the time and let your planner or family handle timing. Skip your watch as part of your bridal look. There are only a few things less elegant than a wristwatch paired with an elegant wedding gown ( if there are some). Choose some shimmering bracelet for the occasion instead.
Do mix finishes: your ring is its own entity
Never pay any attention to the finish of your wedding band when selecting a finish for your wedding jewelry. Your engagement ring, as well as your wedding ring, is its own entity. You should think more about the color of your skin, the color of the wedding gown, the color of the gown embellishments, and your wedding vision instead. Some basic rules to follow are pairing antique finishes for ivory and pastels. Also, go shiny for classic and modern, or choose antique for rustic or vintage bridal style.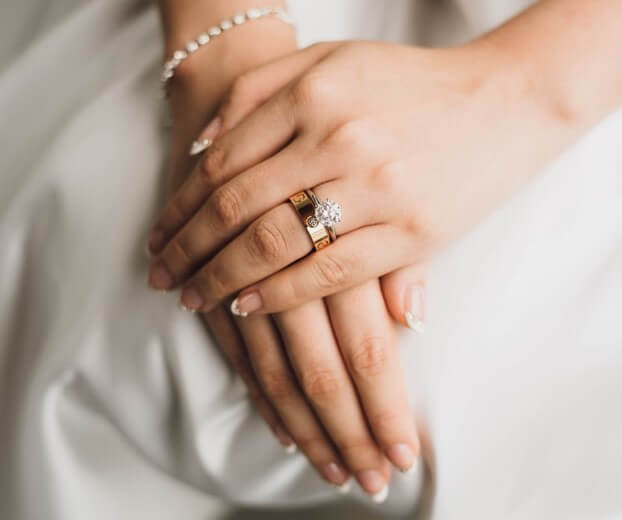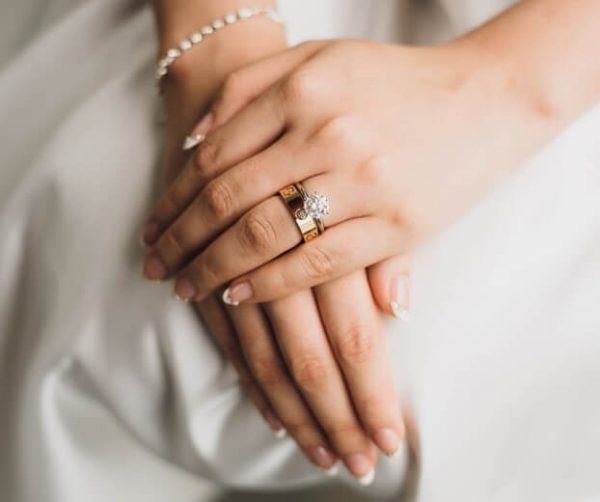 source
Do not over-accessorize
Less is more!  Remember this rule always. No bride would like to be over-accessorized while walking down the aisle. That is why you need to follow the rule of balance. In order to make a statement, you can choose one part of the body to accentuate with a large piece, while balancing the rest of the body with small baubles. The safest combination of all: the earrings and bracelet combo. Not too much, not too little. Enough!
Never compromise your personal style
This is your special day! It is not the day to try something new or to go out of your comfort zone. Instead, it is the day to express your true style. Never compromise your personal style for trends that will fade away. Trends fade, style is eternal. The wedding day is stressful big enough to add even more stress with the feeling that you are out of your skin. So, choose classic and beautiful, but what is even more important choose something that is YOU!
Wear your wedding jewelry after the big day
Most of the purchases you do for the wedding day can't be worn ever again. That is not the case with wedding jewelry. You can still wear your wedding jewelry on multiple occasions after the big day. You can wear it for your honeymoon, for an anniversary, or for more formal events. Depending on its style, if it's more casual, you can even dress up an everyday look too. So, when choosing bridal jewelry always opt for quality and timeless pieces that can be worn after you have said the faithful yes.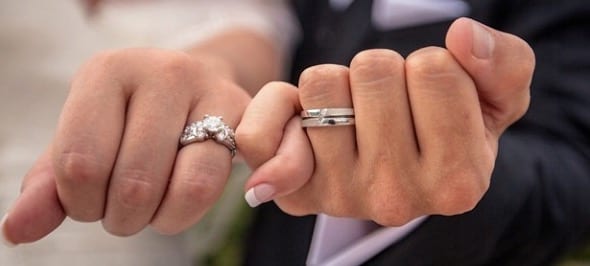 source