Did you hear the trend alert for the season? Rubber boots are entering the winter fashion scene on big doors. Did you think they are reserved only for fishers, hobby gardeners, and small children? Well, you were absolutely wrong! Rubber boots are a real fashion statement and an essential part of your winter wardrobe. You will be seeing them everywhere around you in the upcoming fall-winter season. Whether for a walk in early spring or late fall, these boots will soon become your favorite ones. Due to their water-repellent material, they are incredibly efficient when the weather gets a little rainy.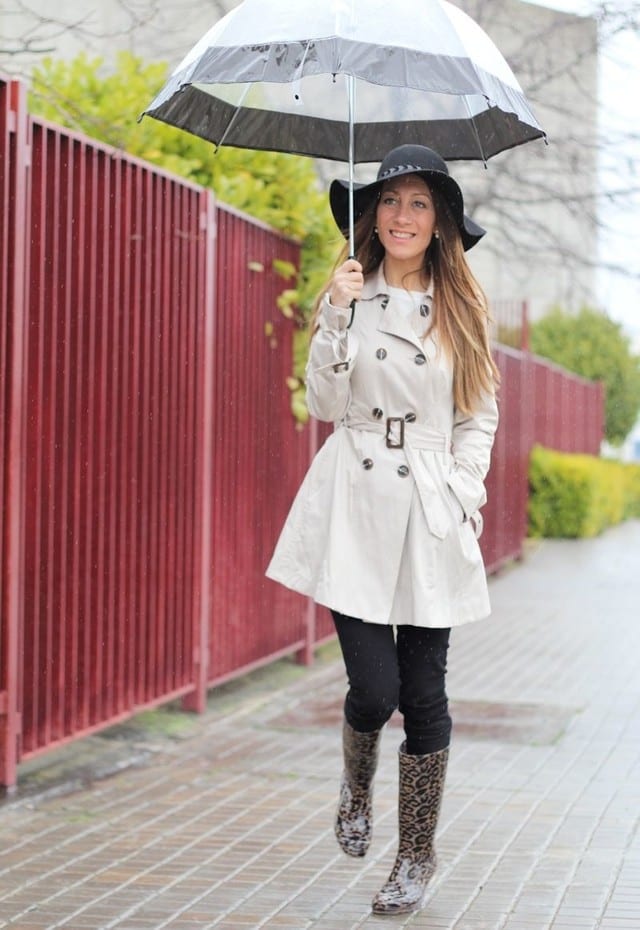 source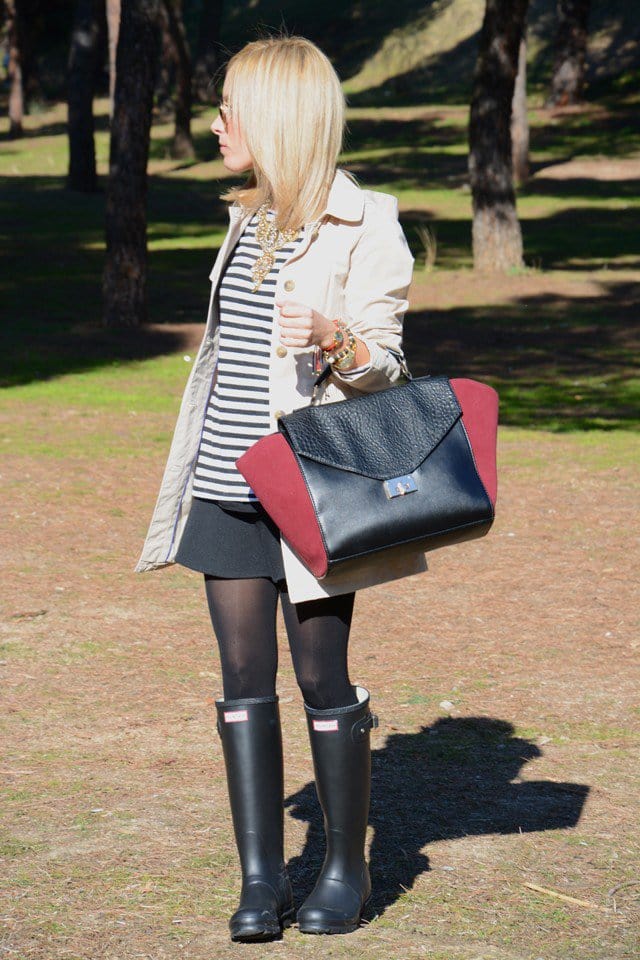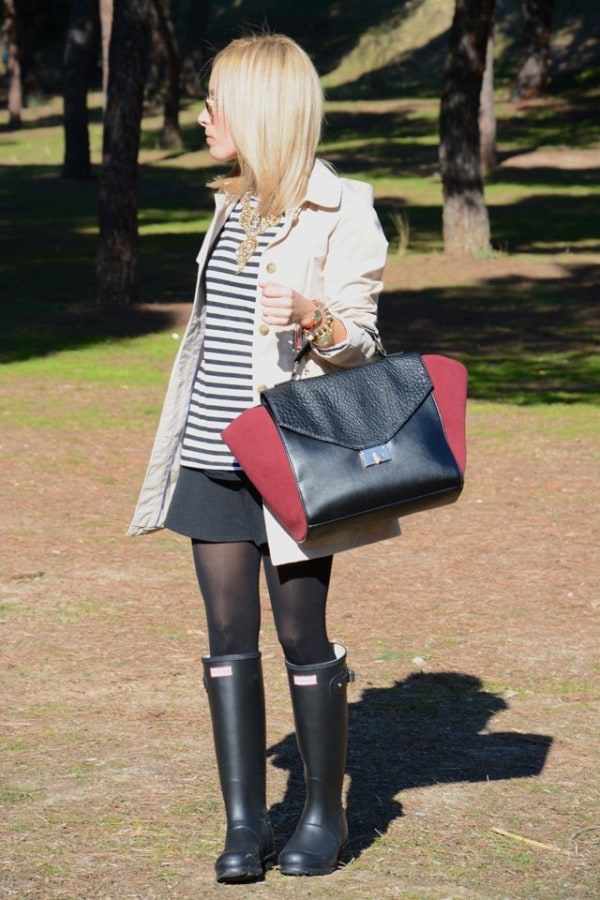 source
What is even better is that fashion designers have found a way to transform these rainy boots into a fashion staple. You can now see modern women wearing them as a part of their street-style outfits even when the sun shines. The boots themselves are so everyday footwear that you can use them to create chic casual outfits. Since the fashion designers' creations of rubber boots arrived on the market, women got absolutely crazy for the trend. They are for sure one of the biggest hits on the winter fashion scene. In this article, we are sharing with you some stylish ways how to rock the trend as a fashionista.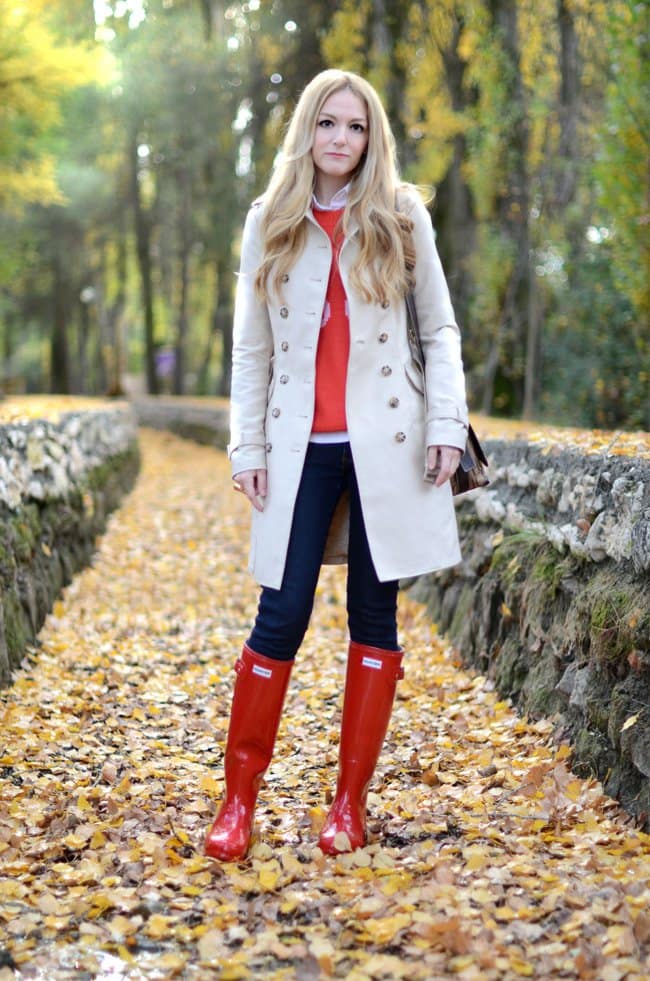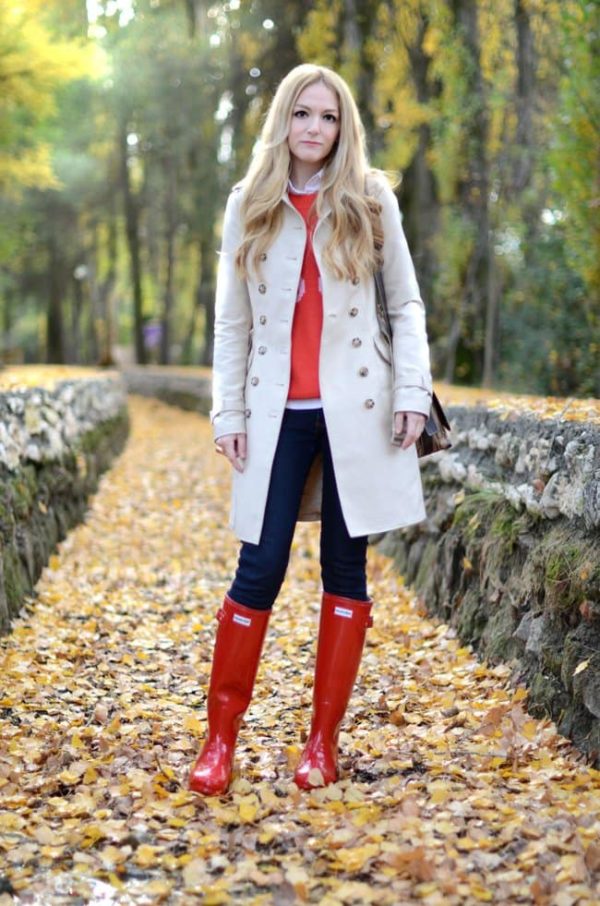 source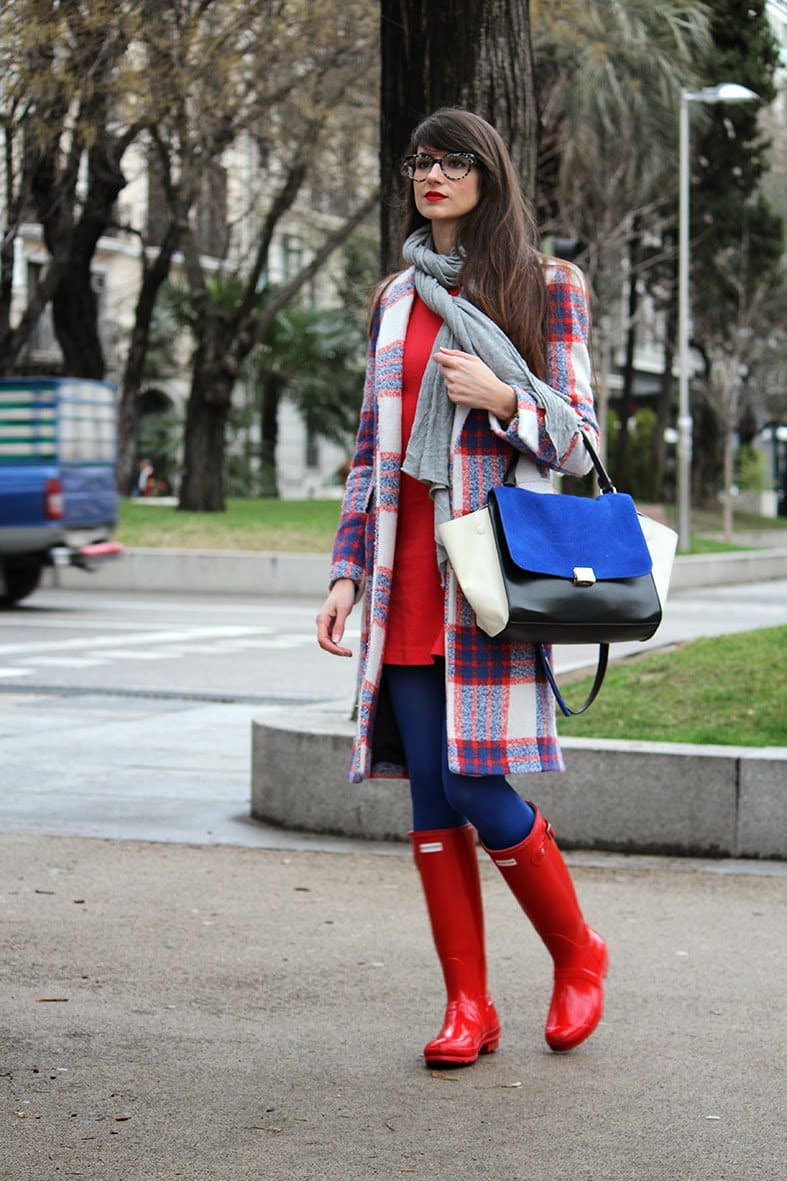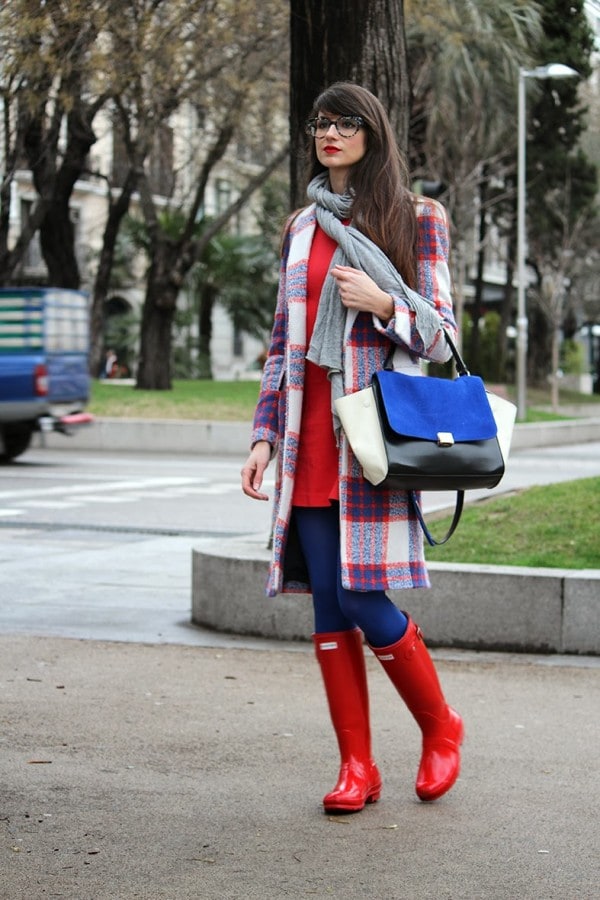 source
How to style rubber boots: rainy day separates
As we mention before, due to their water-repellent material, rubber boots are ideal to be worn on rainy days. Daring to wear head-to-toe rain gear? Well, we encourage you to do so, because the result will be a really chic outfit that will catch all the glances. Rainy days can be a real challenge for styling fashionable outfits. Not anymore! Choose a simple water-resistant trench coat or parka and plain knee-high rubber boots. Underneath, opt for the same color scheme outfit. Olive green or black is always the perfect choice for this kind of look. You will be surprised by the power of the monochromatic attire you will create. Don't forget that when life gives you rain, all you need to do is to learn to dance with the drops.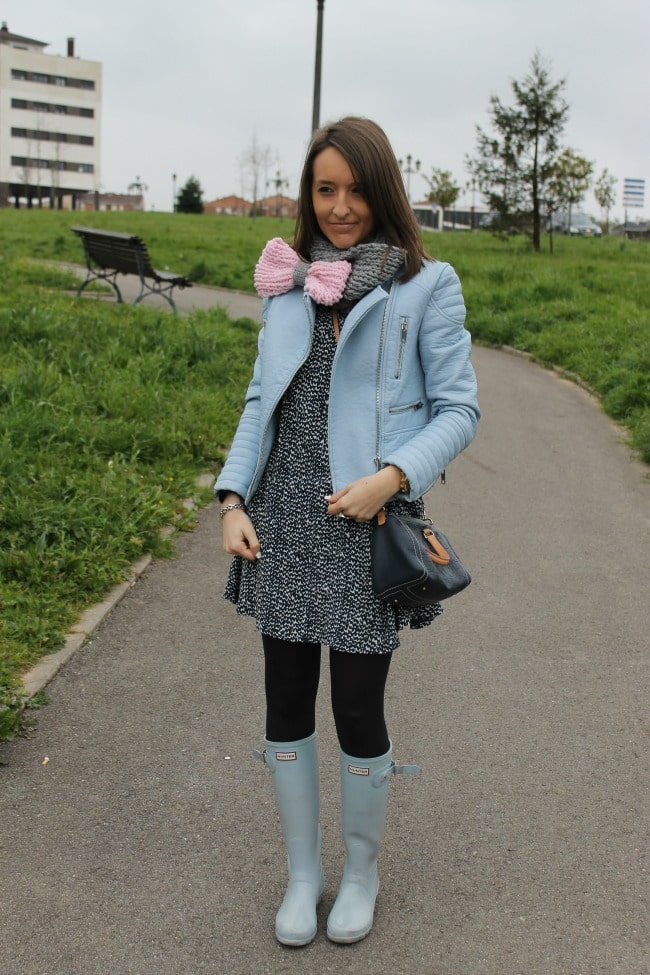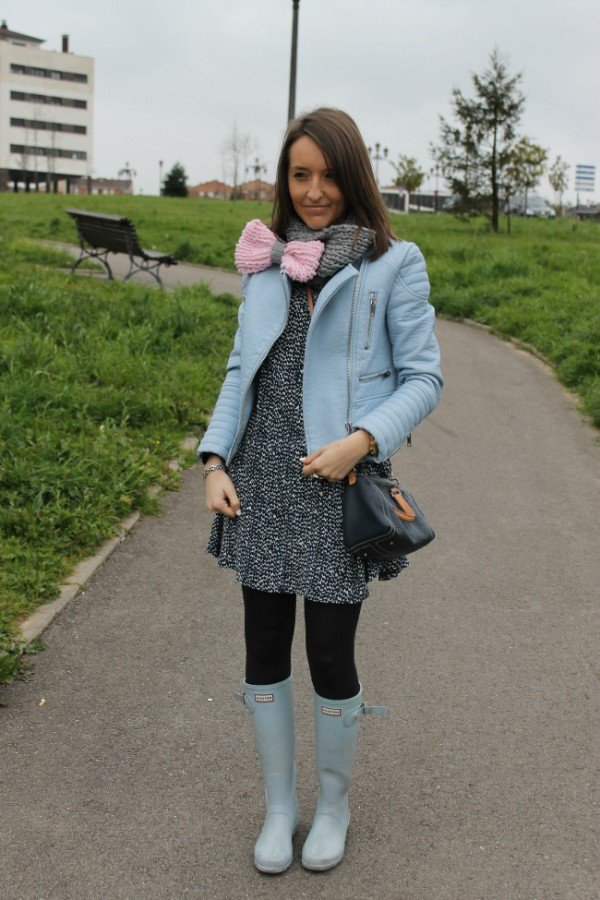 source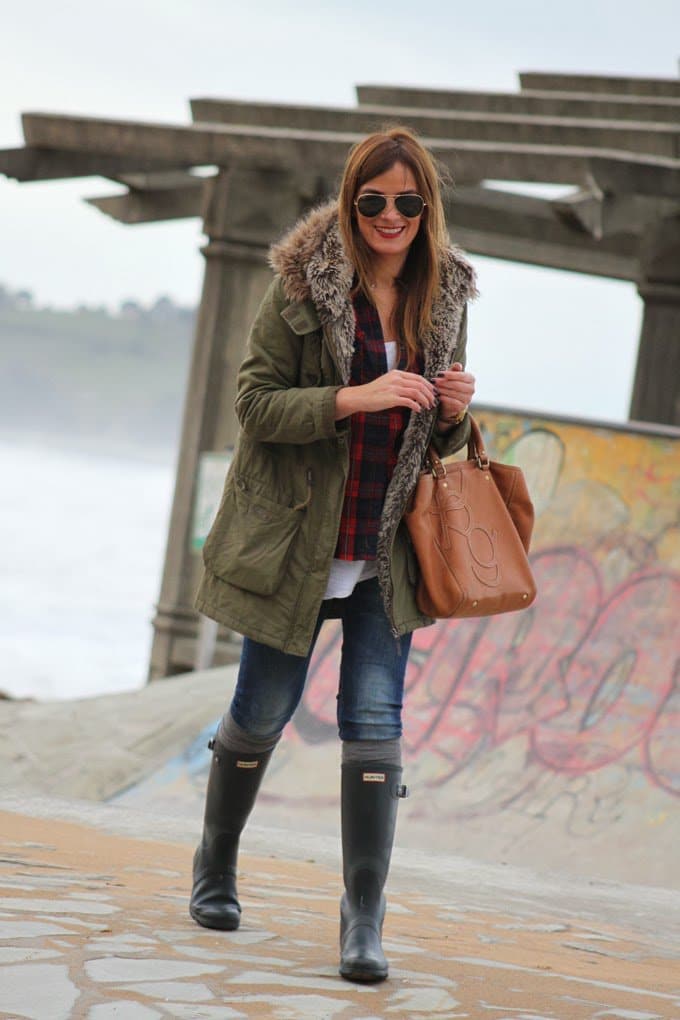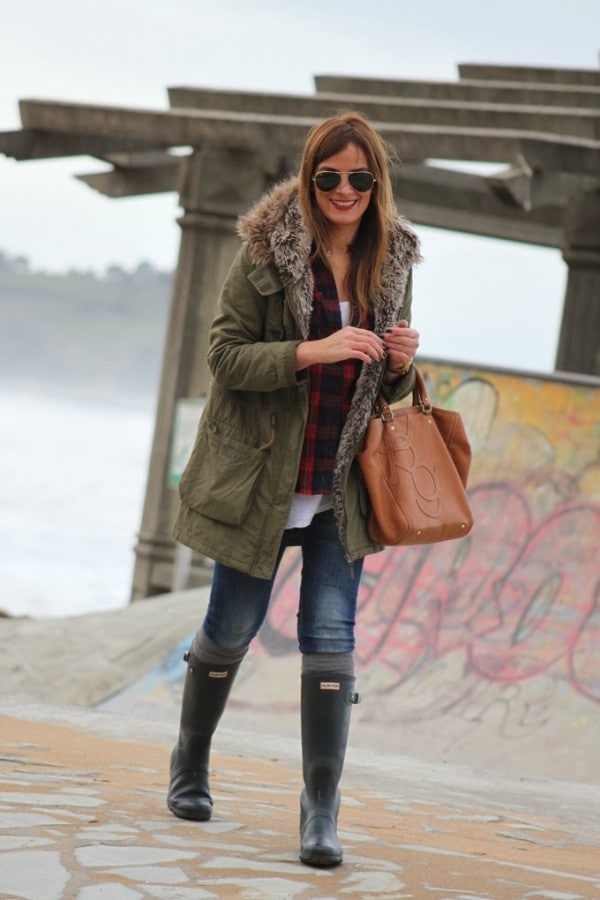 source
Add a pop of color to the look
Adding a pop of color to your look can instantly turn even the dullest and most boring look into an eye-catching one. One way to add a pop of color (and not to opt for colored pants or top) is to choose bright-colored accessories like handbags or scarves. Or, the footwear! For this winter, we recommend you add a pop of color to your attire through the rubber boots. You may find many different rubber boots in bright colors over there. Try going with a bold and daring shade that will keep all the eyes on your shoes.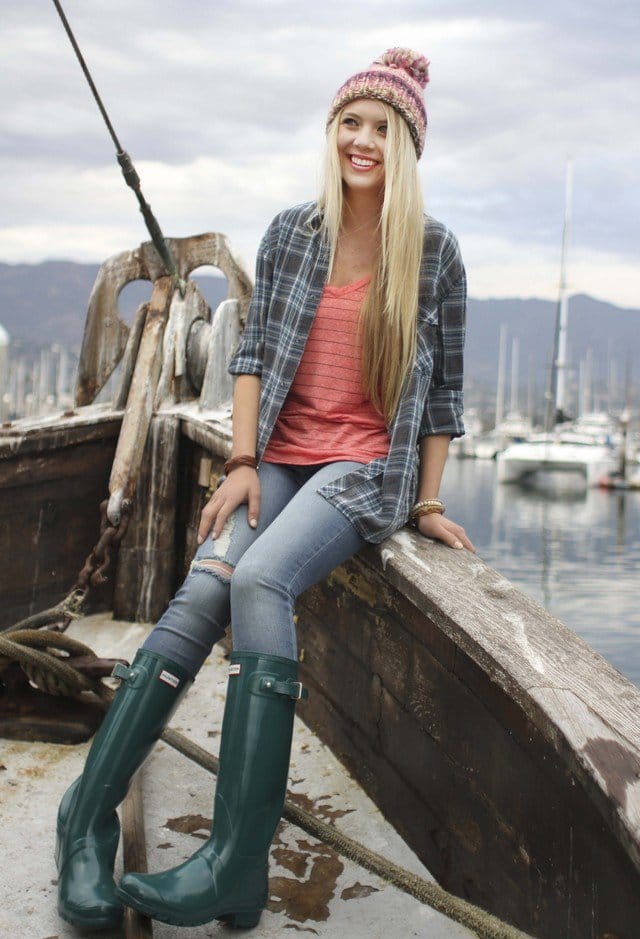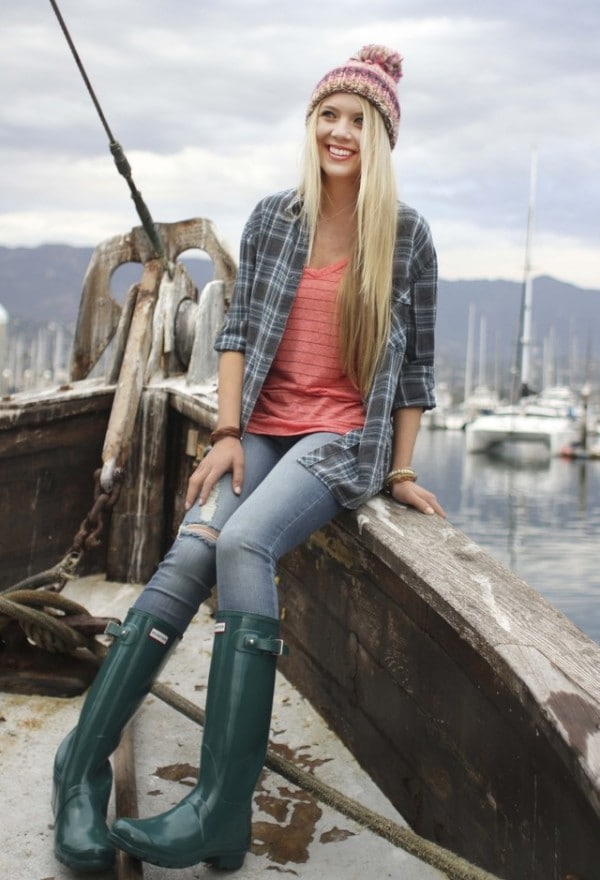 source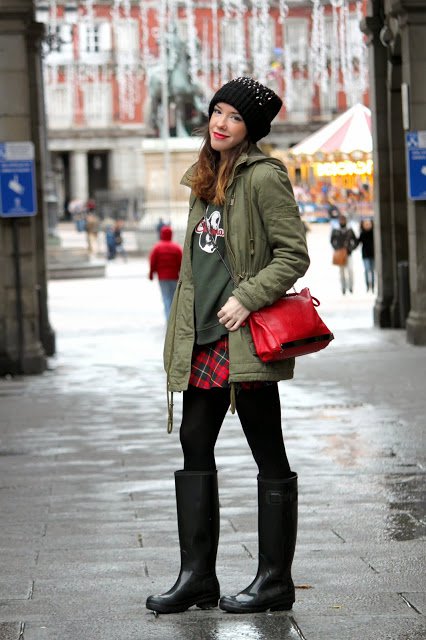 source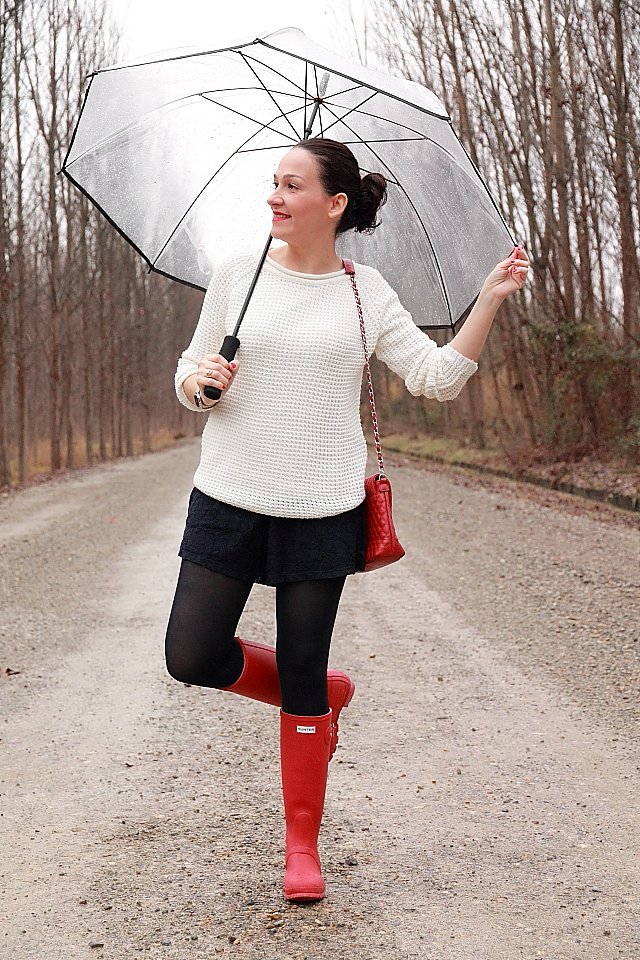 source
Couple it with a fancy dress
Do you like seeing little girls walking in their favorite pinky rubber boots and a dress? Well, this outfit works absolutely perfectly even when you are an adult woman. Choose some fancy dress in white or opt for one in a floral pattern. Then, pair it with your favorite pair of rubber boots. For the boots, you can use a shade of magenta pink or pale pink. This is a perfect outfit that screams femininity and is ideal for warmer weather. For the winter, opt for a knitted dress and a pair of dark-colored boots. This is a combination absolutely worth giving a spin, so don't miss copying it.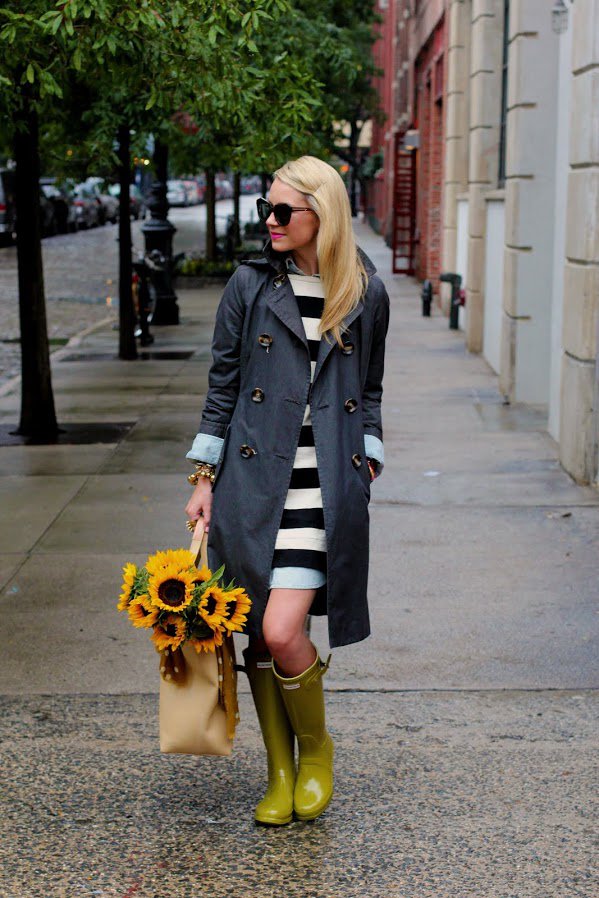 source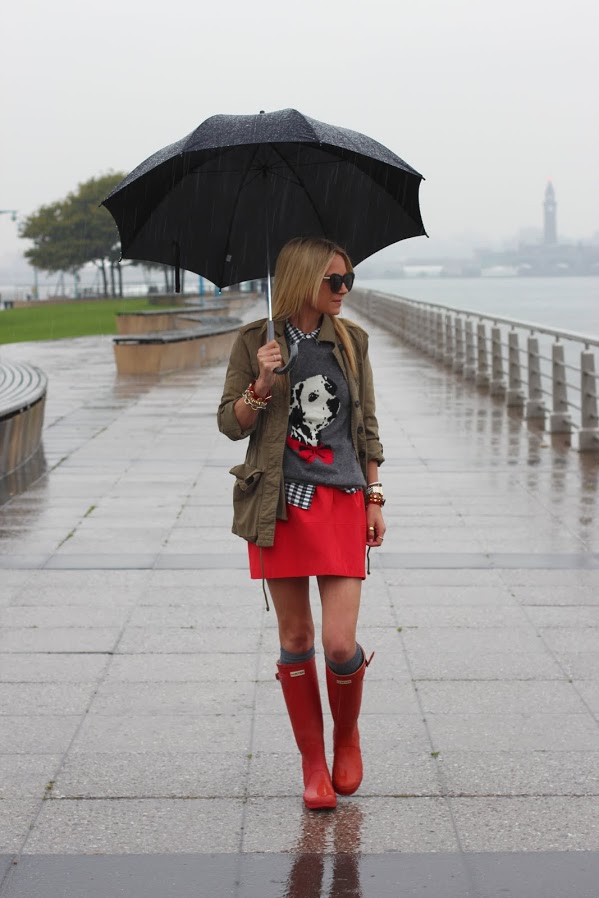 source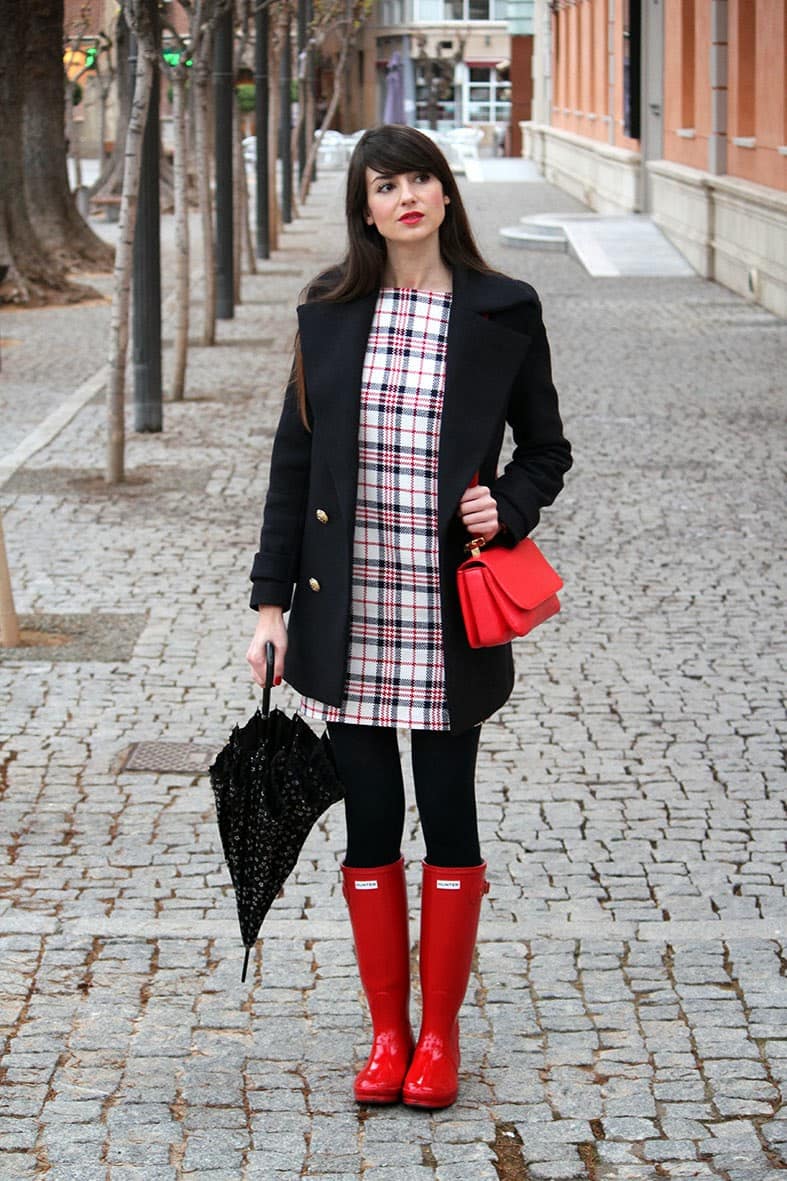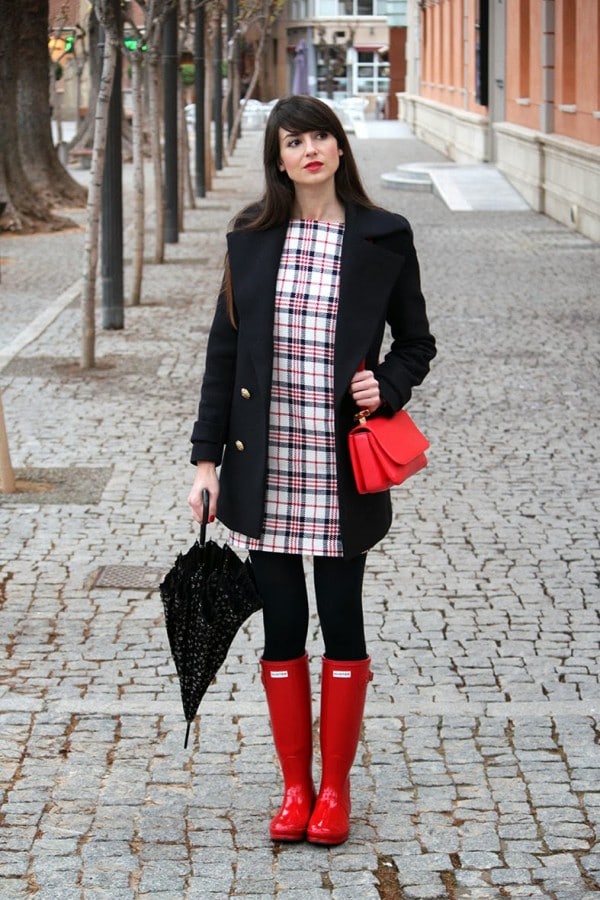 source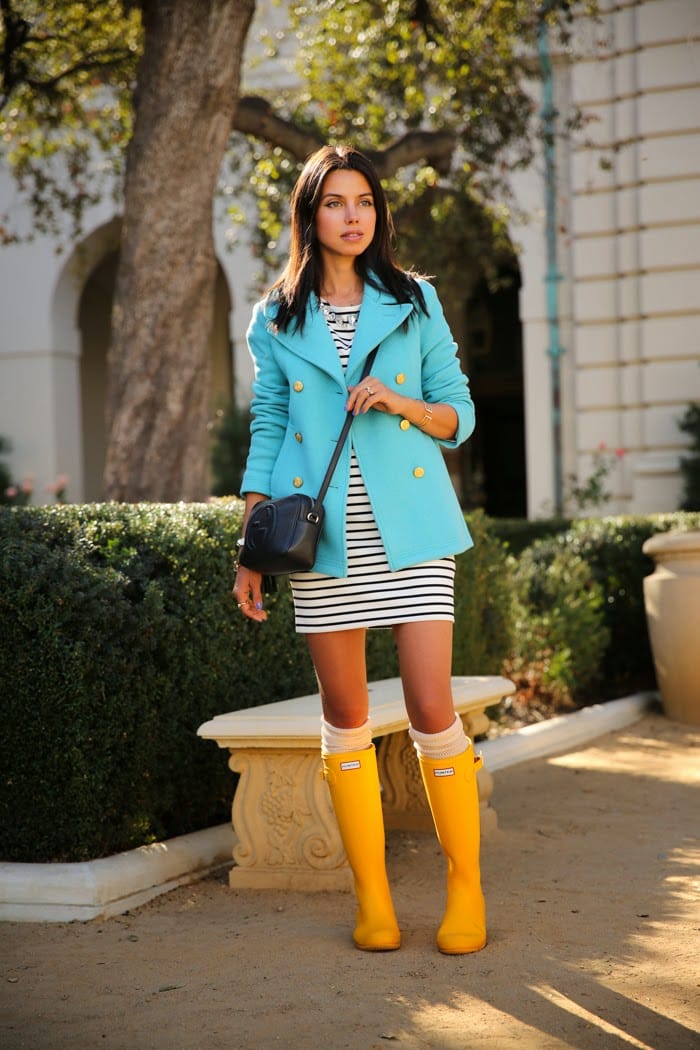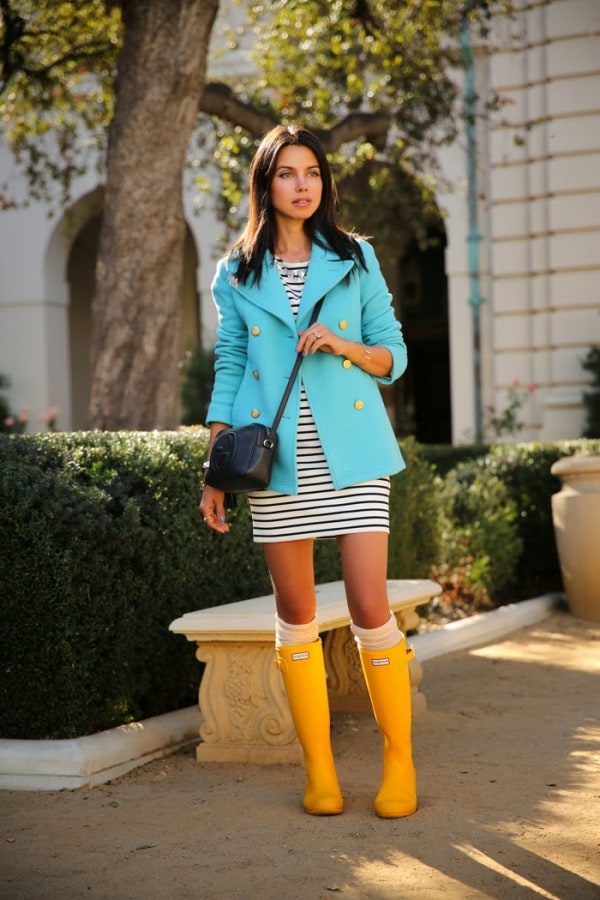 source
Cool graphics
As we mentioned before, rubber boots are not reserved only for rainy days. You can wear them even when there are no dark clouds in the sky. One way to do it is to pair it with a graphic top. You can opt for a graphic sweater or a graphic tee for warmer days. On the bottom, choose a pair of denim shorts. If the weather gets too cold, change the denim shorts for dark denim shorts and add a pair of tights under them. Bright-colored boots could be a perfect choice for the spring/summer season, while earth-toned ones make it the best for the fall/winter season.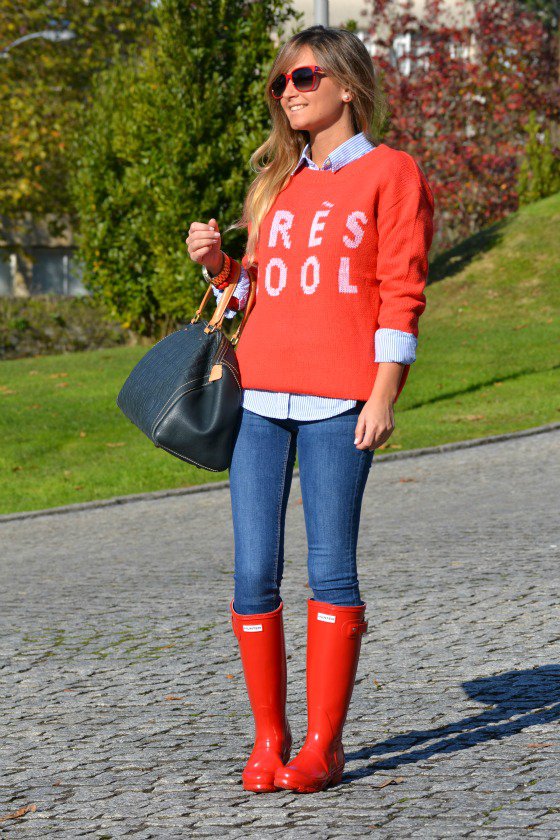 source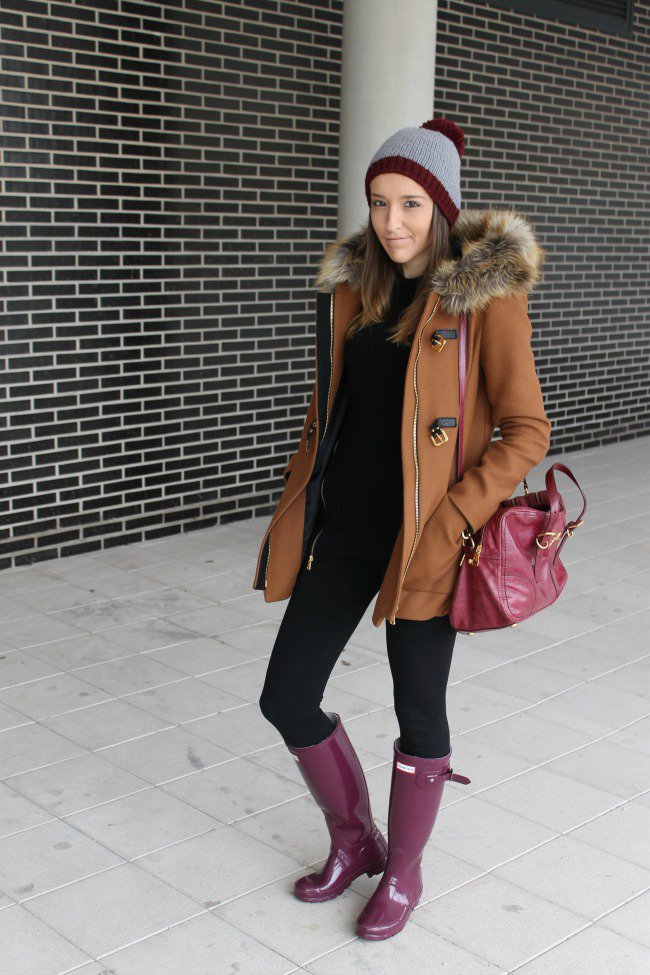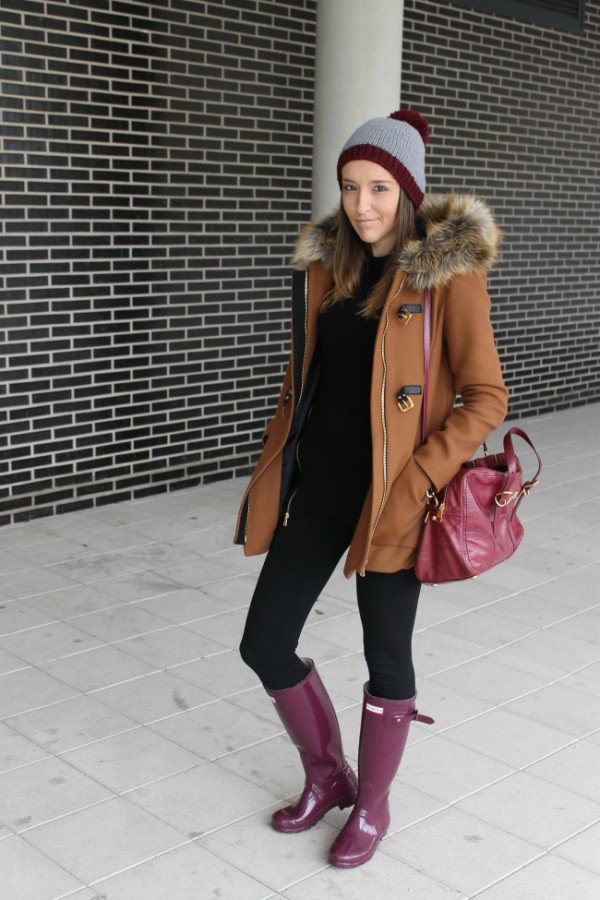 source
Everyday look
Whether you are taking your dog for a walk in the park or are simply hanging out with friends, rubber boots can be the perfect choice of footwear for your casual look. Since they are made of a fabric that can be easily translated as plastic, they can be a staple for creating elegant outfits. But, they are definitely perfect for styling casual everyday looks. Pair them with jeans and a trench coat. You will adore the coziness and comfort that this outfit will provide for you.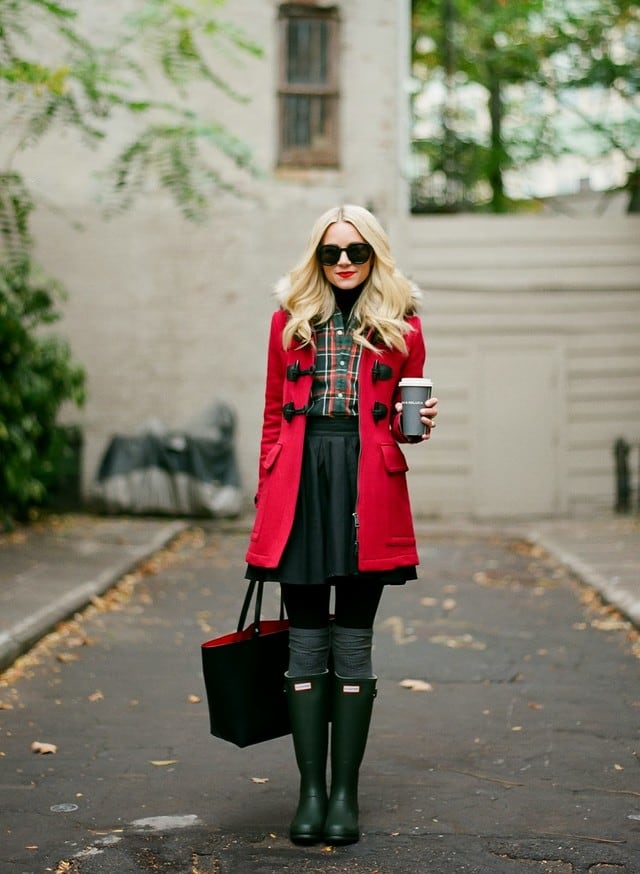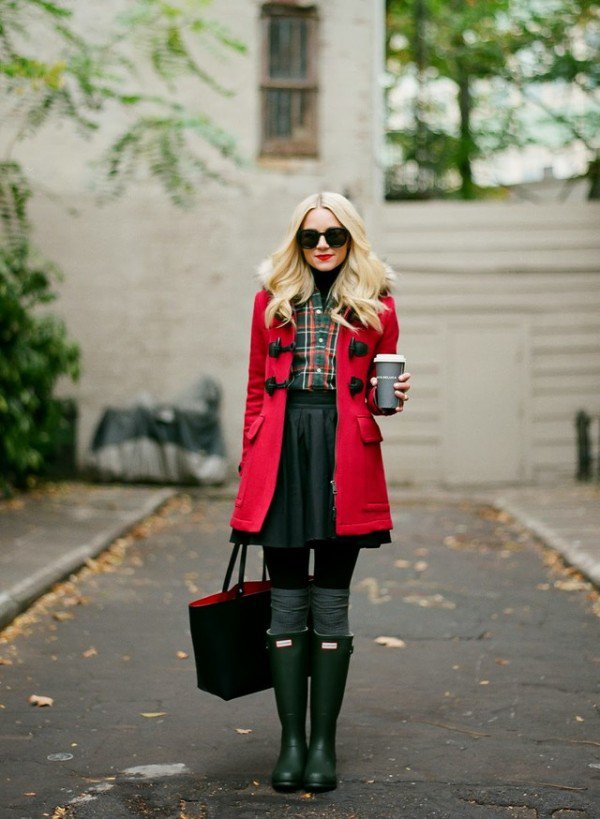 source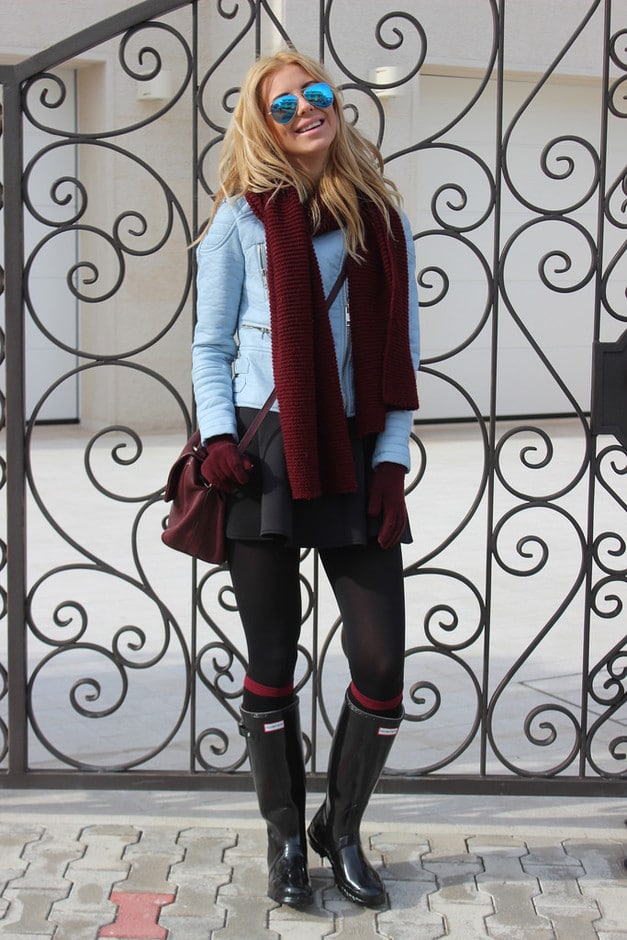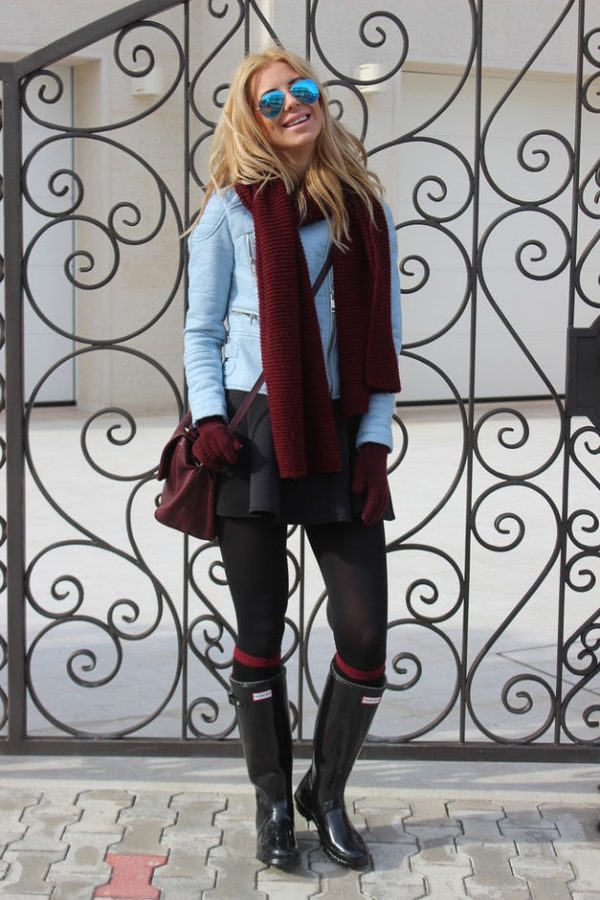 source
Ready for work
You don't need to change out of your rain boots once you arrive at the office anymore. Fashion designers have created rubber boots that are perfect for styling even formal office attires. Pair them with an oversized blazer in the same color. On the bottom opt for your favorite skinny office pants, or simply wear a smart casual dress underneath. Voila, you are having a perfect office look that you can rock on rainy days without worries.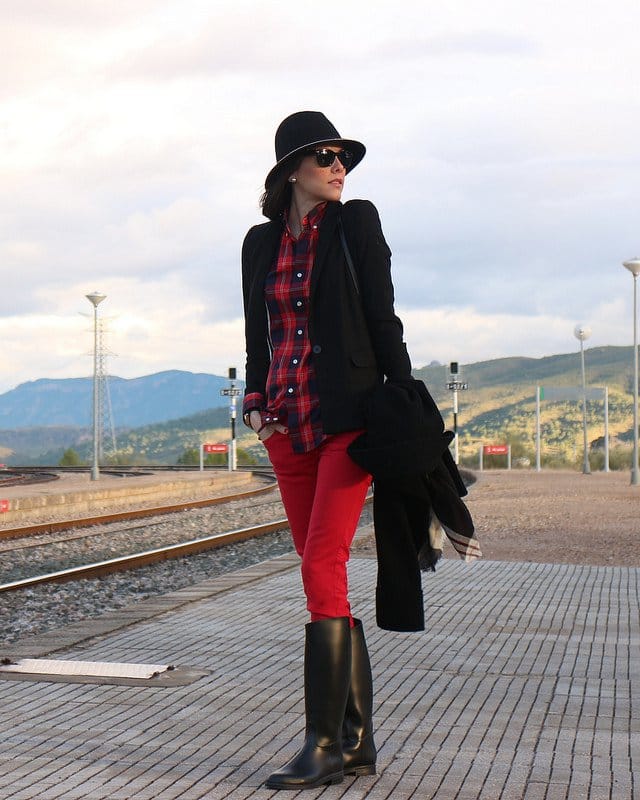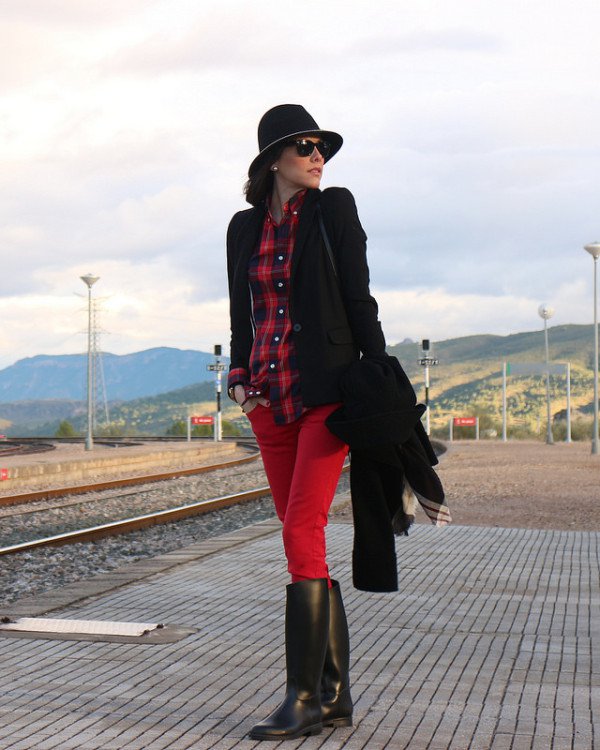 source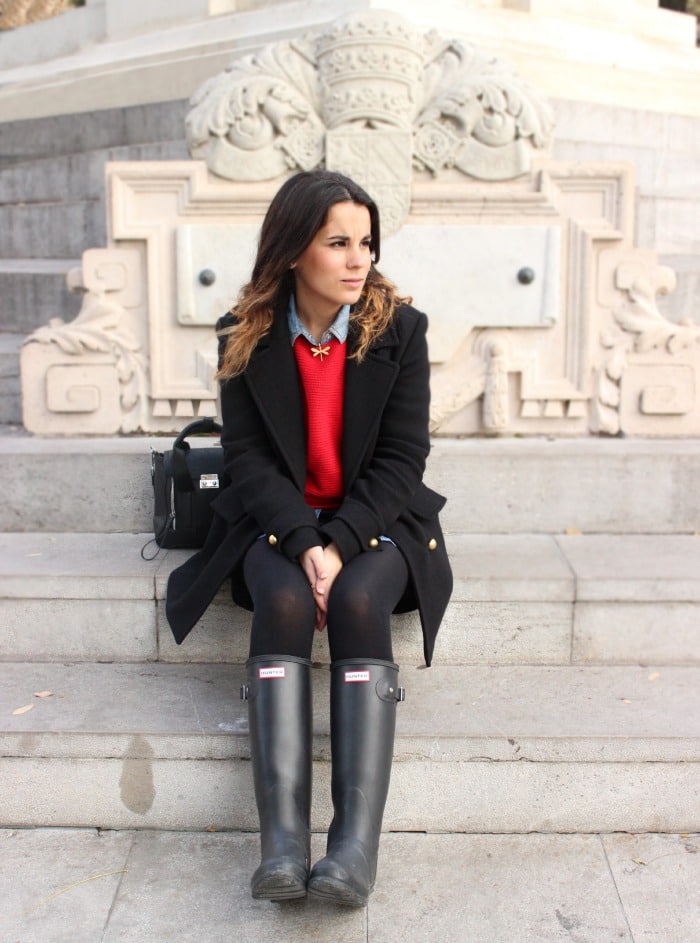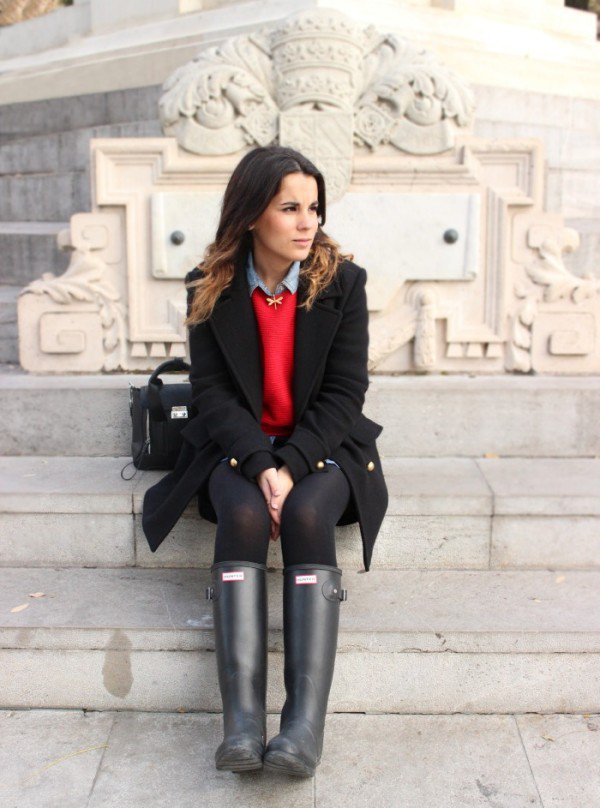 source