Maybe one of the reasons why many people adore winter is skiing. The new skiing season is in full swing again. That means a lot of fun is waiting for you right there in the mountains. And a lot of fashion moments too. Because with this skiing fashion guide we are going to teach you anything you need to know to look stylish on the slopes. Who says that you can't be just stylish and fashionable even when dressed in a skiing jumpsuit? Skiing fashion has become more and more popular among women who practice this sport. You can showcase your sense of style and fashion on the slopes following their beauty and fashion tricks and tips, too. Just scroll down the page to explore some of the biggest skiing fashion secrets. Follow them and look like a winter wonderland beauty.
Put on a figure-flattering outfit
Rule number one to follow when choosing a skiing outfit is choosing comfort, warmth, and water resistance before anything else. But, having these three doesn't mean you can't have the fashion factor too. You can find many skiing jumpsuits providing you comfort, warmth, and water resistance that look fashionable. Choose a cute tailored jacket that cinches in at the waist. Get some form-fitting snow pants that flare at the bottom. And, voila! Here is your comfortable, skiing appropriate and very stylish skiing outfit. You may not be a skiing expert, but you can still show the world that you are a fashion expert. Express your femininity and sense of fashion, even when you may lose your balance on the slopes.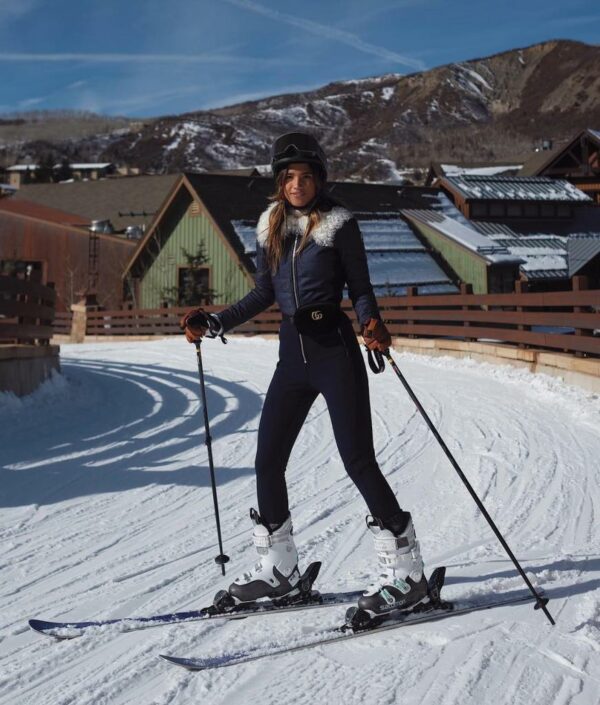 source
Everything is in the details
Don't forget the accessories. Because after all, everything is in the details! When I say accessories, I mean skiing accessories, of course. Choose a pair of gloves that will match your entire outfit. Insert a lot of color in the details. Pick a snow goggles color that coordinates with the color of your snow gear. Also, choose some bold colored scarf or bandana to add a little drama to the outfit. If you dare to go a step further, then get skis or snowboard that matches your outfit. Today there can be found many brands making special woman's skis and snowboards. They are much easier to maneuver, and they are all designed with pretty prints and feminine designs. Get yourself a pair of them and complement your fashionable outfit as a queen.
Go for waterproof make-up
Avoid wearing make-up while skiing. Or, if you still do want to wear it, keep it on minimal. Always make sure that whatever make-up you are wearing is waterproof. No woman ever wants the swollen mascara lines under the eyes, right? Neither you! So when packing for skiing, make sure to put your water-resistant mascara, waterproof eyeliner from Jonteblu cosmetics, or smudge-proof eye shadow in your makeup bag. These are all you need to create a wonderful ski slope-appropriate look. We all know the self-confidence that make-up gives to women. So, use this quick and effortless trick to look and feel even more confident when you take off the snow goggles.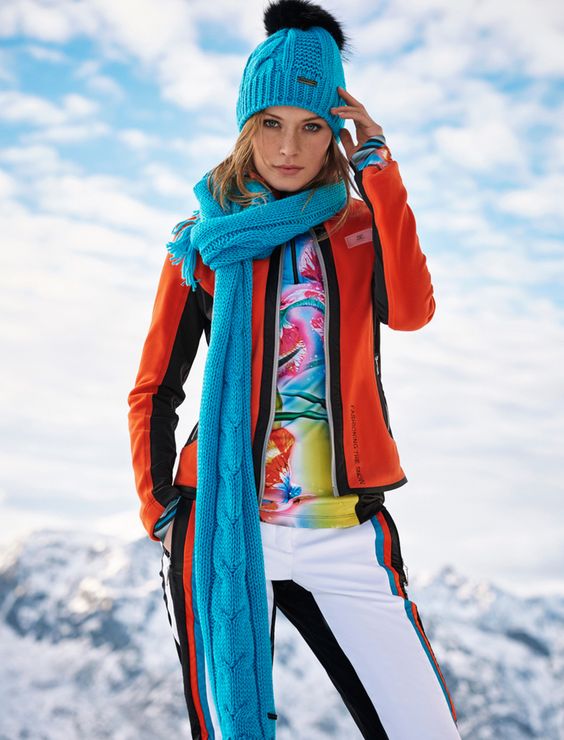 source
Ditch the traditional ski lip balms
Skiing fashion includes beauty tricks too.  One of them is lips care. We all know that lips can get chunky due to cold weather. The choice of the wrong lip balm will turn your lips into a frosty white mess. That won't help at all for your beautiful and healthy lips. But, don't worry at all. Today you can find many beauty brands offering tinted lip balms and lip glosses with UV protection. Always look for a lip balm with an SPF of at least 15. Use it regularly for better lisp care. Your lips will be grateful to you. And, you will look divine too. Forget the chunky and dry lips forever. Smile with your soft and healthy lips even when the temperatures fall under zero, instead.
Avoid hair troubles
Leaving your hair down while skiing can be real trouble. Your hair will get in your face, getting all tangled up because of the wind. It may get caught in the snow gear too. No woman would like to face such troubles at all. You neither. That is why you need to keep your hair together. Choose some helmet-proof hairstyles. High ponytails and updos are the worst choices if you are planning to ski. They are uncomfortable to be worn under a skiing helmet. But, a low ponytail or a cute bun on the nape of your neck is a great hairstyle to try when skiing. You can also try the traditional braid or fishtail braid. They will all keep your hair together, avoiding any hair troubles.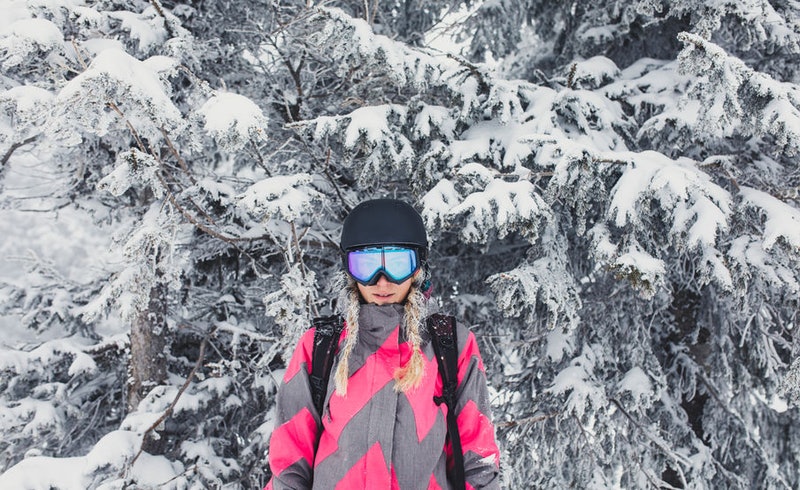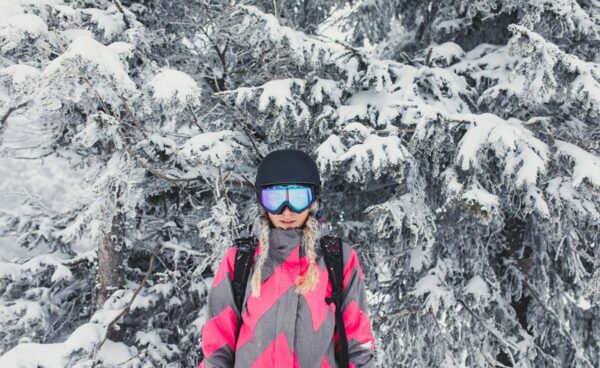 source
Braids are also a perfect choice for another reason. Once you take them off, you will be left with gorgeous curls. That is an effortless way to get your hair perfect after a long day skiing and having fun on the slopes. And, the fun doesn't end up when you come back from the mountains. The after-ski party is waiting for you, and you are already having your flirty and feminine hairstyle on you. What else you can wish for?