Winter is one of the most magical seasons. But, despite the thousands of benefits it has, winter weather can have a bad impact on your skin, leaving it dry and very sensitive. That is why you need to pay even bigger attention to skincare during cold winter days. In order to adapt your skin to the new harsher weather, you should first adapt your makeup bag to it. Here we are presenting you with some makeup bag essentials you need to carry with you during winter. Give your skin the care it deserves by adding this winter makeup bag essentials to your "to buy list". The more you carry for your face and body skin, the more it will shine and look beautiful.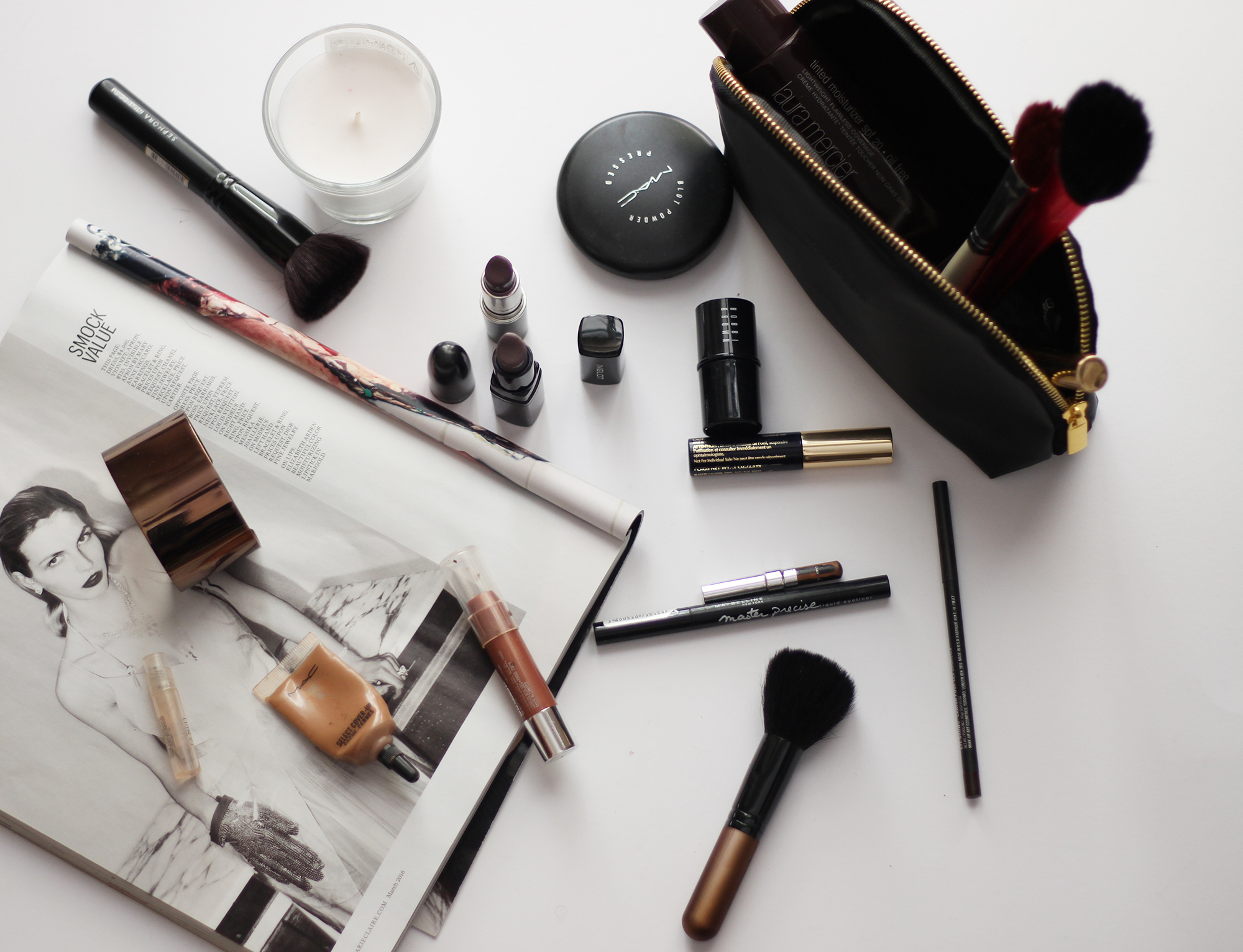 source 
Brow Pencil
Brows may seem negligible, but they are one of the most important parts of your face. You should always take care of their perfect look when you makeup yourself. Give them a fresh and polished look by lightly grooming them. Fill in the brows using a brow pencil. The best recommendation is to use a product that combines a small brush comb and a pencil. That way you can fill in your brows, and then use the brush combe to comb and fluff them.
Small Neutral Eye Shadow Compact
The palette of tens of different colors and shades may look too attractive for any woman. But, let's be real! No woman is going to use every single shade from a massive eye shadow palette every day. That is why it is more recommendable to add a small neutral eye shadow palette to your makeup bag essentials list this winter. The minimalistic neutral compact will provide you all the needed shades you use daily. And, the best is that it will perfectly suit your bag wherever you need to carry it with you. You can choose a mix of matte and shimmer shades ranging from light to dark. This kind of compact is perfect for both daytime and nighttime look. You will not need to carry more different products, because you will have all you need in only one product. We all know the importance of that, having in mind the messy a woman's bag can be.
Hydrating Concealer
Concealer is one of the most important makeup bag essentials. It is used to cover the notoriously gray area under your eyes and all those dark circles around them. In order to hide all the imperfections on your face, you need to have one in your makeup bag all the time. Most women use hydrating concealer since it is typically applied to the skin around the eyes, which is the area with the most darkness and dryness due to fewer oil-producing pores. You can also use a moisturizing product over new and old pimples in order to heal them faster.
Foundation or BB Cream
The makeup bag essential number one: the foundation or the BB cream. The makeup bag must, better to say. Women who prefer heavier coverage should try a full-coverage foundation. The ones, who prefer something sheerer, could opt for a BB or CC cream. A tinted moisturizer is an even sheerer choice, which you can try too.
Lightweight SPF
Every woman, no matter the season, the amount of time spent outdoors, or the skin color, should wear an SPF of 30 or greater. In order to keep your skin shiny and protected from UV damage, you can care your SPF with you all the time, including the winter days. Today, the SPF formulations have improved so much. There are so many light options that will make you forget that you are wearing an SPF at all.
Sheer Lip Balm or Lipstick
A lip balm is one of the most important makeup bag essentials during cold winter days. Lips can get too dry due to the coldness, so you need to carry a lip balm with you all the time in order to give your lips the appropriate care. Try to choose a vitamin E and vitamin C rich lip balm for even better lips care.  Lipstick is the secret weapon for every woman's beauty. You can choose from a pale pink to ruby red shade until you find your favorite shade. And once you find it, don't miss to color your lips with it any time possible.
Mascara
After tending your brows, there comes the time to apply mascara and get the magical look with minimal effort. The mascara is the queen of the makeup bag essentials for many women. It can make you look refreshed and awake. It will add volume to your eyelashes. Opt for a jet black mascara that will lengthen your lashes and make them look even more voluminous. If you are not interested in going too bold, you can try a medium-dark product that lightly coats your eyelashes.