If you're a fortunate aspiring actor and have secured your first role as an extra, it's essential to research the best makeup practices.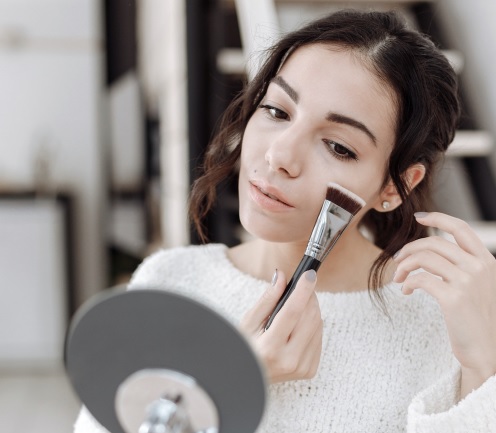 Cleanse and Moisturize
As a movie extra in Chicago, it's important to know how to prepare your skin for auditions and on-set appearances. Start by cleansing your face with a gentle cleanser to remove any dirt or impurities. Follow up with a moisturizer to keep your skin hydrated and create a smooth base for your audition makeup. This will ensure that your skin looks fresh and healthy on camera.
Primer
Applying a primer before your makeup is essential for creating a flawless look. A primer helps to even out your skin tone, minimize the appearance of pores, and make your makeup last longer. Choose a primer that suits your skin type, whether it's oily, dry, or a combination. Applying a primer will help your audition makeup go on smoothly and stay in place throughout the day.
Foundation
Choosing the right foundation is key to achieving a natural and even complexion. Look for a foundation that matches your skin tone and provides the desired coverage. Apply it evenly with a brush, sponge, or your fingertips, blending it into your skin for a seamless finish. The right foundation will help you look polished and camera-ready in Chicago.
Concealer and Powder
Concealer is your secret weapon for hiding any blemishes, dark circles, or imperfections. Use a concealer that matches your skin tone and apply it with precision to the areas that need extra coverage. Set your foundation and concealer with a light dusting of translucent powder to control shine and ensure long-lasting makeup. This step will help you maintain a flawless appearance throughout your auditions and on-set work.
Contour and Blush
Contouring and adding blush to your face can help enhance your features and add dimension on camera. Use a matte bronzer that is a few shades darker than your skin tone to contour the hollows of your cheeks, temples, and jawline. This will create definition and make your face appear more sculpted. Apply a natural-looking blush to the apples of your cheeks for a healthy and youthful glow. Blending is key to achieving a natural and seamless result.
Eyes
When it comes to your eyes, keep your makeup simple and natural as a movie extra in Chicago. Opt for neutral eyeshadow shades that complement your skin tone and eye color. Apply a light shade on your eyelids as a base and add depth by blending a slightly darker shade into the crease. Finish off with a coat of mascara to define your lashes and make your eyes pop on camera.
Mascara
Mascara is an essential part of your audition makeup. Choose a mascara that lengthens and volumizes your lashes without clumping. Apply it from the base of your lashes to the tips, wiggling the wand gently to separate and coat each lash. This will help your eyes stand out and give them a more dramatic and polished look.
Lips
For auditions and on-set work, it's best to keep your lips natural and understated. Opt for a lip color that enhances your natural lip shade or a nude shade that complements your skin tone. Use a lip liner to define the shape of your lips and prevent any color bleeding. Finish with a lip balm or gloss to keep your lips moisturized and add a subtle shine.
By following these tips, you'll be able to create a subtle and camera-ready audition makeup look as a movie extra in Chicago. Remember to adapt your makeup to the specific requirements of each audition and project. Confidence and a natural appearance are key to standing out and landing more opportunities as a movie extra. Good luck!