Different people use different tools or products to exfoliate their skin and remove their makeup. The drawback of using these products or tools is that sometimes they cause irritation or even can damage your skin. Sea sponges are gaining popularity because of their soft and sensitive skin-friendly nature. These sponges can be used for both makeup removal and exfoliation. There is always a right way to use a sea sponge, but most people don't even know about it. Here is a step-by-step guide that can help you to teach how to use a sponge.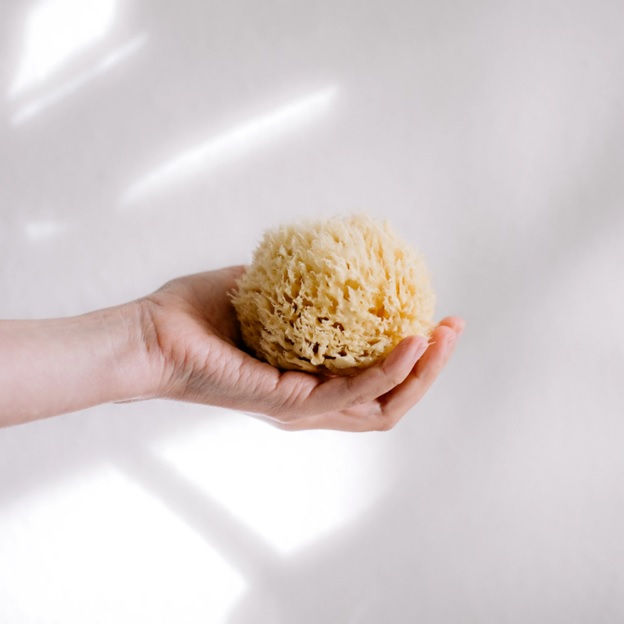 How To Use Natural Sea Sponge for Your Face
Sea sponges are gentle on the skin and can be used to cleanse the face without causing irritation. Today we are going to tell you how you can use a sea sponge on a face.
To use a makeup sponge first you must soak it under water. When the sponge is completely wet then you must squeeze it to remove the excess water from it. The reason why you should dampen the sponge is that water makes it smooth, and it increases in size. A soaked sponge doesn't absorb any product.
If you squeeze a sponge too hard then there are chances that it might break or get cracked. The best to remove excess water from the sponge is that you should gently squeeze it and then to remove the remaining water from it you should place it in a towel and press it gently so that the towel can absorb the extra water from the sponge.
Your sponge should be slightly damp when you are going to use it. Make sure whether you are using the sponge to apply makeup or any skincare product you should not directly pour the product on the sponge. Instead, you should take the product on the back of your hand.
After using the sea sponge the most important thing that you should take care of is how you are going to store the sponge. If sponges are not properly stored, then they can become a breeding house for bacteria and fungus which is the main reason for many skin problems.
To clean the sponge, you should make a mixture of tea tree oil and a gentle shampoo in warm water and then dip your sponges in it then place the sponge under water and remove all the soap from it. When the sponge is completely clean let it air dry before storing it in a clean place.
Organic Sea Sponges: How They Exfoliate your Skin
To your surprise, sea sponges can also be used as an exfoliator. Sponges are softly textured, so they allow you to remove your dead skin, dead cells, and flaky patches on your skin gently and effectively. The radiance-boosting, circulation-enhancing, and exfoliating capability of sea sponges help you to achieve flawlessly smooth skin. After using the organic sponges, you can see a clear difference in your skin. Your skin will become smoother, and soft, and it will glow like never before.
How To Use Natural Sea Sponge as an Exfoliator Tool
As you read earlier sea sponges are the best tools to exfoliate your skin and make it smooth. Undoubtedly sea sponges are very easy to use but here is the correct way to use them.
First, you must choose the right sea sponge for your skin as there is a wide range of facial sea sponges available in the market. Choose the sponge that suits best your skin.
Now dip the sponge in warm water to make it soft. Using a sea sponge without soaking it in water can damage your skin as the sponges are a bit harsh when they are dry.
It is up to you whether you want to use the sponge with or without soap for exfoliation. If you want to use soap, then take your favorite facial soap on your face and then use the sponge for exfoliation.
Remember to move the sponge in a circular motion to exfoliate. Start exfoliating from your forehead then move toward your cheeks, chin, nose, and then to other parts of your face. Keep repeating this process for 2-3 minutes and you can do exfoliation with a sea sponge two times a day. If you have sensitive skin, then exfoliation 1 time a day is good for you.
After exfoliation wash your face and now you can proceed to apply other skincare routines on your face to get the best results. Do not forget to wash your sponge after every use.
05 Amazing Uses of Sea Sponges as a Skin Care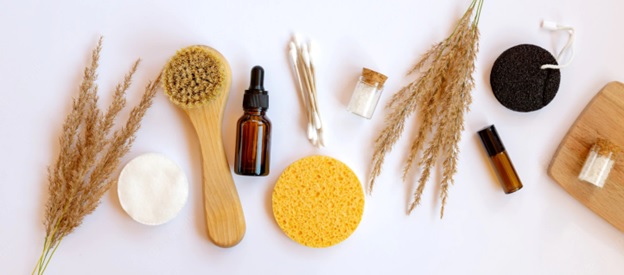 Skin sponges are no doubt the best tool to use for your skincare routine. The main reason is that organic sponges are very gentle on your skin, and they do not absorb extra products so half of your expensive skin care products are not wasted while using any other tool. Here are 05 amazing uses of sea sponges as skincare.
Remove Makeup Quickly
Instead of spending tons of money on makeup removal, you can use a cheap sea sponge to remove makeup. First, soak the sponge in warm water to make it soft then use it. Now take a good amount of your makeup remover on the sponge and then gently remove the makeup with the sponge. The sponge is soft and flexible which makes it very easy to remove the makeup from the corners and you can also remove stubborn products with it easily.
Remove Face Masks
Face masks are very messy and sometimes they are too sticky then it becomes very difficult to remove them by just washing your face with water. Another disadvantage of washing the face mask with water is that the water can also wash away all the potential nourishing oils of the mask which means that there is no use in applying the mask. The best way to remove the mask with a sponge is by using a wet sponge. Make sure to remove the excess water from the sponge.
Biodegradable And Sustainable
Sea sponges are completely organic, unlike synthetic beauty sponges which are the result of many chemical processes. Sea sponges are environment friendly as they are biodegradable and do not contribute to polluting our environment. Sometimes synthetic sponges get cracked just after the first use while on the other hand sea sponges are very sustainable and do not get damaged easily.
Give You Luxurious Lather
Another plus point of using a sea sponge is that it forms a luxurious lather. This lather will give a gentle base for your skin when you are exfoliation, shaving, or cleansing.
Cleanse Your Face Gently
Sea sponges are available in a wide range of varieties. Usually, the sea sponges are soft and silky which makes them perfect for your skin, especially for sensitive skin. If you have sensitive skin, then you are always scared of using any harsh product or tool on your face, but you can use sea sponges without any doubt. Whether you want to use sea sponges for cleansing, removing makeup, or exfoliating you should not be worried about your skin getting irritated.
Hypoallergic
As already mentioned, sea sponges are completely natural, so they do not contain any toxic chemicals which are harmful to your skin. Sea sponges are famous for their hypoallergenic nature so you can use them without any doubt.
A sea sponge is a hypoallergenic alternative to traditional sponges. They are less likely to cause an allergic reaction and are perfect for those with sensitive skin. Sea sponges are also environmentally friendly and sustainable. A sea sponge is a type of hypoallergenic.
Conclusion
Sea sponges are no doubt the best makeup and skincare tools that you should incorporate into your daily life. You must know the right method to use a sea sponge to avail the best benefits of it. Today, they are increasingly being used as an alternative to synthetic sponges and loofahs. Sea sponges are environmentally friendly and biodegradable. They are also softer and more absorbent than synthetic sponges.