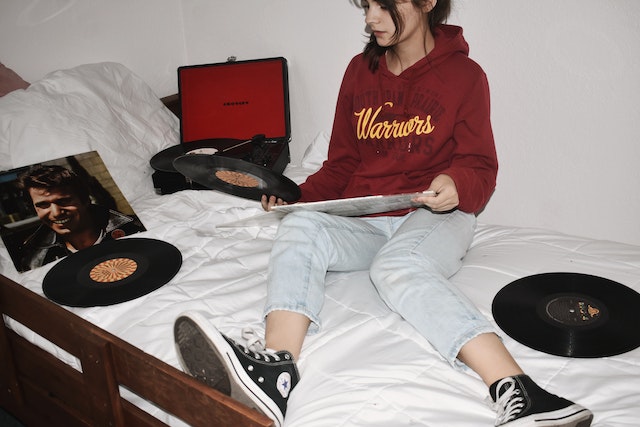 Photo by Sofia Alejandra via Pexels
Designing a custom sweater for company swag, your sports team or as part of your custom clothing and accessories business? Below are some pointers on how to make your custom sweaters look their best.
Before you start the creative juices flowing, however, it's crucial to partner with a company that provides start to finish services when you want to make custom sweaters in Toronto. When you use an in-house print shop, all you have to worry about is the design of your print. The following tips can help you do just that.
Choose the Right Size for Your Design
The size of your printed or embroidered design, logo, event name, etc., is one of the most crucial decisions and will primarily depend on the type of garment and what you're designing. For example, designs for t-shirts are typically larger than those for golf shirts. The same goes for custom sweaters. A design for crew necks will likely be different than one for hoodies. Also, keep in mind that designs need to be adjusted in orders that include multiple sizes.
The size of your print will also largely depend on what is being printed. A company logo, for example, is usually smaller than a design, joke or image. If you're designing custom sweaters for a business, there's a fine line between getting exposure and turning your employees and others wearing your swag into walking billboards. In other words, less is usually more. This goes for other designs as well. The funniest sweaters are the ones with as few words as possible, especially if they incorporate images.
On a side note, if you are designing custom sweaters for your company, you should consider embroidering the company logo rather than printing it – especially for sweaters.
Think Carefully About the Layout of Your Design
Every word, image and even letter within each word must be properly spaced from every other element in your design so that they are not too far apart or bunched together.
Another vital consideration is the shape of your design. Keep in mind that you're not designing a poster and that a symmetrical layout or one with square corners can look awkward on a sweater and clothes in general because of the drape.
When you plan the layout of a custom sweater, the print should not necessarily be placed in the centre of the sweater. Prints on the front of a t-shirt or sweater usually start around 4 inches from the collar, not the mathematical centre of the clothing. When you are choosing a location for your print or embroidery, also keep in mind that the centre of a non-symmetrical design is not its midpoint. Instead, use the midpoint of the area of focus in your design.
Colours Help Your Design to Look its Best
Colour is one of the key factors in how a design comes across – which you likely know as a business owner. Each colour affects people differently, which is why graphic designers always ask about the type of message you want to send about your company through your logo. The same is true for choosing the colours in a branded custom sweater and its design. Less is usually more when it comes to the number of colours you should use in the design itself, and the higher the contrast between the colours in your design and the colour of a custom sweater, the more your design will stand out.