When signing up for The Bachelor, contestants are reportedly instructed to bring 10 weeks' worth of outfits, including enough for as many as 10 cocktail parties and 10 rose ceremonies. Understandably, since this can cost contestants thousands of dollars, it can be a big letdown for those who don't make it to the final rose ceremony. But those who do make it to the last few weeks rarely disappoint when it comes to fashion, for better or for worse. Here are some of the most unique, flashy and all-around memorable looks from The Bachelor and The Bachelorette.
The Bachelorette, Season 15: Hannah Brown's Silver Satin Suit—From the very beginning, former beauty queen Hannah B. wanted to distance herself from the super-glammy looks of her pageant-peppered past, and did so by shocking us with fresh, new takes on formal fashion. (Remember that early promo where she ripped off her powder blue pageant gown, only to reveal a sleek pantsuit beneath?) This iconic silver satin suit was arguably one of the most memorable looks ever showcasing Hannah's unique approach, and we're living for it! It's by New York label Cinq à Sept and, with the jacket and pants, costs about $600. The metallic masterpiece gave us couture pajama vibes, and we've got to say we're okay with it.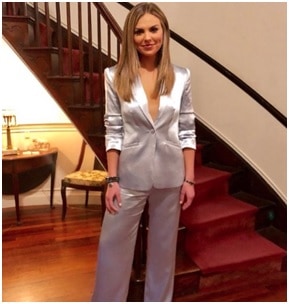 The Bachelor, Season 21: Alexis Waters' Dolphin Costume—"Iconic" doesn't always mean glamorous! And even if you've never seen a single episode of The Bachelor, you probably read headlines about this attention-grabbing stunt Alexis pulled during season 21. The quirky contestant, who was also an aspiring dolphin trainer, showed up to her first impression in a head-to-toe dolphin costume, delivering lines like, "I dolphin-ately can't wait to talk to you more inside." We could watch Bachelor Nick Viall's response to this memorable contender over and over again. Poor Alexis didn't make it past week five, sadly.
The Bachelorette, Season 13: Rachel Lindsay on Night One—The 13th Bachelorette definitely slayed the fashion game during her season, and can we talk about that unbelievable premier gown she wore during first impressions? The stunning white floor-length dress from Randi Rahm was loaded with intricate beading and Swarovski crystals, which—according to Lindsay—made the dress weigh about 25 pounds. We have to say, it was worth it for this truly memorable first episode ensemble. Rahm reportedly spent over 150 hours crafting it with her team, hand-sewing the embellishments herself. A work of art, indeed!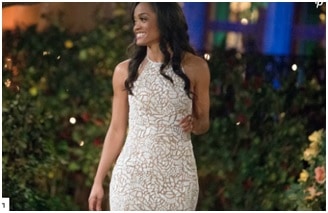 The Bachelor, Season 23: Hannah Godwin on Night One—Remember when Hannah G. showed up on night one with an empty box for Colton to signify that he doesn't always wear underwear? The fashion-forward contestant on season 23 really made a memorable first impression, and her dazzling gown only helped! The strappy gold sequin dress in episode one was a true standout, setting the stage for this contestant's place as a franchise fashion maven. In fact, Hannah G. has inspired an apparel collection so you can easily copy many of her best looks from the show.
The Bachelor, Season 7: Ashley Hebert's Finale Gown—The seventh Bachelorette was well-known for putting together lots of cute and classy outfits for the show, but nothing quite compared to that gorgeous finale gown Ashley rocked when winner J.P. Rosenbaum got down on one knee. The blush Randi Rahm gown—which cost a cool $16,790, according to InStyle—featured all-over ostrich feathers, silver sequins and crystal beading. The gown must have been good luck, because Ashley and J.P. are still happily married with two kids.
The Bachelor, Season 23: Elyse Dehlbom's Episode Five Gown—OMG, we are in love with this stunning white maxi dress that Elyse rocked in episode five. You may remember this look because it was the style Elyse wore when she stormed out on Colton and left the show altogether. But this gorgeous overlay maxi gown left a lasting impression on viewers, and we won't soon forget it. It was a white floor-length dress with a sheer lace overlay, featuring a plunging halter neckline that gave it a glamorous, formal feel. What a legend!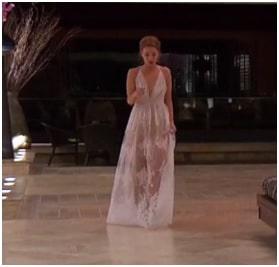 The Bachelorette, Season 8: Emily Maynard's Finale Gown—Talk about a throwback! Some of those old Bachelorette seasons featured some pretty horrendous fashions (at least in retrospect), but Maynard's final rose ceremony gown still holds up. Featuring a gorgeous bronze motif with a floor-length silhouette and all-over sequins, this show-stopping dress dazzled as Maynard handed over the final rose to Jef Holm (they split shortly after). The gown was designed by Lebanese Designer Jean Fares, who designed five of Maynard's looks that season, amounting to nearly $40,000 in fashion. It was well worth the price tag, we think!
The Bachelor, Season 23: Hannah Brown's Liquid Chiffon Dress—Ah, who could forget this metallic pink masterpiece Hannah B. rocked on her final date with Colton? This high-fashion statement gown by Rachel Zoe (it rings up for $600, if you were wondering) looked positively dazzling on Hannah. We adore the juxtaposition between this gown's classy, floor-length silhouette and the fun and flirty plunging neckline and glitzy chiffon fabric. Like Hannah B. herself, this one's a real class act, even if it did remind us a little bit of an '80s prom dress.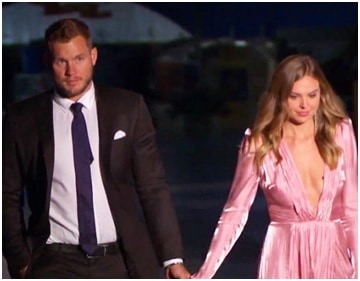 The millions of dollars in sequins, silk, lace, crystals and custom designs that these girls haul in each season are definitely worth the cost, at least from our vantage point. These unforgettable gowns and designer looks are what make this show so special, and we sure hope we get another 20-something seasons of this endlessly entertaining series so we can add more glammy gowns to the list.