The striking jewelry is the most important conclusion of any modern outfit. Many people from different cultures everyday wear jewelry, a jewelry has special significance. Although the first thought is that women who wear jewelry, and men often wear rings and bracelets. When we look back through history, we see that people of different civilizations wore various types of jewelry, made of different metals and precious stones.
Do you know that fashion accessories are key to any good style? Well-chosen piece of jewelry, scarf or bag can do wonders for your style. Be very careful in the selection, because thin is the line between kitsch, chic and the circus.
The jewelry will refresh every wardrobe, will accentuate the style, will deliver a message. If your choice a large ornate detail, then let it be just a piece of unique jewelry. The UNOde50 women jewelry could always help you with the best and unique pieces. Of course, it is important what you like to highlight. If you want to turn your attention to the neckline, then, beautifully decorated and a great necklace is the right choice.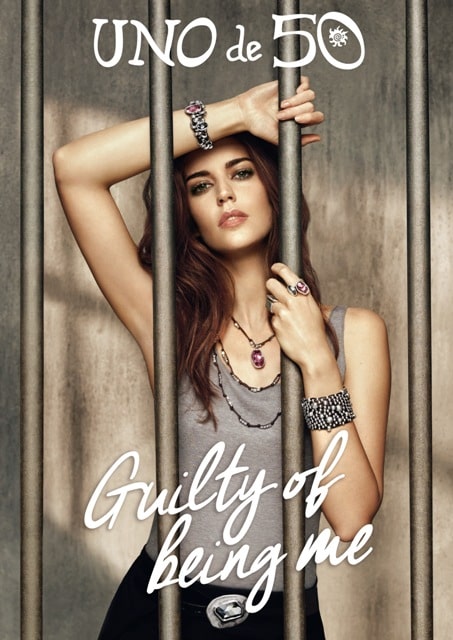 Emphasize your face with the remarkable earrings, your hair with beautiful hair barrette, or get the attention to the hips with an interesting belt or bracelets for bold women.
We got the press release from UNOde50 and here is what they say about their new awesome campaign:
The Spanish brand already has its advertising campaign for 2015. Under the concept of "Guilty of being me", UNOde50 invites us to make mistakes, to enjoy the incorrect, to be independent and above all, to be proud of it. It introduces us to a woman full of self-confidence, positive and optimistic, ever original and rule-breaking. A woman who doesn't care what others say about her. She cannot avoid being the way she is, in fact,she doesn't want to.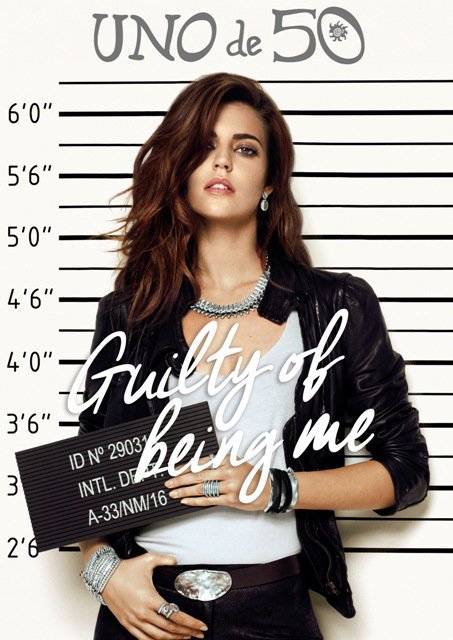 Depending on the occasion each woman is changing fashion accessories that aptly define her style. Jewellery is always mandatory fashion accessory, glamorous and elegant to complement your perfect look and attract attention at every opportunity!
Fashion details must always be compatible with the style of clothing. Elegant dress, elegant fashion accessory. If you want to violate the rule, the style must remain recognizable as hard to achieve harmony. Sure you can experiment, but in moderation.
With summer wardrobe combinations, jewelry is getting more apparent and stylists offer this season to play with different pieces. Bracelets in sequence this summer are an absolute hit.
If you want your look to do even more impressive, stylists offer the bracelets to be worn in the sequence, whether metal, wood or plastic. For work, it is sufficient to select two, three thinner bracelets, with monochromatic wardrobe choose massive models in sequence, and for evening choose bracelets decorated with semi precious stones, crystals or zircons.
Whether wide, thin, decorative or plastic … they give an original print of the entire look. So this season in many jewelry collection at the forefront are exactly bracelets with different shape and size.