We Indians pay great heed to our jewellery, especially wedding jewellery and one of the most important pieces of wedding jewellery is the mangalsutra. This gold chain set in black beads and a pendant is worn by a bride symbolising the pious wedding union. In Indian tradition, a mangalsutra is given great significance and importance. This beautiful jewel comes in many sizes and patterns and can be chosen as per personal preference. However, nowadays, women are opting for sleeker and shorter designs in mangalsutra. If you wish to know why you should pick up shorter gold mangalsutra design, read on to know more!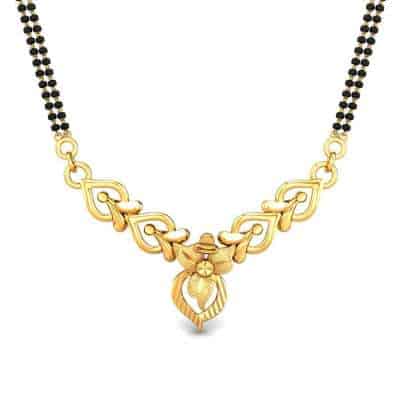 Small designs complement most outfits: Where chunkier and heavier mangalsutra offer a traditional and ethnic charm to the wearer, the shorter and sleeker patterns go well with both contemporary and traditional avatar. If you are looking for a jewellery piece that you can wear with western as well as conventional Indian outfits, then you should stick on with shorter mangalsutra designs.
You can wear it every day: Not that you cannot wear longer mangalsutra on daily basis but there is always a chance of longer chains getting entangling in some objects while doing household chores and breaking. However, compacter and smaller patterns and designs sit close to the neck and less likely to get entangled or broken. Also, smaller mangalsutra is more comfortable to wear and you may not even have to remove it before going to bed. All these factors are making women opt for shorter mangalsutra.
The cost factor: Small or shorter patterns are easy on your budget. When during the weddings there is a pressure of buying so many kinds of gold ornaments if you buy a smaller pattern or design in mangalsutra, it will be easy on your pocket and help you save some money. However, if you are opting for diamond mangalsutra designs then it may not hold true. But with pure gold patterns or designs, you can look for economical options!
It compliments all styles: If you are someone who does not like to wear heavy jewellery and mangalsutra is something that you may be required to wear on regular basis, well, you can opt for shorter designs. Short patterns prove to be saviour for women who do not like adorning heavy jewellery. Indian women love adorning jewellery but there are some of us who may not be that keen on wearing jewellery on a regular basis. For women who like to keep it simple, shorter mangalsutra designs can be opted.
Ideal workwear option: If you are a working woman, you may not like to flaunt a chunkier piece of jewellery when you go to the office. Well, that does not mean that you cannot wear mangalsutra to office. There are umpteen short designs to choose from for all those working women.
Mangalsutra is not a just a fashion accessory. It has great sentimental and traditional values attached to it. No matter what size you prefer to wear, it is the sentiment you attach to this precious piece of jewellery that is important!