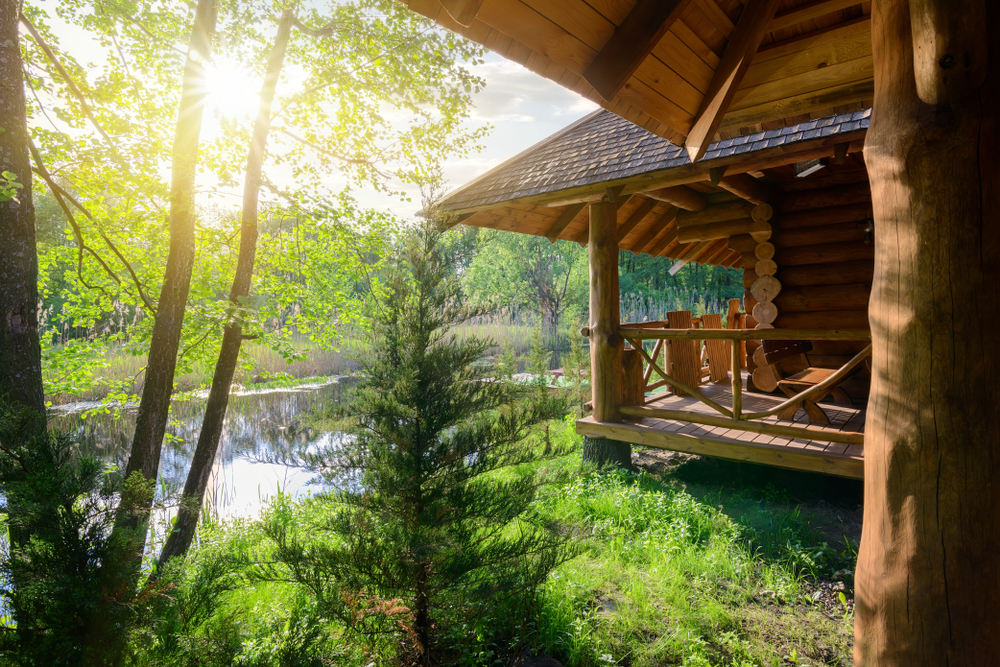 Source: givaga/ shutterstock.com
We all know that pent-up restless feeling that comes from too much time stuck in one place. Most of us will experience low-grade cabin fever in these unprecedented times. Our beautifully decorated, cozy homes can begin to look like a prison and make us feel stir-crazy. If we're not used to these feelings, we can start to drown in a sea of take-out containers, incomplete chores, and unhelpful thoughts.
Thankfully, using some simple tips, it's easy to work with your feelings and direct them into productive activities. You'll want to focus on things that bring you joy, remind you of what you love, and introduce positive influences into your day. When you do this, you can learn how to turn cabin fever into a peaceful oasis. Here are 10 easy ways to avoid getting cabin fever when you're stuck at home.
Create a Routine
Life consists of appointments, to-do lists, scheduling, meetings, and more. But life at home tends to be more unstructured. It's the place we associate with unwinding at the end of the long day. When we're at home, it's easy to live in our PJs, eat what we want, do things when we want, or choose not to do certain things at all. The sense of structure that automatically came with our "normal" life is gone, and now it's up to us to create our routine.
Routine is more than just keeping busy; it helps focus your mind and gives a feeling of purpose. In fact, routine is so essential that psychologists and other healthcare professionals regularly mention it as part of a positive self-care lifestyle.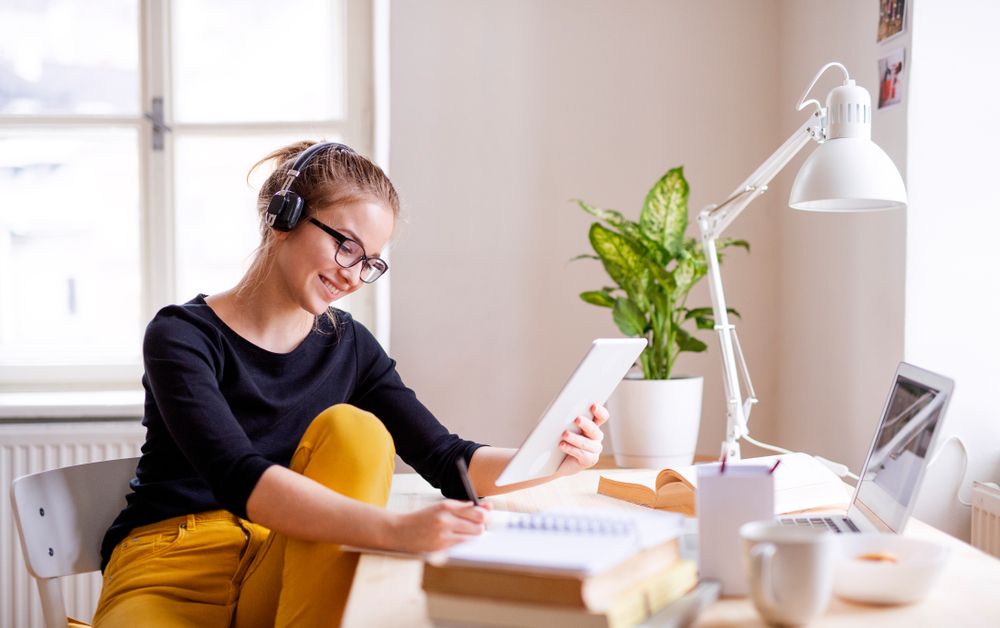 Source: Halfpoint/ shutterstock.com
Focus on Self-Improvement
When you're focused on keeping up with a busy life, you're limited with the amount of time you can invest in yourself. Now that you don't need to keep up with that same frantic pace, you have time to invest in self-development to learn, grow, and become stronger. Dust off that book you've been meaning to read, learn a new skill, take an online course. Focus on developing your abilities, passions, and self-confidence.
Get Dressed
Dressing like we have somewhere important to be, even when we don't, can help improve self-image, motivation, and confidence. It's easy to laze around the house in our stained sweats and wrinkled tank tops, but this doesn't do much to help us psychologically. Intentional dressing allows us to express who we are and remind us of what we love. Take time to consider what you wear during the day and choose things that bring you joy and make you feel good.
Work Out
Physical movement comes with a host of benefits. We all know exercise is an integral part of any healthcare routine, but movement becomes even more crucial when we're cooped up indoors. Exercise increases the production of feel-good neurotransmitters—endorphins. Just by moving your body, you can help shift how you feel.
Maintain Relationships
Being separated from those you love can be hard. Although we may not see our friends and family like we used to, we can still put energy into maintaining our relationships. Technology is an important part of this maintenance and can be used to connect you with other people. Organize regular Facetime or Zoom meetings with family and friends, send texts and messages to each other throughout the day, or plan to host a virtual game night.
Plan for the Future
When things feel uncertain, it's even more important to keep your mind focused on positive, productive things. Thinking about the future and things you want to achieve can take you outside of the present moment's limitations and fire-up a sense of purpose and meaning. Journaling can be a wonderful way to set down seemingly intangible goals in a more concrete way and help you to visualize your plans more effectively. Try bullet journaling for a creative way to wind down at night.
Get Creative
Creativity comes in different forms. So, just because you don't consider yourself fit to be the next Monet or Mozart, it doesn't mean you can't find a form of creative expression that suits you. Engaging the creative brain is known to benefit mental well-being; art therapy has been suggested to reduce isolation feelings. Something as simple as an adult coloring book can stimulate your creative mind and ease feelings of stress associated with cabin fever.
Enjoy Your Backyard
Stepping outside into your backyard can be an excellent way to enjoy the outdoors. If you don't have your own backyard, use the balcony or even a window! Listen to the birds sing, feel the breeze, sit on the grass, and get some fresh air. Even just a moment can break your feeling of claustrophobia.
Decorate Your Home
If you're spending a lot of time at home, it's the perfect time to make it a place of inspiration. Don't just organize and clean your home as usual; think about how you can transform it into a sanctuary.
Don't get overwhelmed. You don't have to make massive changes unless you want to. Simply rearranging items and furniture you already have can make a significant difference in how you feel about the space. Even the introduction of simple stylistic elements and beautiful hand-picked boho decor can improve your mood.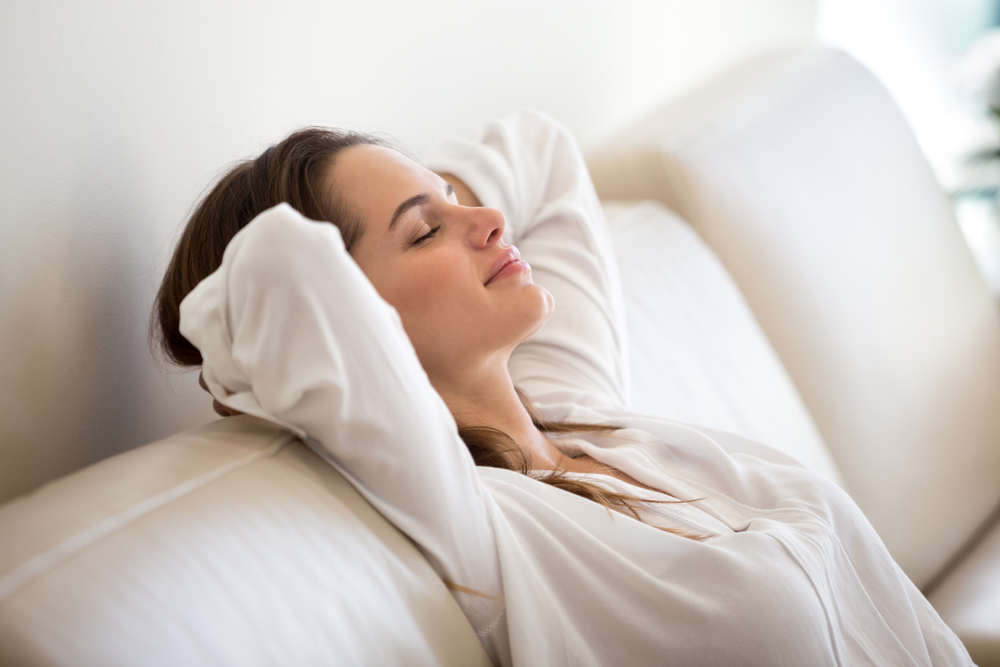 Source: fizkes/ shutterstock.com
Go Easy on Yourself
Implementing a routine, encouraging yourself to work out, and trying new things are all important, but so is relaxation. You can still take things easy and get cozy when tackling cabin fever, so long as it's not the default mode. It's crucial to take intentional downtime at various points in the day. Schedule relaxation moments, or try meditation, breathing exercise, and visualization and pour yourself a hot cup of tea or coffee into your favorite mug! When you're feeling stressed, remember to be patient with yourself, do what you can to introduce positive habits and activities into your day, and then allow yourself to breathe.
Final Thoughts
Like anything new or different, it takes commitment to create change. But the first step is always the hardest. If you're experiencing cabin fever right now, know it won't be that way forever, especially when you take the necessary steps to shift how you feel. It may take energy and effort to make new choices, but it will be worth it both in the short- and long-term.