Summer is on the horizon, and with it comes hot days and even hotter nights. Michael Costello has dressed Beyonce on the red carpet, been a fan favorite on Project Runway, and dominates at New York Fashion Week. All in all, he's the perfect designer to make this summer your most stylish yet.
Here are five stunning pieces to consider when you shop Michael Costello dresses.
X Revolve Justin Gown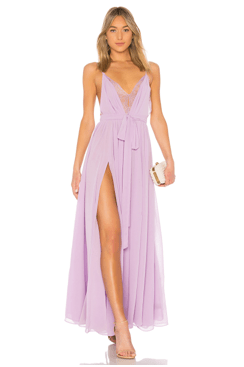 The X Revolve Justin Gown is the dress you need for a warm evening on the town or at a function. This flowy, feminine dress comes in a soft lavender, blush pink, or bold red to suit your mood. The swooping neckline, lace inset, and thigh-high slit add sexiness to the softness, while the poly fabric and tie waist create motion that captures your natural movements.
Pair this look with gold or silver metallic accessories. Strappy sandals, simple yet elegant bangles or earrings, and a matching clutch will complete this look. If you're looking for a more formal tone, swap out the metallics for nude accessories. The adjustable shoulder straps make this gown appealing to all body types, and can make your dress as conservative or daring as you want.
X Revolve Jake Gown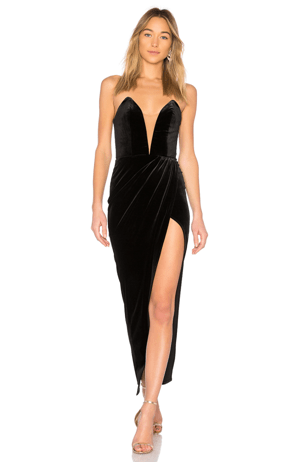 Another contender from the X Revolve collection, the X Revolve Jake Gown is dark and delicious, and is guaranteed to bring out your inner femme fatale. This partially lined, boned bodice provides coverage with sheer mesh inset for a sexy sneak peek. The back has a hidden zipper enclosure, making it easy and comfortable to wear. The surplice skirt is built to show some leg while staying classy and sophisticated.
This little black dress offers the same versatility as all little black dresses (with an added punch). Choose your own adventure when it comes to accessories, opting for a dark and moody look with red stones and black pumps or dress it up with your favorite gold accessories. The choice is yours.
X Revolve Andrea Dress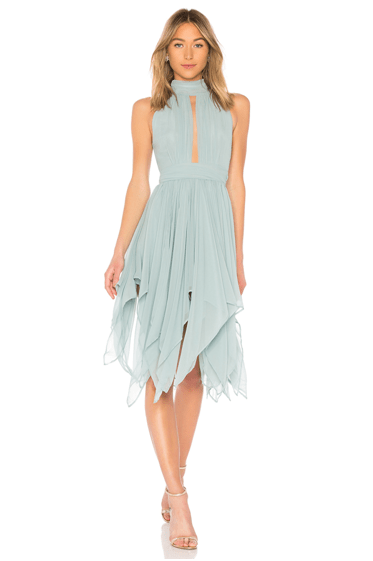 The X Revolve Andrea Dress in seafoam captures the essence of the ocean waves. The asymmetrical, tattered style hem will bring out your inner siren and is sure to catch some eyes. The ruching makes the dress flattering for all, with a high neck and front cut-out feature that is both elegant and sultry. The fabric is fully lined for a balance of coverage and airiness.
With the high neckline, it's best to keep accessories simple. Pair some eye-catching chandelier earrings with this look, forgo a necklace and bracelet, and wear open-toed metallic heels to bring the look together.
X Revolve Maren Gown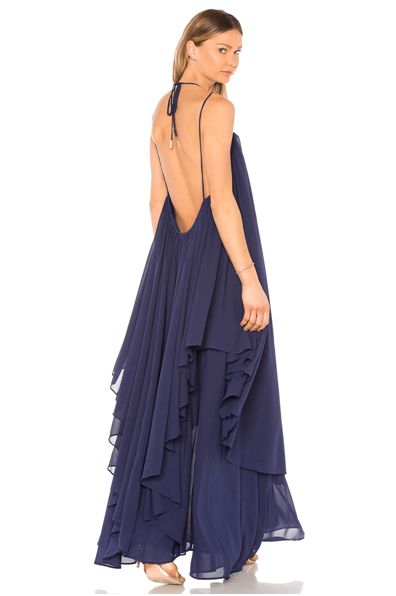 The X Revolve Maren Gown comes in red and navy. This floor length maxi offers an asymmetrical overlay with back tie enclosure. You can opt to tie it and create a defined waistline or take a bohemian inspired approach and leave it untied and flowing. The slinky shoulder straps and open back are perfect for some fun in the sun.
This dress runs long, so prepare to wear your highest heels. Dress it up with understated gold or silver jewelry for an elegant look, or chunky wooden accessories for some boho bliss.
X Revolve Carrie Gown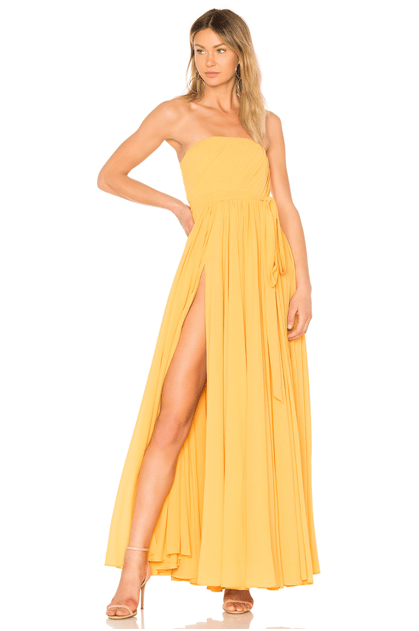 This yellow gown is anything but mellow. Fully lined with a boned bodice and thigh-high slit, this dress dances along the line between carefree and high fashion. This strapless gown has a hidden back zipper and attached brief with snap enclosure. Fully lined with a waist tie, this dress is perfect for elegant Sunday brunches and nights on the boardwalk.
Due to the bold color of this dress, accessories should be kept simple in complementary golds or nudes. With the right Michael Costello dress, you will be the hottest part of the summer.