Hello DIY lovers! Are you ready for some adorable and super easy DIY makeup organizer ideas? Scroll down the page to explore some inexpensive and easy-to-do DIY makeup storing ideas that can make it easier for you to store all your makeup products. Most of them are made of products that you already have at home, so repurposing them won't cost you even a dollar. Don't miss trying them.
DIY makeup brushes storing jars
Do you have a lot of makeup brushes as most women do? Well, here is a wonderful and super easy DIY makeup organizer idea for you. It will help you store all your makeup brushes in such a decorative way. For the project you will need:
Few jars (in this project are used three, but you can use the number of jars that will be enough to store all your brushes)
 Letter cutouts
 A hot glue gun
 Tiny clear beads to hold the brushes upright in the jars
You can use square-shaped jars for a more eye-catching effect. The beads will help the brushes stand up upright so they are always easy to find when needed. All you need to do is hot glue the letters to the jars. Note each of the jars with the part of the face you use the brushes for. Keep in one jar the brushes for your eyes, in other those for your face, in a third one those for your lips… Your makeup brushes storage is done.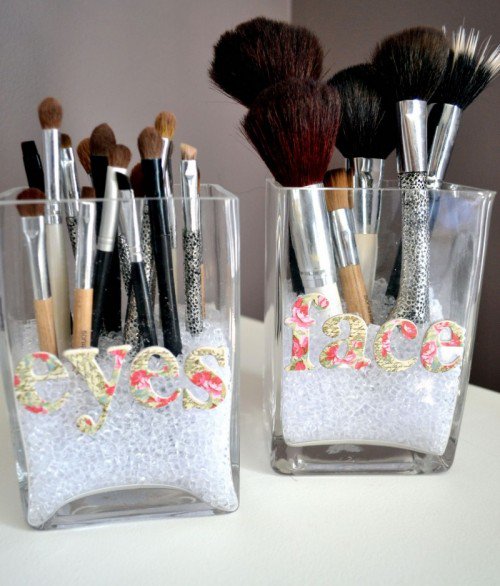 source
Organize your makeup products like silverware
Are you interested in repurposing old items from your household? Here is an inspiring DIY makeup organizer idea that you will adore trying. Take some old kitchen utensil organizers and repurpose them to store your makeup brushes and other makeup products in them. The kitchen utensil organizers are very useful when tucked into drawers in the kitchen. Well, if you store your makeup brushes and products in drawers in your closet, here is how to keep them more organized and on hand. Replace the knives, forks, and spoons with a straight iron, makeup brushes, and eye liners, and place the organizer in the drawer. You will thank us later!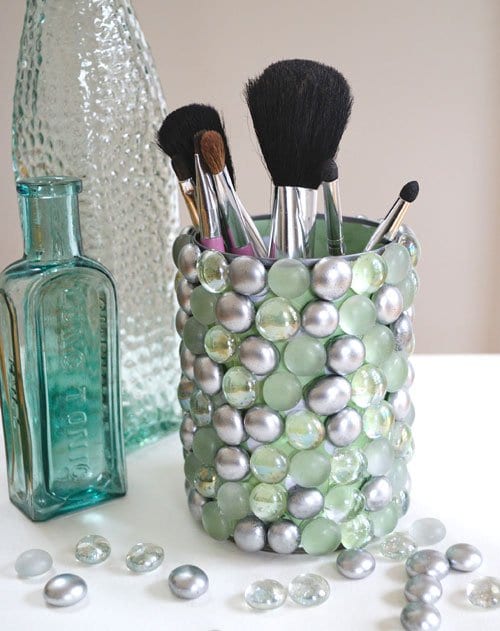 source
Corral your things on a tray
Another easy and inexpensive way to keep all your makeup items in one place is to use an old serving tray. This DIY makeup organizer is a perfect way to store all your makeup products in one place. Just take an old serving tray and place a few mason jars to hold the things like eyeliners and makeup brushes. You can use the serving tray the way it is, or you can repaint it and decorate it to make it more eye-catching.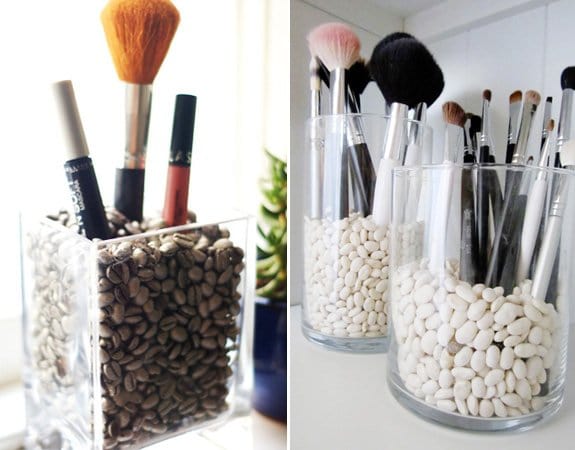 source
DIY makeup organizer out of an ice cube tray
Are you searching for the easiest and most inexpensive way to DIY a makeup organizer? You have already found it! There is no household that has no ice cube tray in the kitchen, right? Well, if you do not use your one to make ice, here is an alternative way to put it into use. The silicon trays that are usually used to make ice cubes can be used as makeup organizers in many different ways. One of them is to line up all your eye shadows jars. Place each of the small jars in each of the cubes of the tray. You can also store your nails polishes in the tray. Or, your lipsticks! This way you can organize the makeup by colors and shades, making them more accessible when you will need them.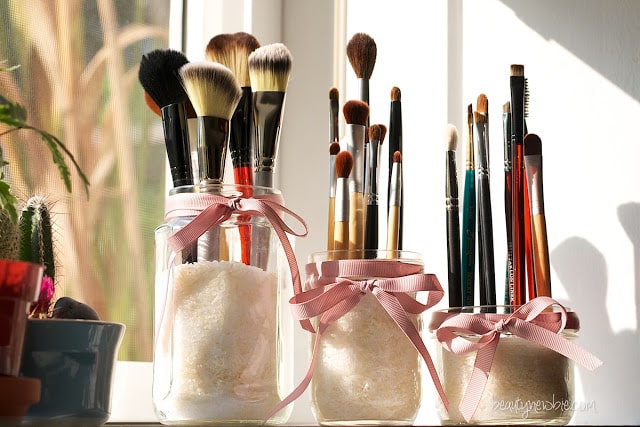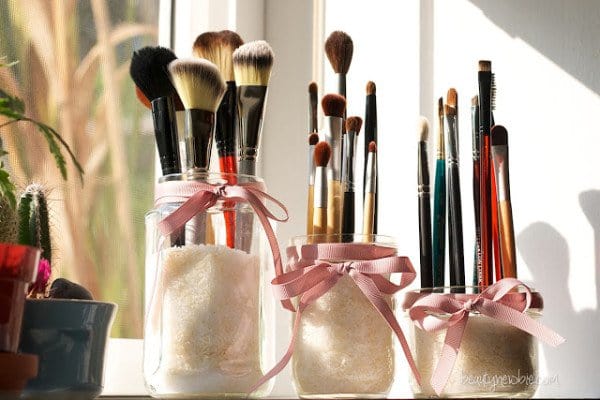 source
Store your makeup products in cookie jars
Summer is coming, so it is time to finally get your body in shape. Forget all about cookies and repurpose your cookie jars in a less "calorie bringing" way. You can copy our DIY makeup organizer idea and use your cookie jars to store your makeup products. Use one to store all your nail polishes, another for the lipsticks, another for the eye shadow jars, etc. The cookie storing containers are usually transparent so you can easily find anything you are searching for at the moment you will need it.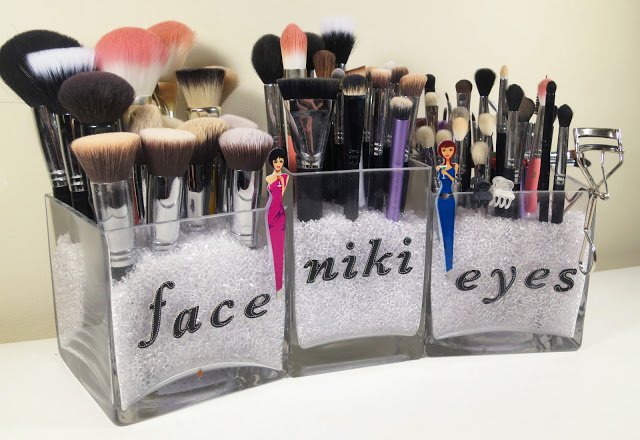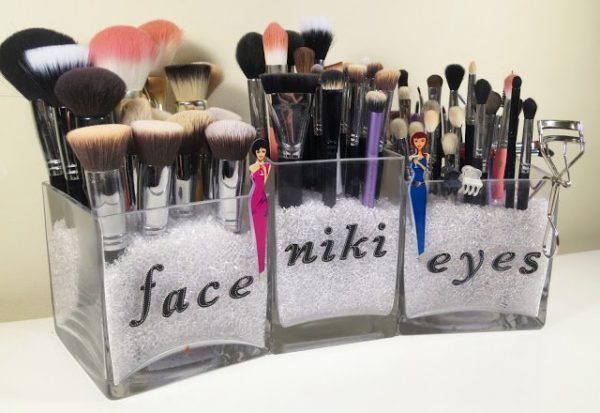 source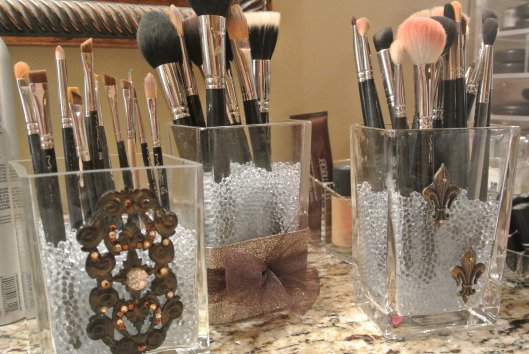 source
DIY makeup storage out of the inkwell
Do you already have some ceramic inkwells at home? If you have originally bought them to put them on the top of your coffee table, but still haven't used them this way, here is a creative way to finally put them in use. This DIY makeup organizer idea will teach you how to organize your makeup brushes in inkwells. If you thought that your old purchase isn't versatile and useful enough, then we are proving to you that you were wrong. In your inkwell you can store all your makeup pencils, your makeup brushes, as well as your lipsticks. Stay organized without even having to spend a dollar, using items that you already have at home.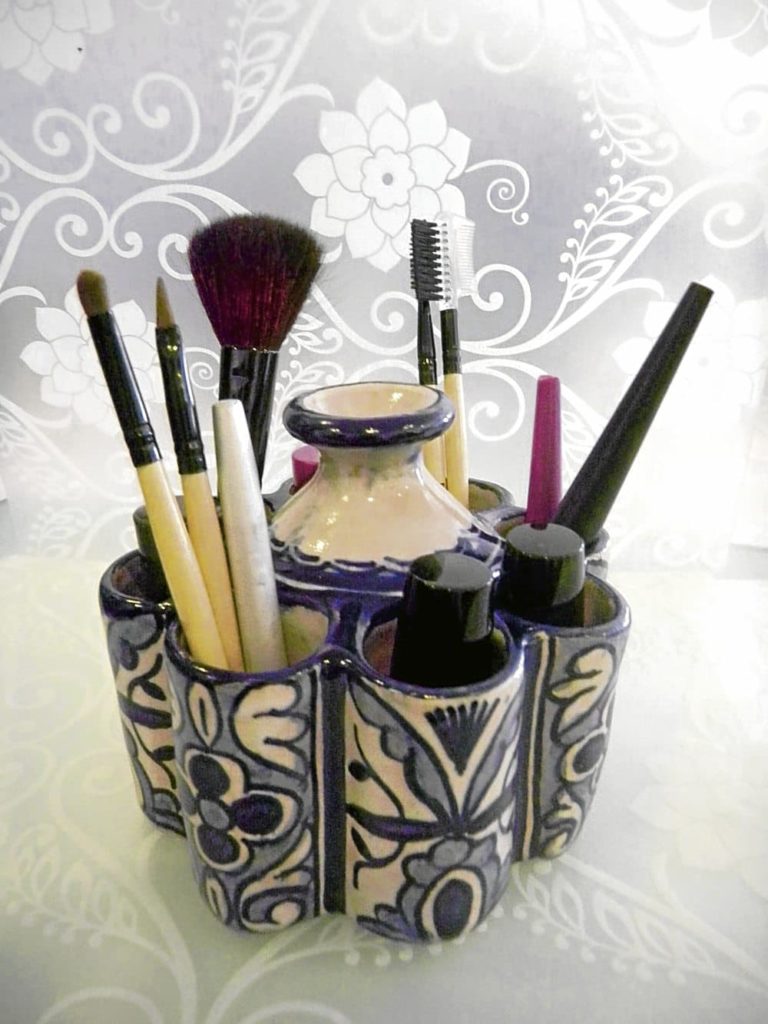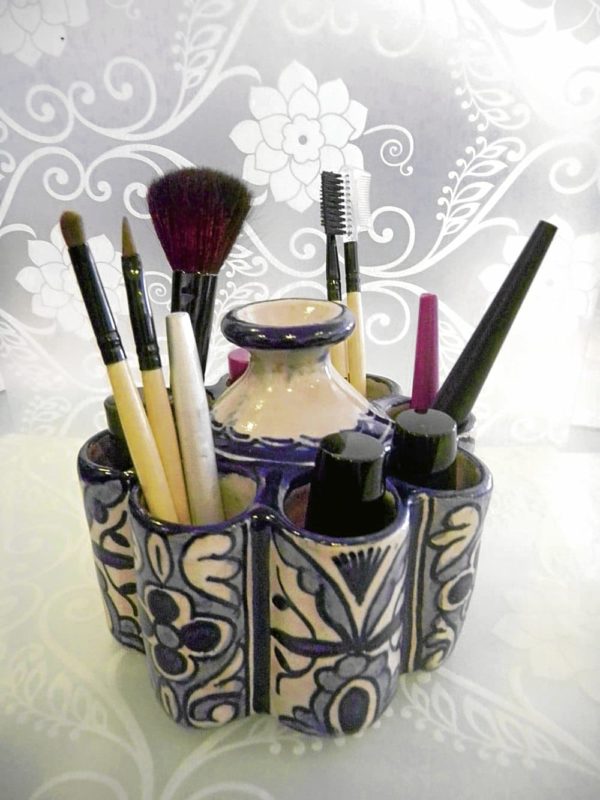 source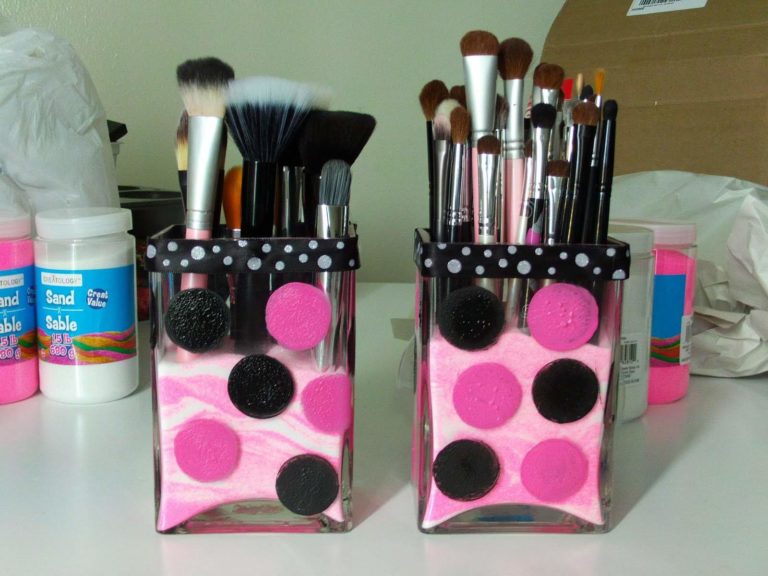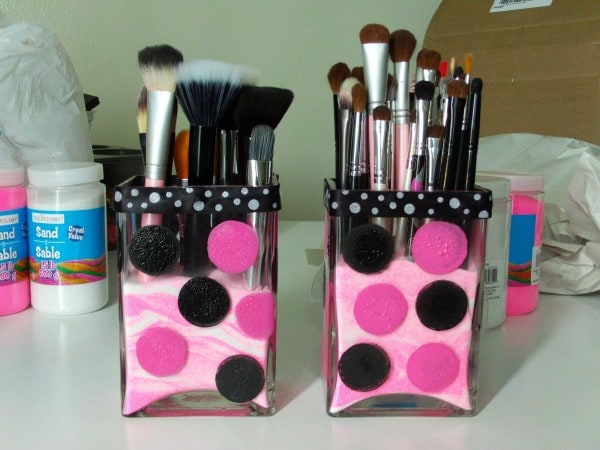 source