There is no better time to freshen up your nail designs than spring. Especially the season of celebrating Easter. From gorgeous Easter egg colors and bunny-centric designs to chocolate chicks, there is an endless palette of potential ideas to copy. For the upcoming Easter holiday, we recommend you try some creative and colorful Easter bunny nail art designs. In the gallery below, we are inspiring you with some of the most straightforward DIY Easter bunny nail art ideas you can try at home without spending money on a manicurist. We invite you to explore these colorful nail art designs below and to try the ones that you like the most. Share your Easter bunny nail art design with us. Happy and joyful holidays!
Long Easter accent nails
If you have long nails to work on then you are the lucky one! There are tons of Easter bunny nail art designs that you can try on your long nails. You can use them as a canvas to paint Easter motives on. A bunny looking from his colorful home presented by the French manicure tips on your long nails is a perfect way to create festive, yet elegant nail art.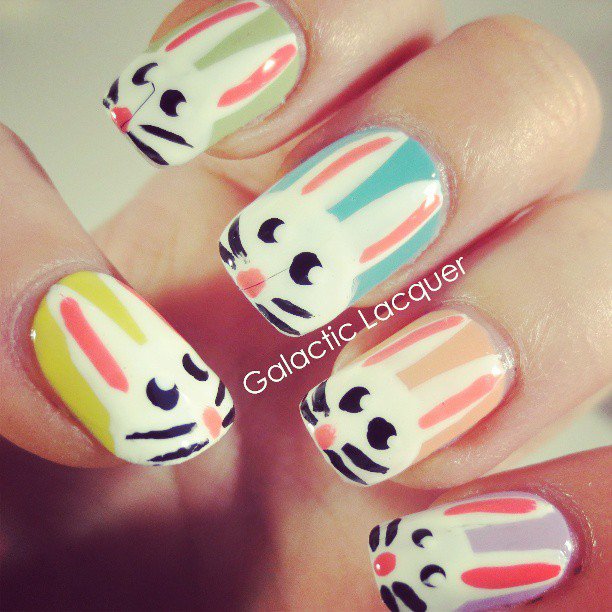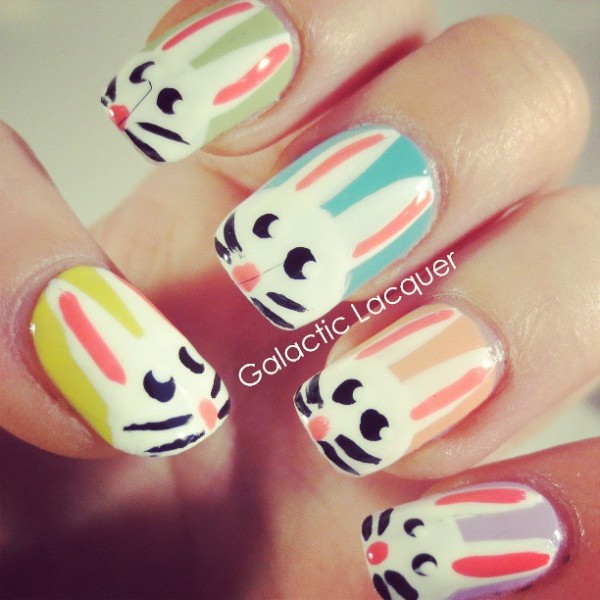 source
Chocolate Easter nails
If Easter bunny nail art seems too hard for you to do, or, if bunnies are not your thing, then chocolates definitely are. There is no person who can resist the taste of chocolate. And, what about chocolate Easter nails? Seems too delicious? Try the idea and share your sweet experience with us.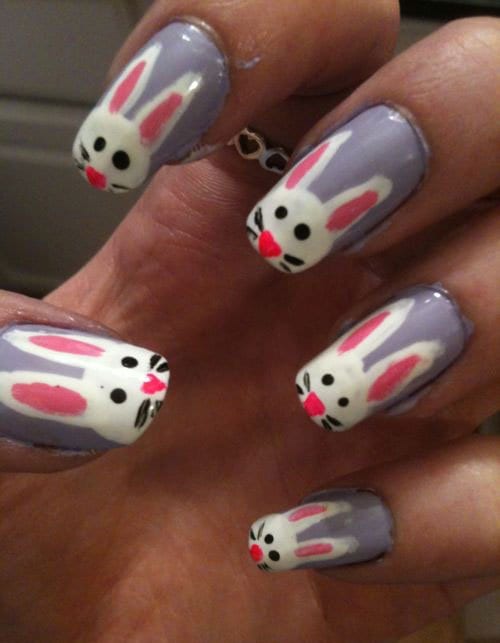 source
Minimalist neutral bunny nails
There is always a subtle way to do Easter. This minimalist neutral Easter bunny nail art design is proof of this. The neon pink base is a super spring color that will fill your heart with positive vibes. On the other hand, the white bunny head is a super Easter symbol that will add an extra touch of the holiday spirit to your manicure idea.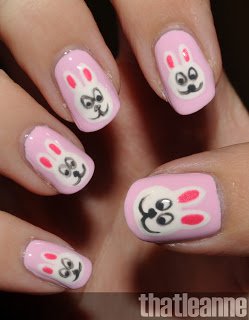 source
 Easter bunny press-on nails
This is a super festive nail art design idea that you must try for the upcoming holiday. An Easter bunny nail art presenting the little and adorable bunny and his cottontail is definitely a cheerful manicure idea that you must try on. Choose soft pink or grey shades for the nail base and then use white and pink for the rabbit. Your new nail pet will look amazing.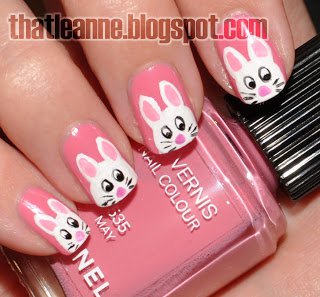 source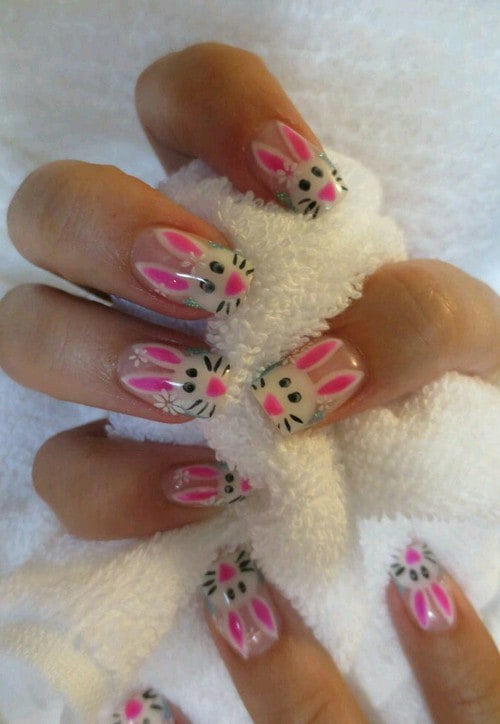 source
 Skittles manicure
If Easter bunny nail art is too much for you, but you still want to keep the festive spirit in your manicure, then here is an idea to try. Pick out five of your favorite pastel nail polish shades. Then, paint each of the nails on each hand with these pastel-colored nail polishes. There is nothing that symbolizes Easter more than pastel shades. If you are still too creative and want to add a typical touch of the holiday, try to paint or draw bunny ears on at least one nail per hand.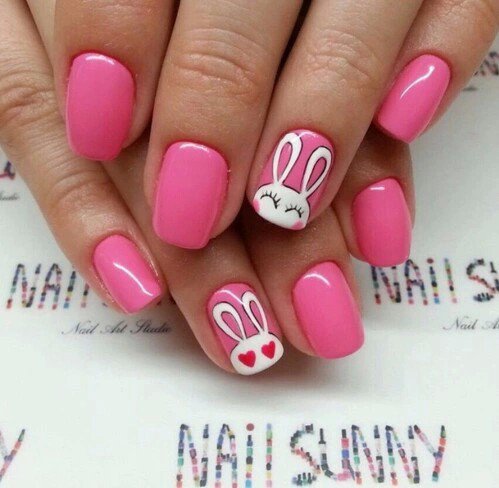 source
Easter bunny accent nail
3D nails are all the rage nowadays. Women get absolutely obsessed with the trend of 3D manicures. If you are one of them, and at the same time you are looking for some inspiring Easter bunny nail art ideas, then you can try the 3D nail art design for yourself. Choose a floral-forward design that showcases an Easter bunny accent nail on a base of tie-dye pastels. You will adore the accentuating effect of the 3D Easter bunny shape. 2D nails are too basic, so this Easter, leave basic behind and enjoys the holiday n a 3D dimension.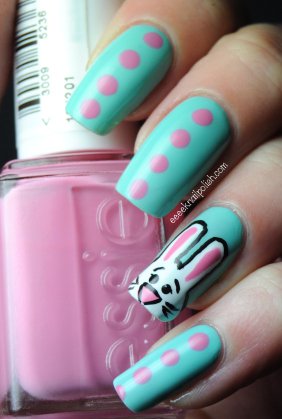 source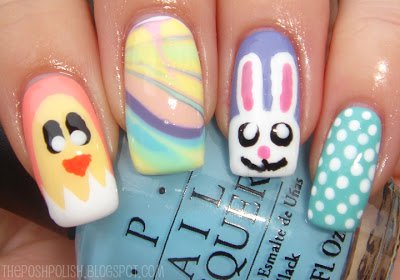 source
Easter Bunny rainbow nail art
There is nothing more colorful than the rainbow. And, there is nothing that represents Easter more than bunnies (and colors)! So, here is a perfect way to incorporate Easter bunny nail art with colorfulness and spring vibes. Combine a rainbow landscape and a little bunny peeking out in one corner. Sounds amazing? If it seems a little hard for you to DIY, you can always visit a manicurist. The final result will be worth each dollar you spend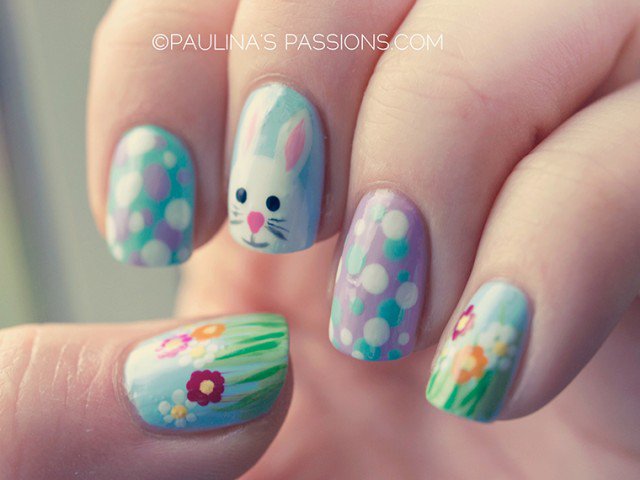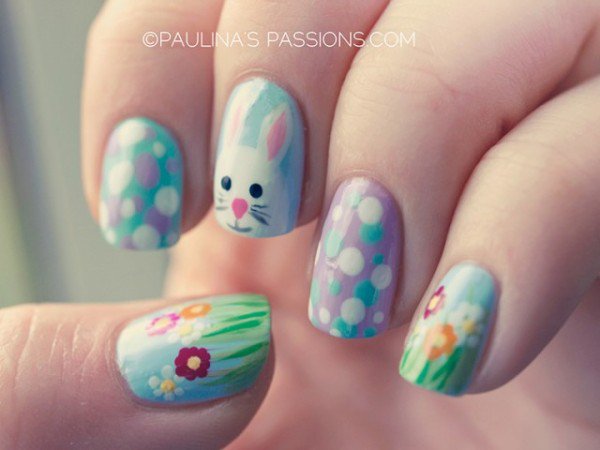 source
Easter egg daisy nails
An Easter bunny nail art design is a really creative way to incorporate the holiday into your manicure. But, let's be real. Only many of us are perfect artists that can easily draw and paint bunnies on a such small surface, especially on the right hand. Thankfully, Easter is full of inspiration and you can easily change the Easter bunny details (that are too complicated for you) with any other Easter symbols. Eggs in different colors are one of the easiest (and always successful on the first try) Easter nail art ideas to try. Choose a colorful base and then paint one-colored eggs over it, or, choose a pale pink nail base and then draw and paint some colorful eggs over it.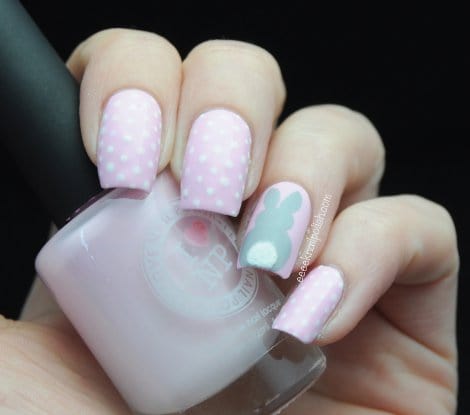 source