Hearing the word 'yes' takes off a crazy amount of pressure that you conglomerate for months before proposing. Understandably, it is a crucial event of your life and you want that to go perfectly. Having said that, one must never forget that the ring should make you happy, not troubled. So, the idea should be to shop and organize yourself in a way that you're brim with confidence and throw the idea of any kind of uncertainty out of the window.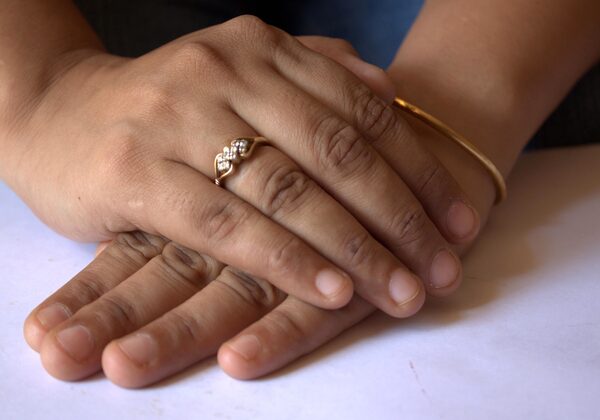 Therefore, we've lined up some important tips to make things easy for you.
1)Fix your budget first:
An engagement ring is not a cheap thing to carry out. There is a lot to cater: a huge number of invitees, arrangements of food for them, getting proper clothes for the ceremony etc. Under such circumstances, mindlessly spending money on a single engagement ring is not a wise thing to do.
While fixing the budget, don't be unnecessarily flamboyant, but it is acceptable if you wish to splurge a bit. While you are deciding on the ring you wish to buy, think about her ring size, the weight and cut of the gemstone you prefer as well.
2) Decide on the gemstone you wish to buy:
Today's market has a plethora of options. Gold, platinum, diamond: you name it and they have it. Naturally, choosing one of them becomes tricky. Therefore, even before entering the market, ask yourself the following questions?
How much money do I have?
How much am I willing to pay?
What are my preferences and that of my fiance's?
Will I be able to afford it?
Who doesn't like to own a diamond ring? However, just because it is the norm, you don't need to buy a diamond. Search about other ring metals and its latest prices and trends too.
3) If you have decided to buy a diamond, learn about the 4 C's:
Looks like you've decided to buy a diamond ring for your fiance. Well, then you might want to educate yourself further. There are a few characteristics of a diamond ring which you should know:
Cut: The amount of craftsmanship which goes into creating a diamond ring depends on its facets and sparkle. Accordingly, the price varies as well. The round cut diamonds cost more than the marquise ones. Hence, look out for these details before going out to buy.
Colour: Another deciding factor while buying a diamond is its colour. The yellowish tinge on a ring might be a symbol of being oxidised and old. Hence, search for the colourless crystals.
Clarity: Inclusions or blemishes on the diamond crystal speak volumes. It is necessary we don't forget to check those.
Carat: The physical weight of the diamond is the most important indicator of its price range. Understanding that helps you as a customer, to decide what you want to buy and not fall prey to sheer marketing gimmicks.
Each of these points have a bearing on the price of the ring and also helps you customise your shopping experience. Knowing the cuts of diamond, you'd prefer can aid your process of finding a good jewellery store.
4) Consider buying ring insurance:
As already established, your engagement ring is one of the most precious possessions you might invest in. It takes a lump sum of money to buy one, and hence there is a need to protect it. Consider having ring insurance for the safety of this sparkler from theft, accidental loss, damage, 'perils' like windstorm, flood etc. There are ample ways of getting it insured, so look out for your feasible plan and get in action. If you don't know much about a ring insurance, you can learn about it here and know all the nitty-gritty involved.
5) Almost always, less is more:
Gone are the days of stuffing yourself with gaudy jewellery and big gemstones. A big diamond ring may look regal, but that isn't feasible for regular life, is it?
A small, sophisticated and sparkling diamond ring adds to your glory like nothing else. The giant solitaires are stuff to show, however, they aren't as personal as engravings or filigree.Engagement rings are the celebration of your bond, and in that, size is immaterial. Besides, wearing a ring doesn't mean you don't need to use your hand. Thus, it is always better to get a tinier one, for that gives you better quality and also the right kind of panache you'd be looking for.
Keeping all these in mind, step out to get her the perfect ring. Remember perfection doesn't lie in latest trends, size or the engagement photos others have uploaded. It is more in the kind of person she is, and the type of jewelleries both of you prefer. Happy shopping!