Now that we have waved goodbye to our summer wardrobes, it is time to embrace the fall season. Pack away your bikinis, flip flops, and summer dresses to make space for your turtlenecks, boots, and coats. One of the upcoming trends this season and a 'must-have' staple in everybody's wardrobe is definitely a pair of women's western boots.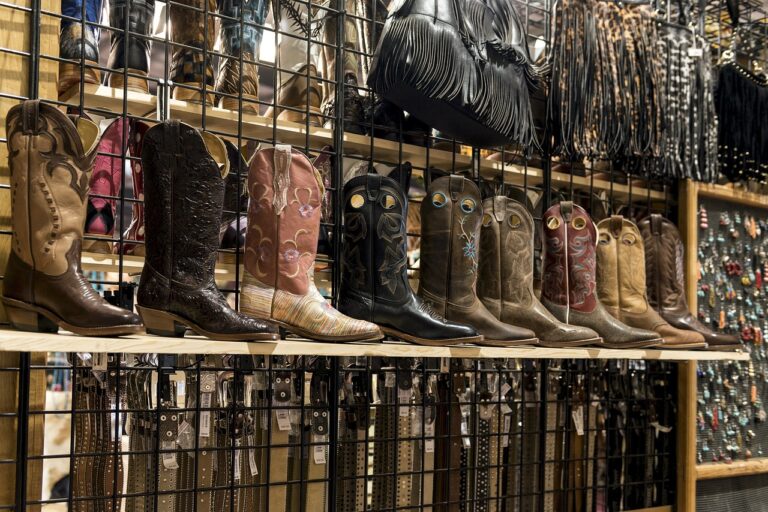 This trendy item has left its country origins and appeared on the catwalks of many famous fashion houses. Calvin Klein, Coach, Virgil Abloh, and Isabel Marrant are only a few of the designers who have been influenced by the western style.
Nowadays these boots come in all sorts of colors, shapes, and styles. Therefore, finding the perfect pair for your personality won't be a struggle. On the other hand, knowing how to style these western boots with your wardrobe may be a bit more challenging. Here are some of our favorite ways to pair western boots.
Boho Look
Celebrity Inspiration: Florence & The Machine
One of our favorite ways to style a great pair of western boots is with a boho-inspired look. This is great inspiration for festivals like Coachella as it recreates a 70's boho-chic vibe. Unfortunately, this year Coachella has been postponed but keep this in mind for 2021 when the festival hopes to be back up and running.
A great style combination is a pair of western boots with a flowy midi dress or midi skirt. Midis are really popular right now and come in a variety of colors and floral patterns. Finish it off with a fringed or denim jacket to complete the look.
Another way to channel this down-to-earth look is by pairing the boots with a white flowy dress of any length. If your boots are high, then a short white dress in lace, cotton, or linen will look fantastic. A white dress is also a great option if your boots are a daring statement color such as red, blue, or even pink. Don't forget to accessorize! The boho style includes turquoise jewelry tones, large bags, and statement necklaces or rings.
Denim
Celebrity Inspiration: Kaia Gerber
An obvious pairing for western boots is denim. This is how the Texans have been pairing it for years (and with good reason). Although it can come across as rather casual, denim is an amazing material exactly because of its versatility. Nowadays, you can find anything in denim from a jumpsuit to shorts, or even dresses. Not only this, but you can buy denim items in white, acid wash, black, as well as the traditional blue tones.
Jeans go great with both knee-length and ankle-length western boots. You can opt for a skinny, straight leg, or bootcut pair of jeans rather than something wider, like mom or flared jeans, as these will detract attention from the shoe. You could pair the jeans with a basic white tee and an open button-down western shirt.
If you are feeling adventurous, why not pair the cowboy trend with another hot trend like double denim? This is a killer look, just make sure your two denim pieces are similar tones. Keep it simple with the t-shirt and stick to basic colors. Add some simple gold or silver hoops, a dainty necklace, and a fabulous pair of sunglasses.
Streetstyle Inspired
Celebrity Inspiration: Hailey Bieber
Another cool way to mix two upcoming fall trends is by combining street style with the western vibe. Don't be afraid to mix and match pieces from both and make sure to trust your instinct. If you are having doubts, just text a friend to get their opinion! This mix of trends looks better with a higher pair of cowboy boots. Choose a flattering set of cycling shorts and pair this with a cool graphic tee or an athletic jumper.
Hailey Bieber, our celebrity inspiration for this style, is also the queen of blazers. Oversized blazers are all the hype in street style right now and can look amazing if paired with the right cowboy boots. If your boots are black, then pair these with a black leather blazer and a t-shirt dress. If you want to elevate your look, put on some black sheer tights, gold hoop earrings, and a thick chain necklace.
There are countless ways that you can style your western boots this season, these are only a few ways to get you started. If you are stuck for ideas, have a look at the social media feeds of our celebrity inspirations.