Hello DIY lovers! Once again, we are inviting you on a super exciting DIY shoe makeover adventure with us. You will for sure adore these DIY shoe makeovers on a budget. If you are up for some budget-friendly DIY shoe makeovers, then don't miss scrolling down the page to explore the best shoe projects among them all. Most of us soon become bored of the look of our shoes and want to do something to change the way they appear. Well, if you are one of us too, then here are some projects that you can try on. They all cost less or will cost you so little that you won't have to spend a dollar on them. And, what is best: you will get a new pair of super eye-catching shoes out of the old and boring ones. Enjoy!
1. From That to This: Neon Flats DIY
If you are interested in some easy DIY shoe makeovers, you should not miss the following. You will adore recreating this neon look of your old and boring shoes.
Here are the materials needed:
An old pair of shoes
Neon paints pens that can be used over textiles
How to make them:
First, find the pair of shoes that you want to makeover. Make sure they are clean from debris. Wipe them down first so you get rid of the accumulated dust over them.
Ready to start: grab one of the paint pens and get to work!
You can paint some details that already exist on your shoes. Or, you can create your own design of what you want to paint on your shoes and follow it.
Move on to the other shoe.
Leave everything dry completely.
If needed, you can apply a second coat of paint if necessary.
Voila, your new neon shoes are ready for long walks around.
2. DIY color block shoe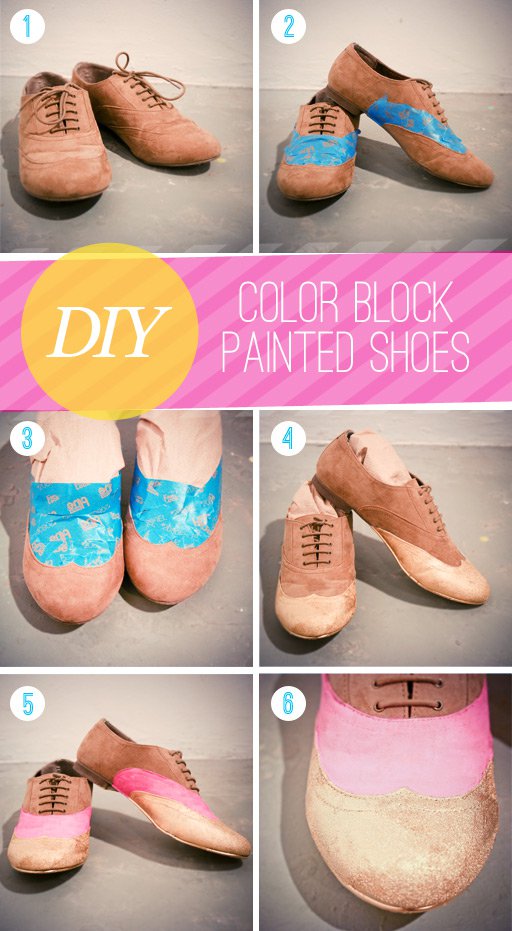 source
3. DIY fringe shoe
Most women fast get bored of the look of their shoes. Exactly the same women are experimenting with some DIY shoe makeovers on a budget. Here is one of those DIY shoe makeovers that they would certainly adore. The fringe detail will give a completely new look to your old and boring shoes. Don't miss trying it.
Here is the list of the supplies needed for the project:
Pinking shears
Scissors
Hold punch
Vinyl or leather piece
A pair of shoes that you want to makeover
The steps:
Before you start with your DIY shoe makeover project first unlace the shoes.
Then, measure how wide the area is at the bottom of your lace flaps and how long the tongue is. Do not forget to add an extra 1 inch or so to the length for the fringe detail.
Cut out a piece of vinyl or leather using the measurements you take.
Once you have cut the piece try it on so that you make sure it fits perfectly in the shoe area. Trim if necessary until you get the perfect dimensions.
Use the pinking shears and cut just enough off that you are able to get the pretty little zig-zag design.
Then, use regular scissors to cut 1 inch of the peaks made by the pinking shears.
Insert the vinyl piece back into the shoe. Use a marker to mark the bottom holes and then punch holes in the places where you marked them.
Put the laces through the vinyl piece so that they are coming out the front (use the picture below to see how to properly do this step).
Lace-up your shoes and enjoy wearing them. We wish you collect many wonderful memories while walking in them.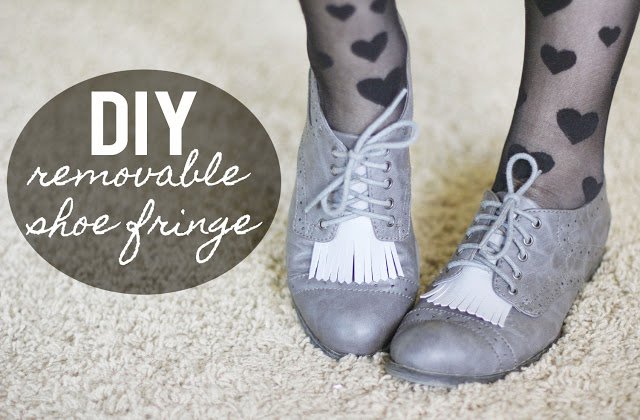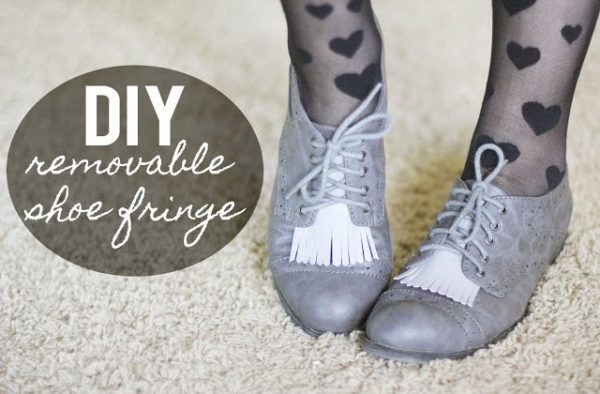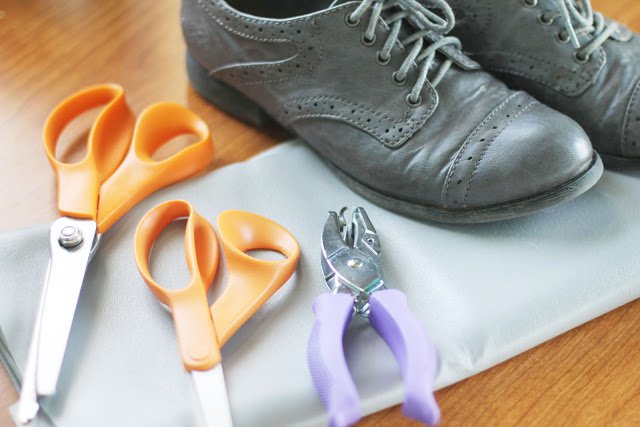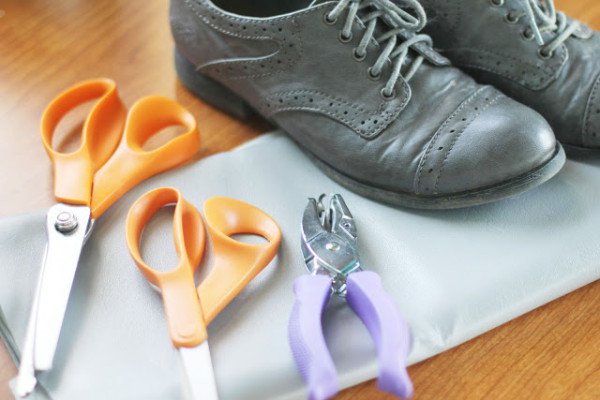 4. DIY vintage-style painted shoe
Ready for some creative black-and-white DIY shoe makeovers? You will adore these vintage-styled shoes that are the perfect addition to styling some casual fall outfits.
Here is what you will need for the project:
A pair of white shoes
Baby wipes
Acrylic paint
Mod Podge
Two paint brushes, one to paint with it, one to apply the Mod Podge
Masking tape
Shoes
How to make your vintage-style painted shoes:
First, clean the shoes using baby wipes.
Decide which parts of the shoe you will paint. Remove the laces before you start painting the shoe.
Using the masking tape, tape the parts of the shoe that you won't be painting.
Start painting! Use one of the brushes and apply a coat of black paint over the areas you plan to paint.
Let the paint dry. Repeat painting and drying until the black cover the white completely.
Take the second brush and apply a coat of Mod Podge over the acrylic paint to seal it.
When the Mod Podge is dry enough, you can return the laces on the shoes. You can paint them black or leave them white up to your wishes.
Done! You are ready for styling your new black and white vintage shoes!
5. DIY- Neon-tipped Oxford shoe
6. Color-blocking shoe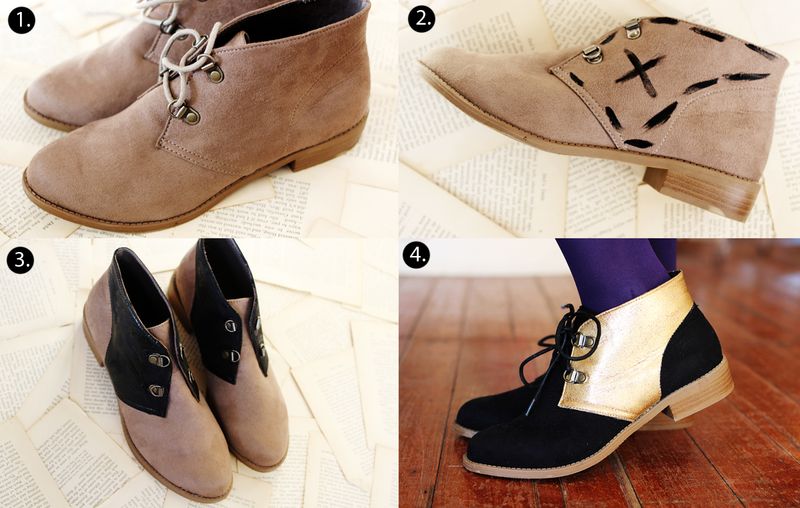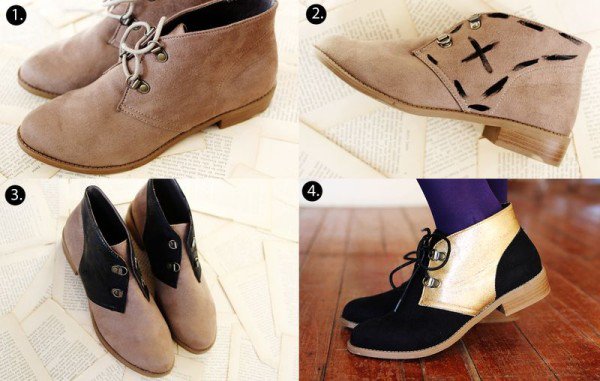 source
7. DIY Neon Loafer Re-duex!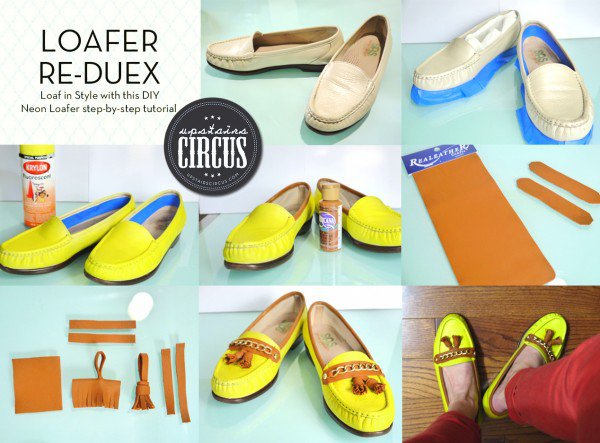 source
 8. Make your own red saddle shoes