We are all going to announce the season of pumpkins open as fall is just around the corner. Here I will share with you some outstanding benefits of pumpkins that you can use in your beauty routine. These Natural Pumpkin Hair Masks That Can Be Done In 2 Minutes are going to make your hair super soft, silky and shiny.
If you are looking for more natural masks, don't miss to see the amazing pumpkin body scrubs that you would love to make this fall and the effective remedies that will help you get rid of blackheads naturally.
Pumpkin Hair Mask No.1
Ingredients:
Pumpkin puree – 1 cup
Coconut oil (moisturizer) – 1 tablespoon
Honey (softens hair) – 1 tablespoon
Yogurt (loaded with lactic acid that is good for repairing dull hair) – 1 tablespoon
Insert all of the above mentioned ingredients in a bowl and mix them well. You can use blended pumpkin as well instead of a canned pumpkin puree. Wash your hair as you usually do and then apply the mask. Make sure it covers your whole hair. Wait half an hour to forty minutes for the mask to try and act before you wash it off with cold water. Feel free to do this every 7-10 days if you want your hair to be smooth and soft.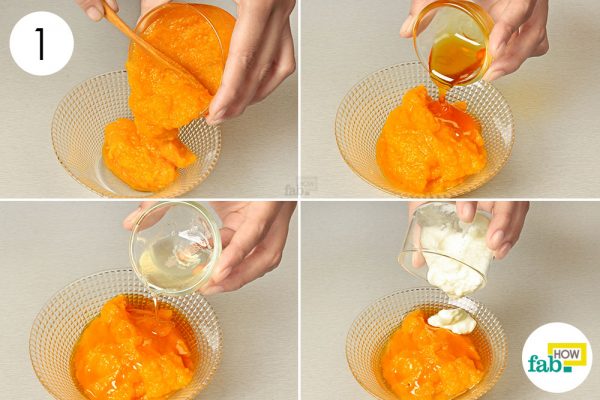 Pumpkin Hair Mask No.2
Ingredients:
2 tbsp roasted pumpkin puree

1 tbsp coconut milk

2 tsp

 organic raw honey
Here's another super simple and easy recipe that requires zero effort. Mix all of the ingredients into a bowl to form a smooth paste and your mask will be ready in no time. Apply it on wet hair, keep it on for 30 minutes and then wash your hair with warm water and shampoo as you usually do.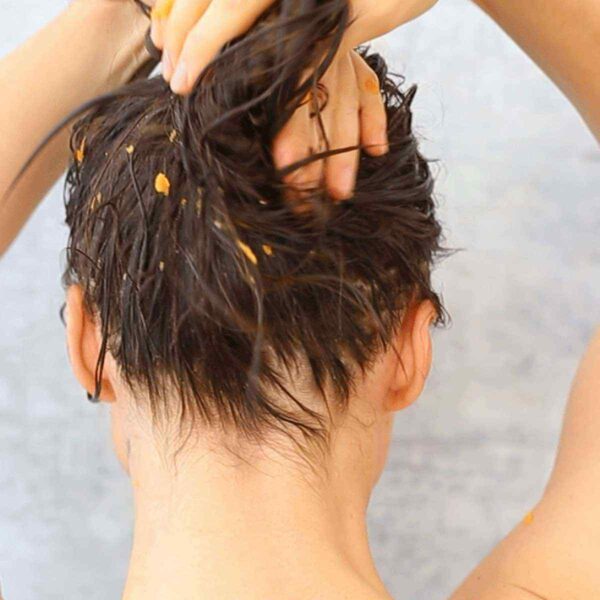 Pumpkin Hair Mask No.3
Ingredients:
2 tablespoons pumpkin puree
1 tablespoon coconut oil
1 tablespoon honey
1 tablespoon pumpkin spice
You should apply this mask just to your roots. You already know the procedure for making these adorable pumpkin hair masks, so go ahead and give this one a try. Mix everything together and you are done. Wait for 5-10 minutes and your hair will immediately become silkier and smoother.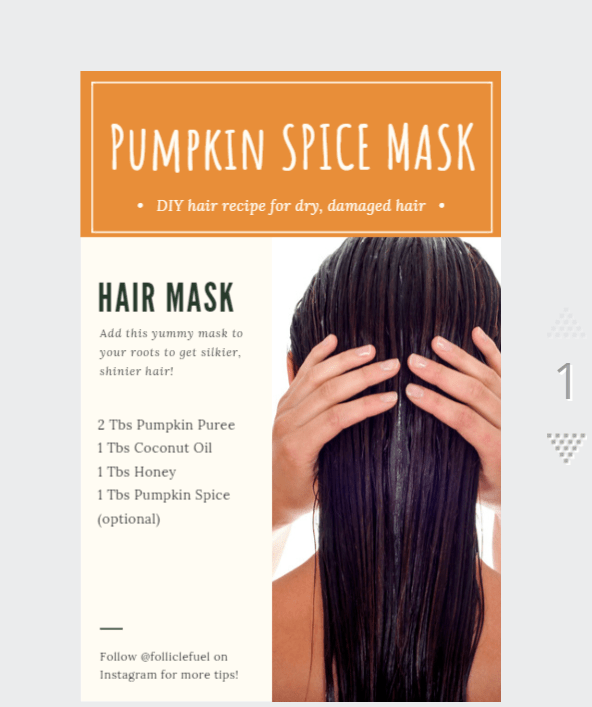 Pumpkin Hair Mask No.4
Ingredients:
Raw pumpkin guts
A dash of cinnamon
Insert the pumpkin in a blender and form a semi-thick puree. Then add a dash of cinnamon and mix well. Spread it on your hair and keep it on for 10 minutes. Then wash it off with warm water. If you have some puree left make sure you apply it on your face too since this makes a wonderful face mask at the same time.