Are you traveling abroad for a holiday? If yes, you may know the stressful packing for the vacation can be. Many people have faced packing mishaps at least once in their life. The mishaps can range from inconvenient, such as heading to some exotic summer destination without your swimsuit, to disastrous, like leaving your wallet at home, or leaving your passport and having to return back to take it. The best is that most of these mishaps are preventable. And, the best way to prevent such stressful situations is to make an ultimate packing list before starting to pack for the holiday. And, not to forget the helpful packing tips that any traveler need to know for a more enjoyable traveling.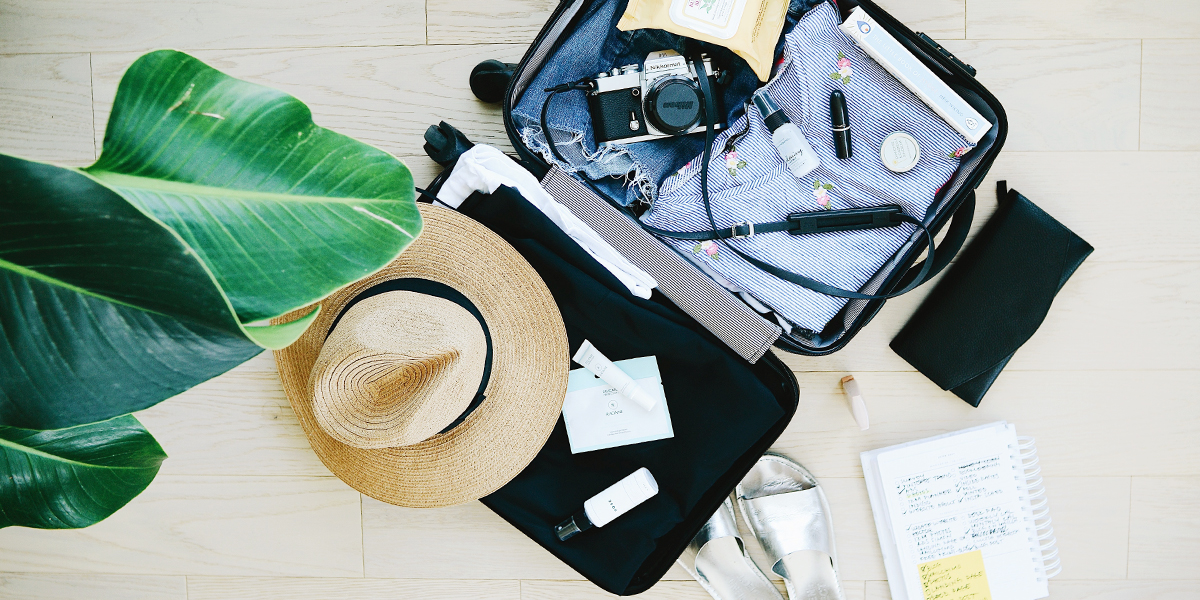 source 
Below, we have selected some packing tips for traveling abroad for you. We hope it will help you pack everything you need for the vacation of your dreams. First, don't forget the holiday essentials. They are vital for any traveling abroad. Meet the must-pack items, that you can't travel without (abroad at least!). Pack them first and never leave them to be an afterthought.
Your passport (with at least 6 months validity)
Foreign currency
EHIC card
 Flight ticket or boarding pass
Hotel booking details
Travel insurance documents
Phone charger
Packing tips for clothes and other items
The first thing to consider in mind when packing the suitcase is the length of your trip and the weather in the destination you are visiting. Also, if traveling in some country with special non-standard clothing, then consider bringing with you the appropriate clothes and other gear you may need.
Secondly, you need to decide if you are going to check a bag or only a carry-on. It is important to curate the amount of clothing you will bring with you on the trip.  If you are packing minimally, then focus on packing layering clothes in neutral colors that are more versatile compared to colors and patterns. You can later wear these items more than once as they are easy to be combined in different outfits.
Invest in clothing that does double duty. Choose multi-use wraps, crushable hats, self-cooling and heating fabrics like merino wool, wrinkle-resistant shirts, quick-drying activewear, casual sneakers…You do like to travel in style and comfort, right? Don't miss the importance of comfortable yet stylish clothing for an enjoyable and at the same time fashionable vacation.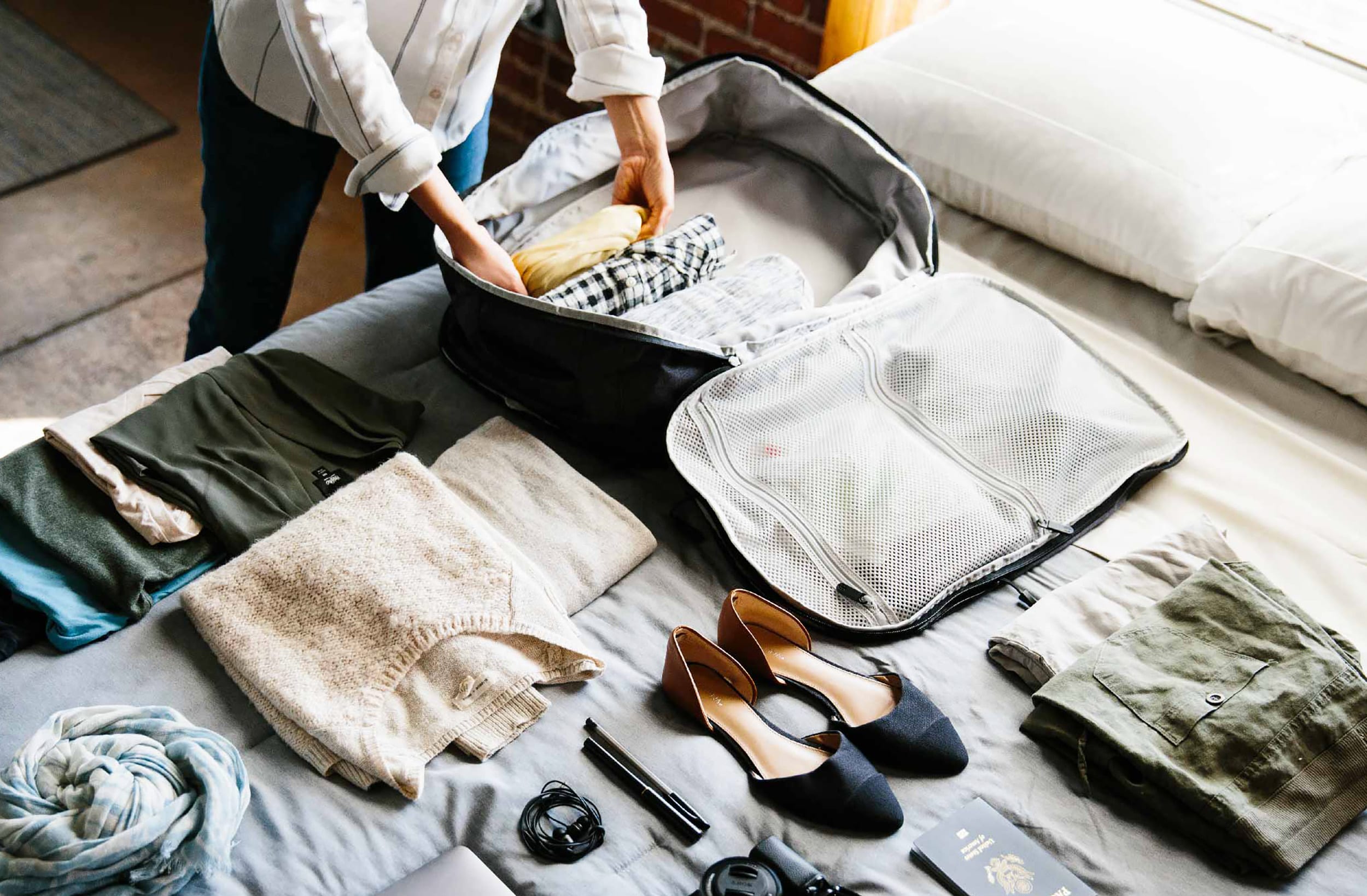 source 
For shorter trips, consider taking at least one pair of underwear and socks per day, one pair of pajamas, one to two dressier outfits, one to two activewear outfits, and one to two casual outfits, as well as one to two pairs of shoes. For a longer trip, you can manage with one pair of underwear and socks per day, two pairs of pajamas, and two to three dressier, casual, and activewear outfits, as well as two or three pairs of shoes.
Make sure you bring with you some essential accessories, such as a money belt, scarf, a collapsible tote, or a day bag for extra items you may acquire on your travels. For non-standard trips, such as cruises, make sure to pack specific items. Don's miss the seasickness remedies, formal wear, dress shoes, bathing suit, water shoes, sunscreen…
 How to pack toiletries and medications
Among the traveling tips that any traveler should know are those related to packing toiletries and medications. Forgetting to pack any of them can create serious problems sometimes. So, for toiletries, always make sure to pack the essentials, like medications, contacts, and anything else you can't buy or replace during the trip. The best is to keep them in your carry-on bag, instead of the suitcase.
Also, it is recommendable to travel with some type of travel first-aid kit, which includes some items like tweezers, first-aid ointment, bandages, travel-sized hand sanitizer, sunscreen, and insect repellent.
Packing tips for everything else you need for a vacation
It is the era of electronics, so you can't even imagine traveling without your phone, laptop or tablet, or camera. Don't forget to bring chargers for these tech-related items. If you are traveling abroad, remember to pack electronic adapters and converters.
Photographers shouldn't miss bringing items like the camera's bag, batteries, memory card, and lens cleaner.
Also, don't forget to pack the smartphone essentials like a backup charger, a waterproof case when having a sea vacation, the phone stand or tripod for taking photos.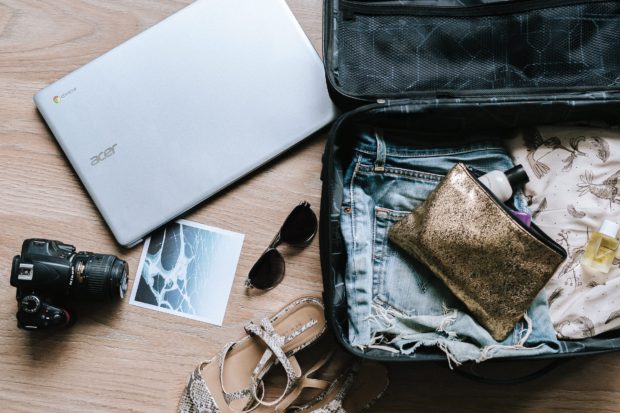 source 
What to Always Pack in Your Carry-on Bag
Always keep in mind that you may be separated from your checked bag or other items you have with you. That is why there are few packing tips on what to pack in your carry-on bag. Items like your ID, wallet, house keys, medications, valuables, camera, phone, laptop, tablet, pen, cash and cards, glasses should always find their place in the carry-on bag.
What to pack for Covid-19 safety
The coronavirus pandemic has changed traveling as we knew it before. The items we prioritize in the luggage have changed too. No matter the destination you are visiting, always have a face mask on you. Don't miss the sanitizing wipes and hand sanitizer as well. Try to wipe down frequently touched surfaces in the plane or in the hotel, whenever possible. Just don't forget to make sure if the sanitizing products you bring with you meet the TSA requirements.
And, finally, don't forget the vaccine passport or negative Covid-10 test results that are a must when traveling abroad. These are a must proof to proceed a trip to many destinations. Always bring a limited copy of your vaccine passport for extra insurance.