A job interview is your opportunity to make an impeccable first impression on your potential employer. Dress to impress in one of the most important parts of the whole interview process. Besides the other interview skills you need to possess in order to convince the potential employer that you are the right person for the job you are applying, you need to get a suitable outfit for the occasion too. Always have some interview clothes ready to wear in your wardrobe. Once you have the right pieces, you can easily style the perfect interview outfits to make an impression. Here is a guide on how to make it in the best way possible.
Give a chance to the button-down shirts
Button-down shirts are becoming very popular nowadays. And, guess what? You can definitely combine them in any of your next interview outfits. Interview outfits 2020 trends are a little bit more liberal, so you can easily pair a button-down shirt, which doesn't have to be strictly white. You can experiment with pales, such as pale pink or pale blue shades. Also, you can try different materials and choose the one that makes you feel most comfortable. One of the rules for successful interview outfits is to feel comfortable in what you are wearing.  Try to be creative with colors, so when you choose a white button-down shirt, pair it with some bold colored heels for example. Extra tip: when buying an interview shirt always make sure that your underwear ( the bra) is covered. Choose a modest neckline that will avoid cleavage.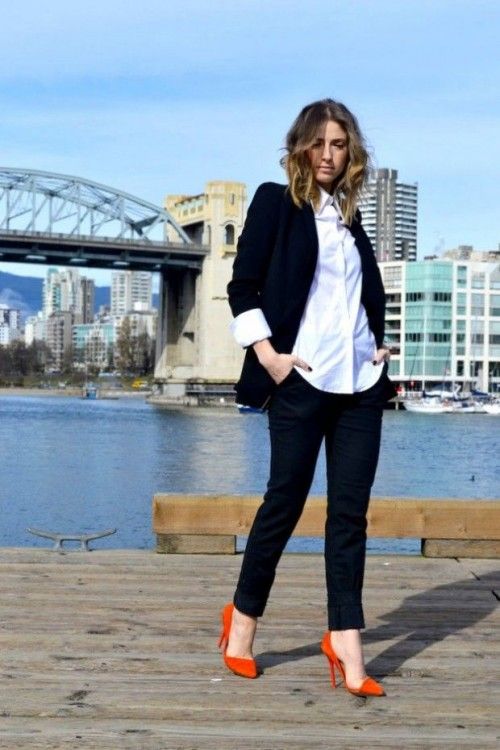 source 
Borrow the menswear-inspired suits for businesswomen look
Menswear-inspired suits are extremely versatile pieces in your wardrobe. Any women above 20 should have one in her wardrobe. If you want to show the world you are firm, self-confident, and ready to take any job risks and responsibilities, men inspired suit is the right interview outfits for you. Menswear-inspired suits for women have been high on the interview outfits 2020 lists. Add some discreet jewelry and create a look that is relaxed and refined. Work on your interview skills and you will definitely get the desired job.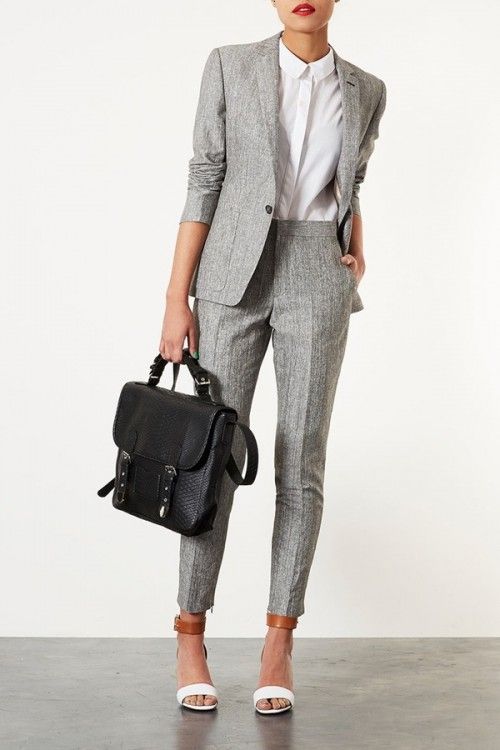 source 
Try some interesting detailed blouse
Interesting detailed blouses can definitely make an impact. Casual interview outfits that give you more freedom in styling your look can be the perfect way to make a business look your own. So, then next time you dress for an interview include some printed blouse as presented below and get an elegant and high tasted look. Pair your blouse with either a skirt or pants, both combinations will make you feel self-confident and modern.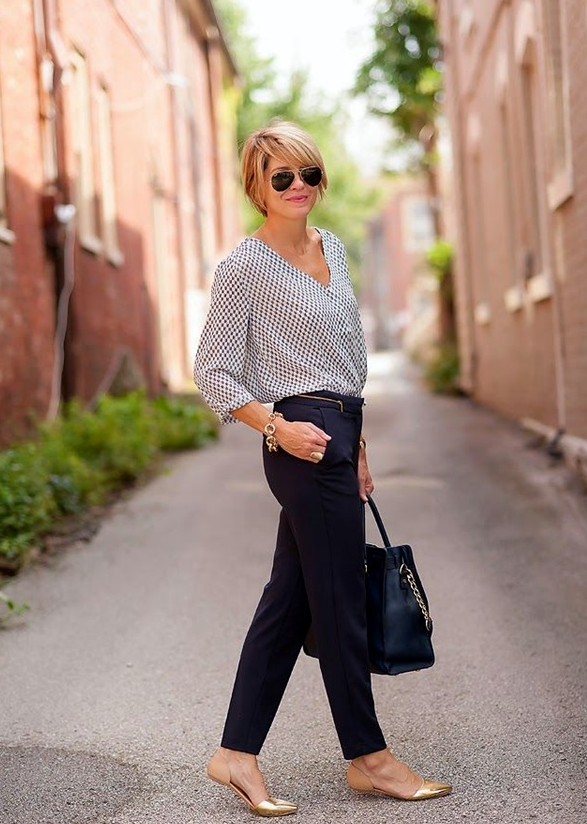 source
Navy blue blazer for a sophisticated look
One of the "get the job' interview outfits definitely consist of a navy blue blazer. And once you do get the job, believe me, a navy blue blazer will always be one of the most wearable pieces in your business wardrobe. You can wear it in many different combinations, making statement outfits over a button-down shirt, with a blouse, or over a dress. If you want to make a formal look impression on your job interview, a navy blazer is the "all the points" piece for you.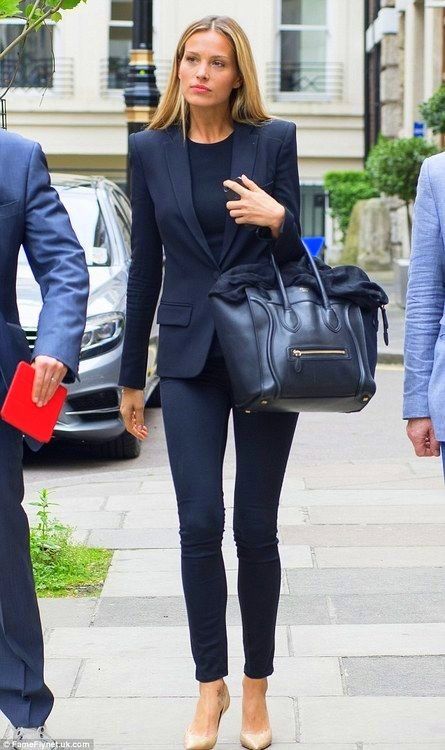 source 
Go classic with the timeless little black dress
The little black dress is the hallmark of casual but still refined interview outfits for women. Any business woman should invest in a black dress that skims the knee. A nicely detailed little black dress will give you a professional yet still modern look. Pair your dress with textured tights and make a complete hit with your interview outfits. Just take in mind that not all the textures on tights are workplace-appropriate. Be careful because you won't like to make a wrong first impression. Finish your outfit with black heels if you want a timeless business look.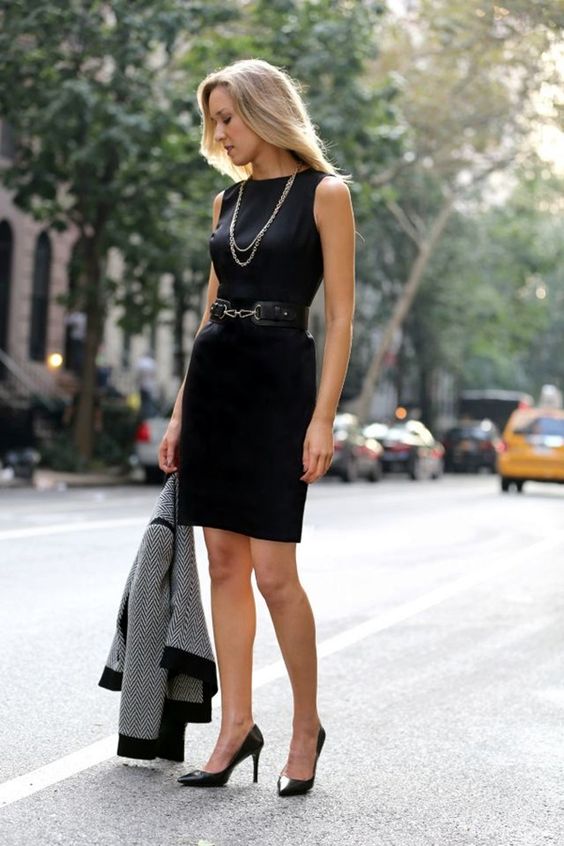 source
Interview outfits with jeans,  modern and still professional
If you are going to an interview in a more relaxing and not that formal environment then you can easily choose interview outfits with jeans. They are possible for creative job interviews, but I still recommend you to go for black ones. Add a shirt, or a blouse and blazer and here you go- you have a professional but still chic interview outfit. You can pair jeans with heels or flats u to your tastes.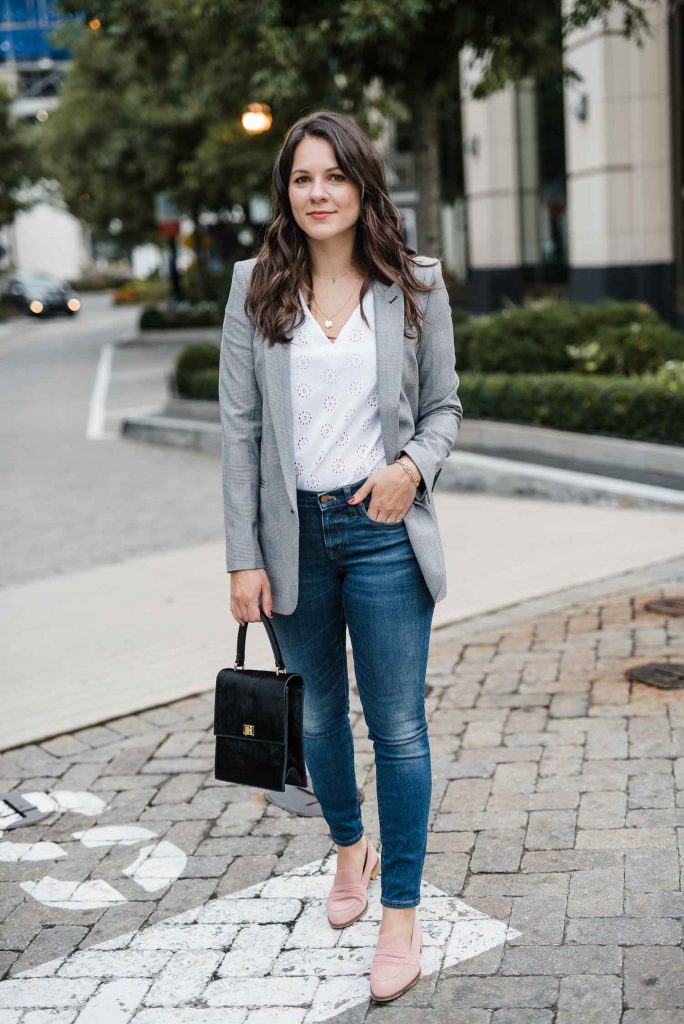 source
Go for a statement dress
Although it is important to preserve the professional look at your interview, it doesn't mean that you can't experiment with colors. If you are brave enough you can appear in the interview wearing some bold colored statement dress. Go for some tasteful and interesting color such as muted turquoise or deep red, that way expressing your high fashion taste. If you still have doubts and want to stick to the interview outfits casual, then a white dress under a plaid blazer can still make a statement look and you will feel comfortable.

source 
Try a print cardigan
Depending on the job place that you are being interviewed for you can choose extremely formal or more casual interview outfits. If you are having the second type of interview then don't be afraid of prints. Printed cardigans have been part of the interview outfits 2020 list too. They may not be the most interview-appropriate wardrobe unless they are extremely subtle. But, a two-tone printed cardigan combined with the right pants and shoes can help you get perfect interview outfits for women especially if you are not going to work in a formal office environment.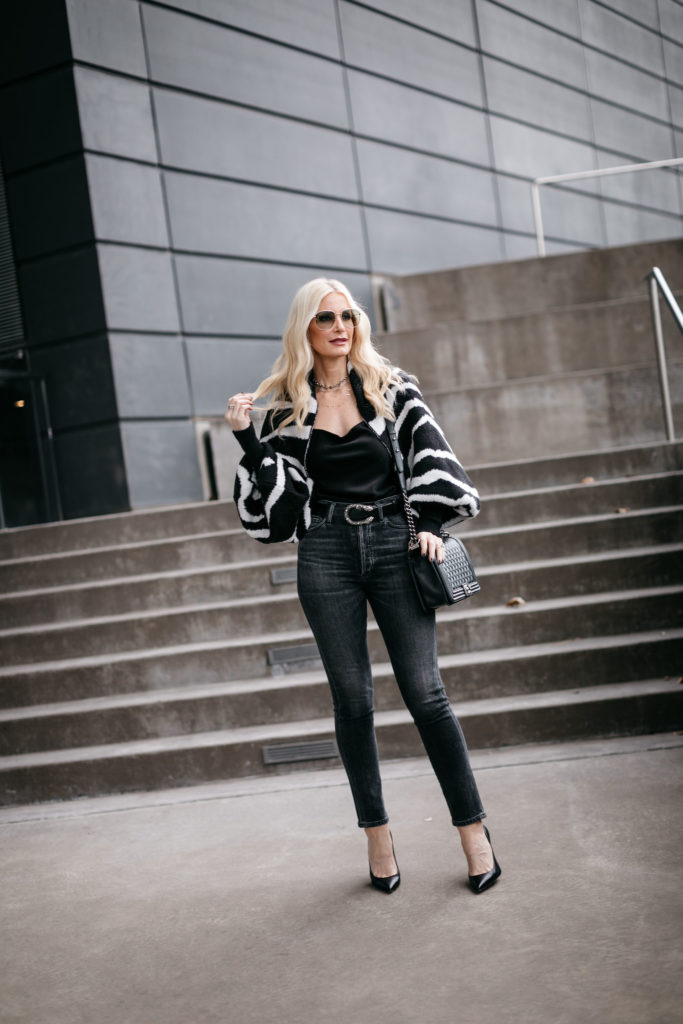 source