Sequined heels have taken the fashion scene by storm. Many fashionistas were surprised to see women wearing sparkly heels on events that were not the red carpet or New Year's Eve. The reason is that sequined heels are not that easy to be combined with everyday outfits, like any other heels. They shine as bright as jewels and add a trendy flavor to any casual outfit you style. But, you need to combine them properly in order to avoid looking like a walking Christmas ornament. If you are not sure how to pull off sparkly hells, let us tell you that you are not alone. Luckily, we are here to cover you with some helpful fashion tips and tricks on how to style sequined heels. Make your heels work with absolutely any outfit you style. Scroll down the page to learn how to style these adorable shoes like a pro.
Enjoy the gallery below and explore many different models of sequined heels that you can use as inspiration when shopping for your new pair of glitter heels.
Sequined heels make a statement
One thing you have to be sure of when wearing glitter heels: you will be noticed wherever you appear. Without any minimal doubt! Glitter heels make a huge fashion statement. That is why you need to follow the rule of not styling more than one statement piece in one outfit. When you wear your sequined heels you should know that they are scene stealers. They will help you make a visual impact, so keep the rest of your look simple in order to avoid total clobbering. The bets would be to stick to monochromatic outfits. However, you can still go for shiny makeup ideas, such as metallic eye shadow or glitter lipstick.
What to wear with glitter heels
One of the most popular sequined heels is the silver ones. They are the best to be combined with all-white outfits.  If you are searching for some chic elegant look, then pair your silver glitter heels with a lace shirt, blazer, or loose-fit pants. On the other hand, if you are keen on an edgier look, then the best is to wear your sparkly heels with a black shirt and a leather mini skirt. A Black and white combination would also make a good pair of glitter heels. A black and white dress could be your best choice ever for such a combination.
You may be surprised to hear this, but believe us sequined heels could be a perfect choice for your office look too. Depending on the office dress code, you may feel freer to wear your silver sparkly heels combined with a white sweater and a pleated, periwinkle, or baby blue skirt. This simple, but still chic look, will scream elegance and professionalism.
Perfecting the look
Sparkly heels complement a wide variety of outfits. Still, you need to follow some fashion tricks and rules in order to make the glitter heels trend look effortless and natural. Here are some of the most important ones:
Always stick to monochrome neutral, white, or black outfits when wearing sparkly heels.
Give a chance to pastel outfits, too.
When styling glitter heels think of them as jewelry and follow the rules of styling jewelry to match the heels to the outfits accordingly.
Forget of wearing any other accessories when wearing sparkly heels.
Combine your glitter heels with small clutches or delicate bags in neutral colors.
Glitter heels are having a moment
Sparkling heels are having their moment! They are twinkling, gleaming, and glinting down the runways. Women use the glorious moment of glitter shoes to wear them on any occasion possible. Dressing around shining shoes can feel intimidating to some women. But, if you dare to go bold, remember that they are the perfect choice for a Saturday night out. Make a fashion statement that is sophisticated, sexy, and unforgettable by choosing glittering heels. You will be nothing less than memorized wherever you appear.
Find the perfect footwear for your look
Sequined heels are a must for any woman's closet. There are some formal events that will require you to appear elegant and sophisticated.  And, those events are the most appropriate ones to appear wearing your sequin heels. So, if you still don't have a pair of sparkly heels in your closet, it is the perfect time to get yourself one of them. Put them on your shopping list immediately. Investing in a pair of glitter heels is always a smart thing to do.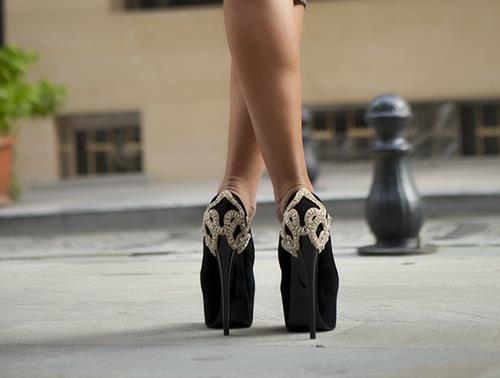 We hope that these fashion tricks and tips listed above are helpful enough for you. Have them in mind any time you want to wear your sparkly heels. By following them you can be sure that you will avoid any fashion mistakes that will make you look and feel less comfortable and self-confident.