Wedding parties have changed a lot since the coronavirus pandemic. Most of the couples had to cancel their plans to share their happiest day ever with others and chose to do it in front of few witnesses instead. The social distancing measures made it impossible to organize big wedding parties in closed spaces. That made many couples change traditional restaurant wedding parties with outdoor wedding parties. And now when the spring and the warmer weather are back again it is the best time to say the faithful yes to your loved one. Surrounded by fresh air and amazing blooming landscapes, you can get the best fairy tale outdoor wedding party ever. Follow these stunning outdoor wedding party ideas below and have your own fairy tale. One thing is sure, outdoor wedding parties are never out of style.
Find out how to make your happiest day even more unforgettable. Check out our outdoor wedding party recommendations and choose your favorite one. A dose of fresh air, so many blooming flowers, two people loving each other, a lot of love, and a few of the closest people of your circle are the ingredients for a perfect outdoor wedding party. If you are luck of ideas on how to make everything look both perfect and social distance measurements appropriate, get inspired from the gallery below.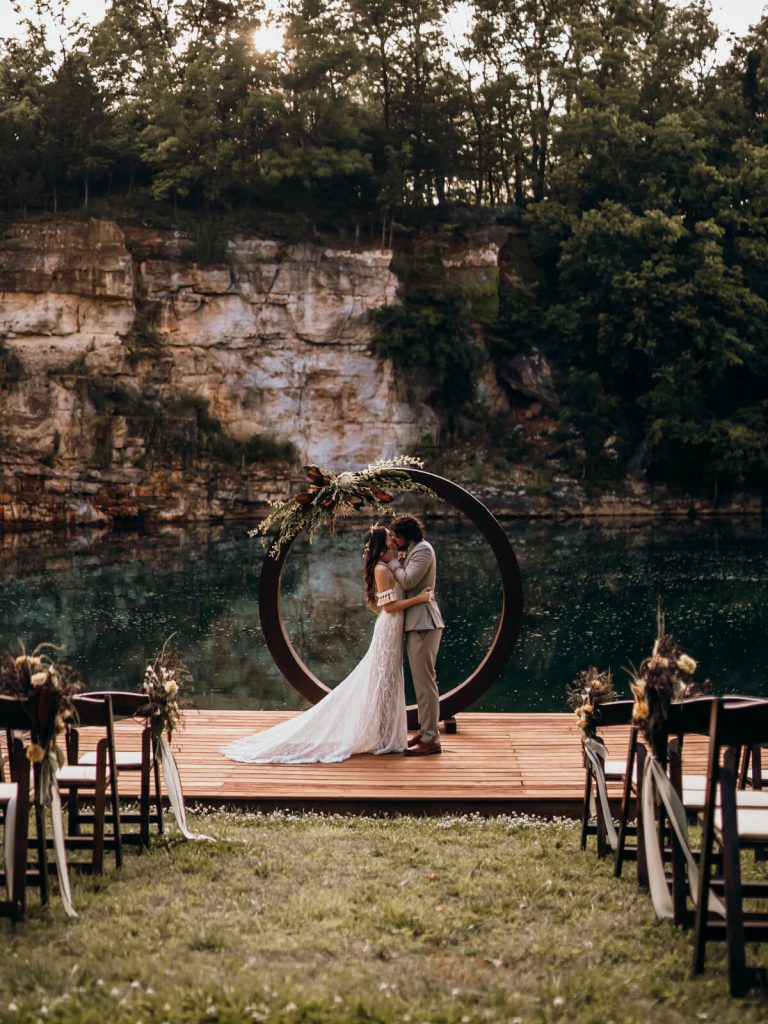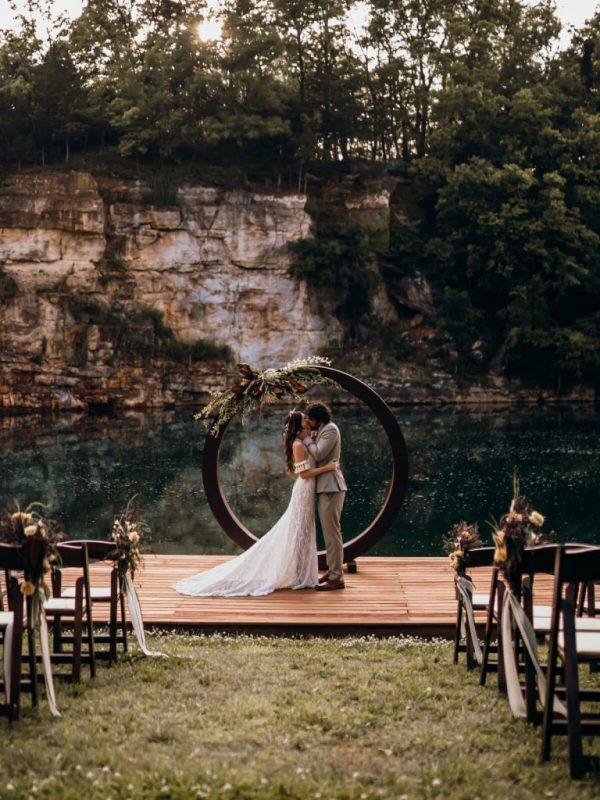 source
String lights
If you want to make your outdoor wedding party even more romantic don't miss the string lights. They will add a touch of romance. Plus, they are a perfect and simple décor that will perfectly complement any wedding party style you choose. Hung above the dance floor they will give your first dance the light effects indoor lighting offers. And, not to forget the extra illumination you will get once the sun goes down.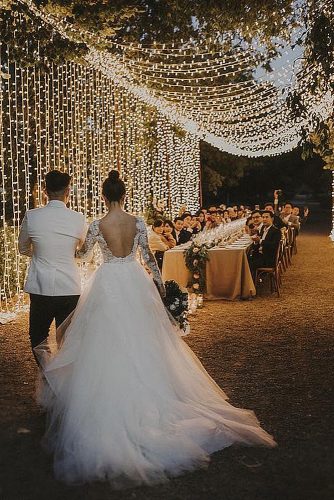 source
Haystack seating
Once you decided to make everything different, why don't you ditch the traditional chairs too? An outdoor wedding party offers you many opportunities to organize your perfect country-style wedding. If you are a fan of this kind of wedding party seat your dearest ones in a true countryside surrounding. Take few hay bales and use them as seats. Top them with a patterned quilt for extra comfort. You can use quilts with their names embroidered on them, or you can use your and your partner's initials quilts for more personalized styling. Or just use floral patterned quilts for adding extra color and freshness to the décor.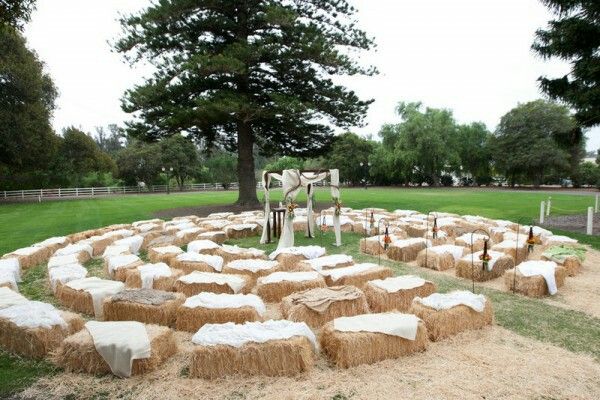 source
Outdoor wedding arch
Another benefit of an outdoor wedding party is that you can choose the focal point on your own. Unlike the traditional indoor wedding, when you have to follow the restaurant's rules, here you can choose where to exchange the vows. Choose a ceremony arch festooned in fabric and flowers. You deserve to exchange the wedding rings in an eye-catching surrounding, right? Well, mark the spot with a breathtaking wedding arch and make all your guests WOW for it.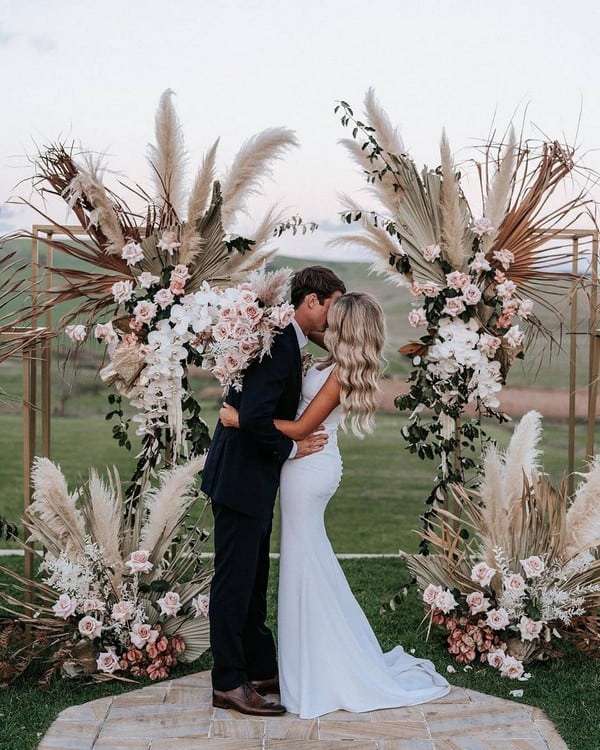 source
Outdoor wedding reception
Why don't you make it all romantic and unique? One way to do it is to choose picnic tables for the receptions. They are a perfect choice especially when positioned beneath twinkle lights. Decorate the centerpiece with fresh flowers and a Mason jar chandelier for an extra romantic effect.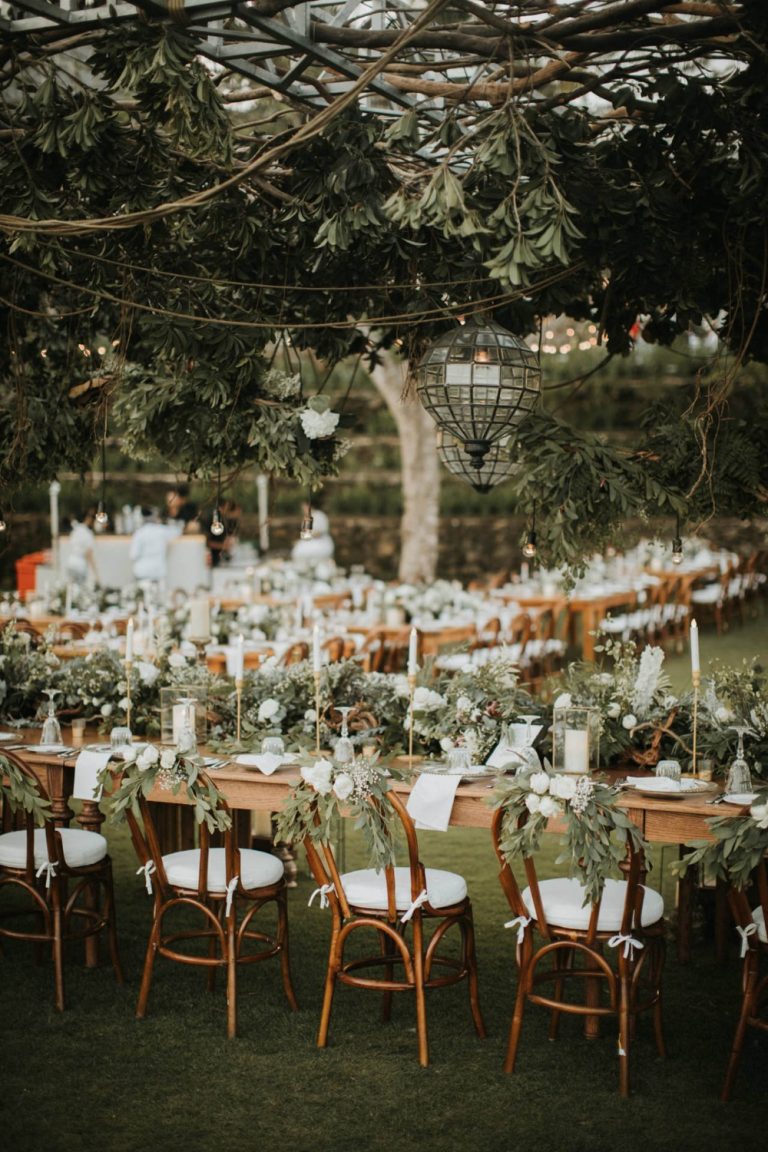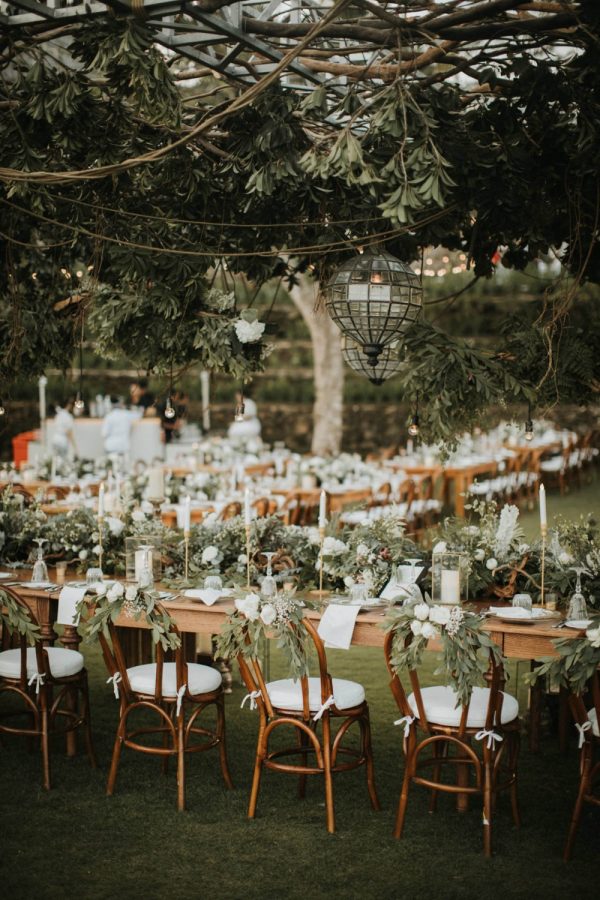 source
Bright bouquet
The bridal bouquet is one of the most important accessories for any bride-to-be. If you are planning an outdoor wedding party then you'd better pick bright blooms befitting of the season. You can match the bridal bouquet with the other floral décor so that you get a better-styled wedding party.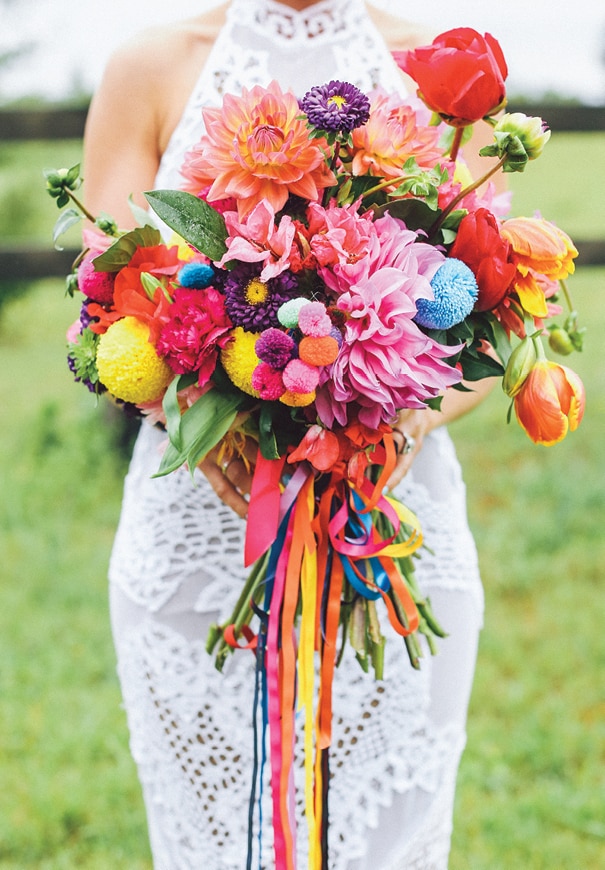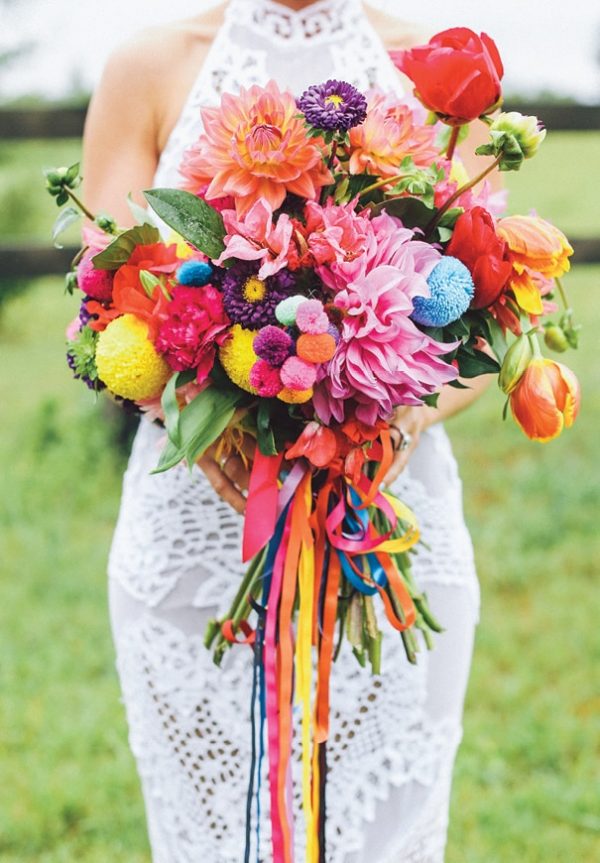 source
Floral backdrop
A wedding photoshoot is one of the most favorite things of a wedding party for many couples. Capturing the most beautiful moment of someone's life and making it last forever is something couples plan weeks before the big day. Say "I do" to a perfectly designed floral backdrop that will testify to your endless love forever. The spring landscape is beautiful enough to be used as a wedding photo backdrop. But, if you still want to have something even more stunning behind you while posing in front of the camera, then a floral backdrop is the best choice to take.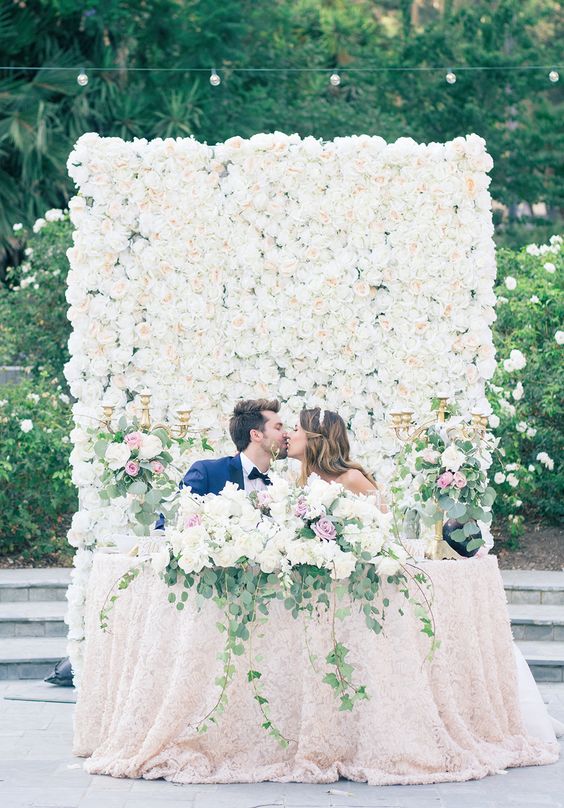 source
Outdoor wedding cake display
And, it is time for the wedding cake! In order to preserve the outdoor wedding décor, choose a wooden table to serve you as a rustic stand for the wedding cake. A simple white wedding cake decorated with fresh flowers will perfectly fit your outdoor wedding fairy tale. At the end, who is not going to completely enjoy cutting a wedding cake surrounded by their dearest people and such a stunning surrounding?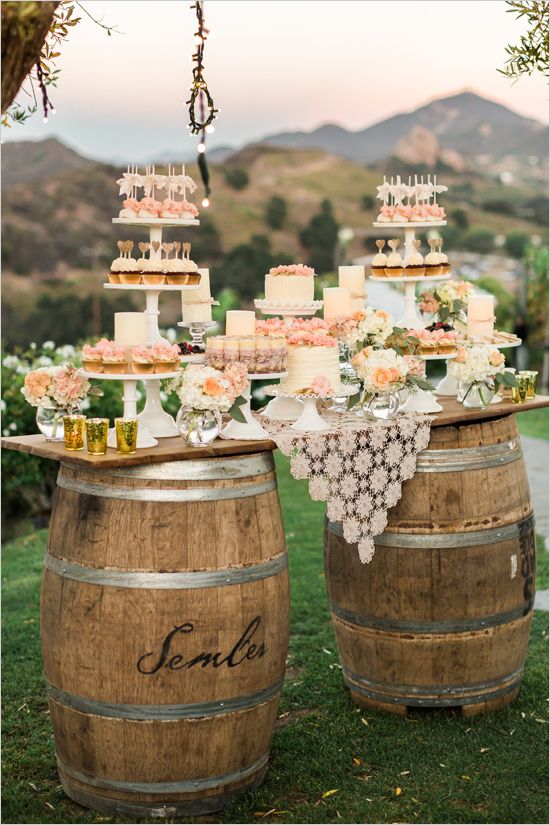 source
Have a tasteful wedding experience with these adorable outdoor wedding party ideas we shared with you. We hope you liked them all in the same way we enjoyed selecting them to inspire you.