Have you known that between 55 to 79 percent of the worldwide population have brown eyes? Brown is considered to be the most common eye color in the world. You may think dark eyes are boring. But, you are completely wrong. The color is created from a mix of all primary colors. That makes brown eyes everything but boring. They are a perfect base to play with almost all the other colors from the palette when it comes to choosing eye shadow or lipstick. There are tons of eye shadow makeup ideas for brown eyes that you can try.
What colors to start with? Bold colors are a perfect starting point for brown eyes eye shadow makeup. The bolder shades will pop off your eyes making them being noticed. If your eyes are the part of your face that you want to highlight with makeup, then we recommend you to experiment with these amazing brown eyes eye shadow makeup looks below. Scroll down the page to see our favorite choices. We are sure you will adore them all. Don't miss to give a try to any of them. You won't be disappointed.
Purple monochrome
Purple is definitely going to be the color of fall/winter 2021. Pastels shades are about to stay in trend even during the colder months, so if you had any doubts if to pack your purple attire, don't doubt anymore. You can wear them even when the temperatures fall below zero. And, not only purple attire and accessories are among the biggest trends for the upcoming season. Purple makeup is also having its moments of glory in the period ahead. If you have brown eyes, then remember that purple and all its shades perfectly complement the brown in your eyes. They highlight the richness of your irises. A monochromatic purple look is the perfect choice of eye shadow makeup for brown eyes. Don't miss trying the trend.
Warm tones
Warm tones are a perfect choice for your eye shadow makeup look for summer. During summer after you get a tanned look, you can use a bronzer to highlight the highest points of your face. For the eyes, we recommend you use a radiant shadow in some warm shade. Complete the look with mascara and warm nude lipstick. You will adore trying this makeup look which perfectly suits brown eyes once and once again.
Mellow Yellow
Yellow eye shadow is a stunning makeup idea that will perfectly match your brown eyes. Because of the intensity of the color, we advise you to keep the rest of the look minimal. This way you will let the yellow stand out and highlight your eyes.
Bold blue
Are you searching for a winning eye shadow makeup combination of colors? We already have it. Bold blue eye shadow and brown eyes! keep the rest of the makeup look simple so that allow the blue around your eyes catches all the attention.
Smoke it out
Smoky eyes are among the most popular makeup looks for most women around the world. They are also a perfect choice if you have brown eyes. The smoky chocolate tones will perfectly complement your brown eyes. This eye shadow makeup look will look amazing if you keep the rest of your look nude. Don't overpass with boldness and avoid red lips when you choose to highlight your eyes. Instead, go for nude lips, or simply choose lipgloss instead of lipstick.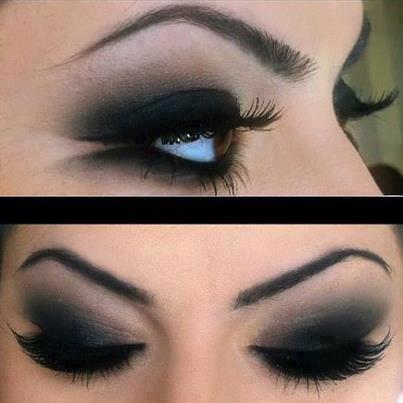 Neon lights
Neon colors are among the most popular ones during spring and summer. Many women don't dare to wear neon shades because of their boldness and intensity. If you are among them too, then here is a perfect way to introduce neon color in your look without overusing them. Try neon eye shadow makeup looks. They will perfectly match your brown eyes, giving them an extra glamorous look.
Neutrals all the way
Simple is always a good choice, especially when it comes to makeup. And there is nothing simpler than neutrals, especially when you have brown eyes. If you want to achieve a monochromatic and neutral look, the best would be to use shades that are close to your skin tone. Use the same shades across your lids, cheeks, and lips.
Pop of sparkle
When you have darker eyes, such as brown eyes, for example, you can always play with many different eye shadow makeup looks. Brown eyes allow you to experiment with sparkles too. Shimmering shadows all over the top of your eyelids will look stunning on you if you have brown eyes.  Finish your shining makeup look with multiple layers of your favorite black mascara. This way you will keep the look both simple and glowing.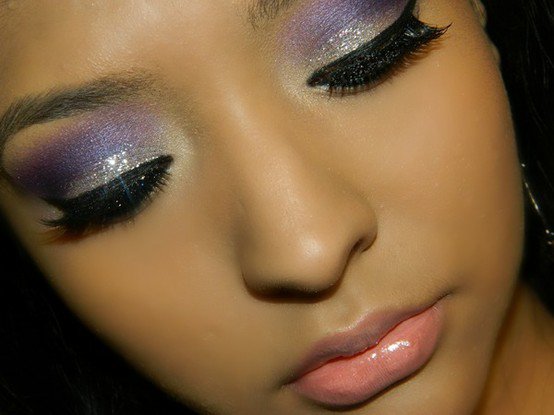 Did you like our brown eyes eye shadow makeup ideas? Which ones you will pleasantly try? We hope these makeup ideas and looks will inspire any brown-eyed woman to try.