You either found a silk scarf in your closet while cleaning it or you saw someone wear one and now you're wondering how you can rock it too. Well, lucky you, silk scarves are very versatile fashion items and there are many ways you can wear it. To make your job easier, I am sharing with you five ways you can wear silk scarves.
A couple of words about silk scarves
We are not going to go deep into the history of silk scarves but it's always fun to learn a bit more about fashion items and how they entered our wardrobes. You might be surprised to know that silk scarves are one of the oldest fashion items. They trace back to ancient Egypt (around 350 BC) when Queen Nefertiti wore a beautiful silk scarf as a headdress. Even though today silk scarves are mainly worn by women, legendary composer Ludwig van Beethoven was known to wear one, when silk scarves were a symbol of luxury and were popular among the  upper class. It's safe to say that silk scarves have always been in fashion – from Nefertiti to Beethoven to Queen Elizabeth, Audrey Hepburn, Jackie Kennedy and others.
Fast forward to 2020 and silk scarves are still trendy. I took you to a little spin through history, so you can see why silk scarves are classy. Not only does the material (silk) itself indicate elegance and class but also who wore them and how. So, if you're ever in need of a final touch-up that will complete your classy look, you can never go wrong with a silk scarf. Plus, given its material, a silk scarf can be a part of your look any time of the year – summer, fall, spring or winter.
How to style a silk scarf?
We reached the heart of the matter. How to wear silk scarves? Let's look into some options and examples of how a silk scarf can be worn.
#1 Wear it as a scarf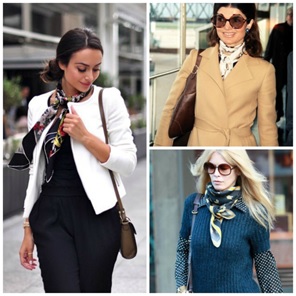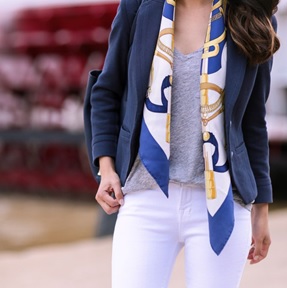 We are starting with a basic one here but it had to be mentioned. There are so many different ways that you can tie a silk scarf and each of the versions gives a new and fresh look to your outfit. The simplest way is to just wear it on your shoulders, so on a cool summer evening, your silk scarf will keep you relatively warm and make you look put-together. This option is particularly good when your scarf has a beautiful print that you want to show. Check out this video for more ideas.
#2 Turn it into a belt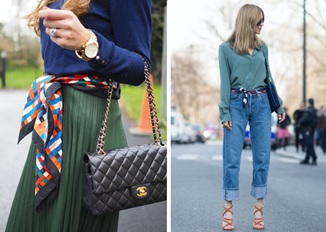 If you want to highlight your waste then using a silk scarf as a belt will do the trick for you. You can use scarves as a belt for jeans, shorts, skirts and dresses. They can be an excellent way of coordinating and bringing all your accessories together like your shoes and bag. This is also a good tip for you in case you don't have a belt at hand and need one.
#3 Style your hair with a silk scarf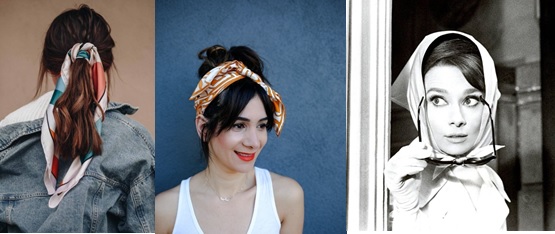 There are so many different ways you can style your hair with a silk scarf. The easiest is to use it instead of a scrunchy to do a ponytail. You can also use it as a hair band. And probably the most iconic hairstyle with a silk scarf or as I like to call it "the Audrey Hepburn." I am talking about the  vintage wrap that will make you look like straight out of the 1970s. When it comes to hair and silk scarves, even the sky is not the limit. Experiment with it and see what you're most comfortable with and you can always do a quick Google search to get some ideas.
#4 Wear it as a top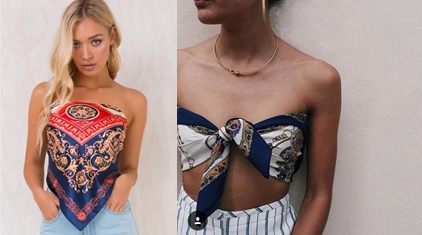 Now, this is a rather new trend but it seems to be very popular. The idea is very simple but it might take you some time and practice to be able to tie it right and make sure that it won't fall off during the day. Again, this is a great option if you want to show off the print on your scarf. It also looks great as a swimsuit coverup. Here you can find seven top styles that can be made with a single silk scarf.
#5 Tie it to your bag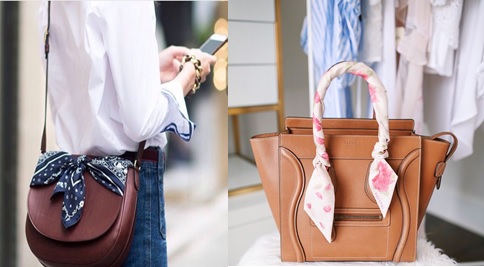 And my last advice for you is to simply tie it to your bag. It's elegant and cute at the same time. When you do try this, make sure you are paying attention to the colors of your bag and scarf. Try to use brighter colors with dark bags and vice versa to add an accent to your look.
Go rock your look
It's all about trial and error. Get your silk scarf, stand in front of the mirror and try out different ways of integrating it into your outfit, see what works for you and makes you feel confident.