Newborn babies are very sensitive and can easily get sick during the cold weather. So it is the dire requirement of parents to layer them in warm clothes. But you have to make sure that you do not overdo it, making the baby girl uncomfortable. Too many layers can also cause discomfort to the child. We can easily spot many designer newborn baby girl clothes in the market or on the internet but to pick the most comfortable yet warm can be a challenge for parents.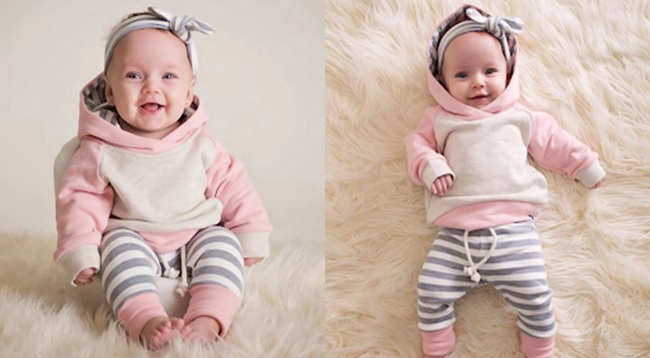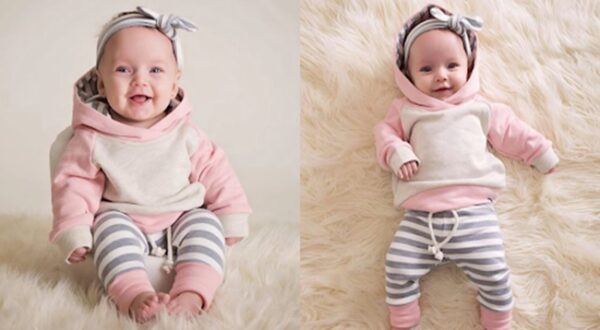 We have listed below some tips that can be of help to the new parents in dressing up their newborn appropriately during cold weather.
Dress your baby in layers
This is the most basic yet effective way to ensure the baby is safe from the biting cold. Add a couple of layers of clothing to dress up the newborn baby girl. To begin with, add onesie or bodysuit then a long shirt can do. You can also add a jacket or sweater, but make sure that it is not uncomfortable or itchy. Add a warm cap or hat to keep the head safe from chilly weather. And lastly, add warm and soft socks, to keep feet safe from cold.
Make sure you go for soft and breathable fabrics such as cotton or muslin. You can always take off an extra layer if you notice it is too warm for your newborn. You can find numerous varieties of baby girl fashion clothes online or in the market.
Remove winter coat in the car
As a general rule, bulky clothing, including winter coats should be completely avoided underneath the harness of a car seat. Bulky clothes can compress below the harness and can be loose in case of an accident. You can still make your newborn wear multiple thin layers.
Choose the right fabric
Babies, especially newborns, have very tender skin. You should go for clothes that are smooth and skin friendly but also warm during winters. Thermal clothes are the best deal when it comes to dressing up warm during winters. You can check the softness and warmth of the fabrics by turning the cloth inside out and feel it on your hand. Wool and polyester are also great for newborns. Babies have extremely sensitive skin which is prone to rashes and other skin problems. Avoid winter clothes that have harsh fabric to avoid any kind of skin irritation for your baby girl. Do not go for cotton as it will not succeed in keeping the baby girl warm.
Always carry a blanket outdoors
If you are taking the baby out for a stroll, you must always keep a soft blanket. Snuggle the baby into it to give her warmth. It is especially recommended if you are living in a city that is freezing cold. Check Kidsco for the best and the most quality blankets.
Snowsuit for outdoors
Snowsuits are the best for fighting the biting cold. It is the perfect protection against cold for your newborn baby girl. It covers the child from head to toe. While going outdoors you may even want to add sunscreen to your child to protect them from the sun's harmful rays. Not only will the snowsuit look super cute on your baby but will also protect her entirely.
Ensure the baby does not feel overheated
As a caring parent, you may want to layer your child to the fullest to keep her warm. But you should keep a check if the layers don't cause overheating to the newborn. In the worst case scenario, overheating can even risk for sudden infant death. Remove a layer or two if you sense your child getting uncomfortable or too warm.
Put warm socks on the baby
It is very crucial to keep the feet of your newborn warm and safe. If you put on a onesie or bodysuit on your newborn girl, check if it has attached feet covers. If that is not available then add a warm pair of socks.
Make sure baby gets warm sleep
It is important that your baby is warm while sleeping. You can use a cotton fitted cotton sheet and layers of cotton blankets. Skip the heavy blanket as it can also result in SID (sudden infant death). Dress her up in a sleep sack or footed cotton onesie that will cover her arms and legs. You can easily find baby girl clothing online that you can use at night.