Christmas is right behind the corner. Have you already chosen the outfit for the holiday? And, what about the manicure? Having a festive Christmas nail art design is always a perfect choice when it comes to manicures. Many women adore doing typical Christmas-themed manicures. Red, green, and white are the colors that mark the Christmas holiday season in terms of outfits and manicures. This is why in this article we are going to inspire you with some adorable festive Christmas nail ideas. Most of them are so easy to be done at home, so you won't even need to visit the manicurist.
If you're creative enough then you can grab the nail polishes and a brush and start going yourself some festive Christmas nails. Get inspired by our gallery presented below. We are sure that you will find some idea that is close enough to your wishes and personal taste. Try any of them and bring the festive spirit to your manicure. We wish you a Merry Christmas! Enjoy!
source
Christmas tree (with or without presents)
There is nothing that can present the Christmas magic more than the Christmas tree and all those gifts under it. Well, if you want some festive Christmas nails, then we recommend you translate the Christmas tree landscape onto your nails. This is a perfect nail art design for those who are super creative and want to decorate their nails in a thematic spirit. You can draw the Christmas tree detail onto the nail, or you can use glittering details like gemstones to create the tree effect. Then you can add the present, or leave it without gifts. It is up to your creativity and personal taste which one you will choose.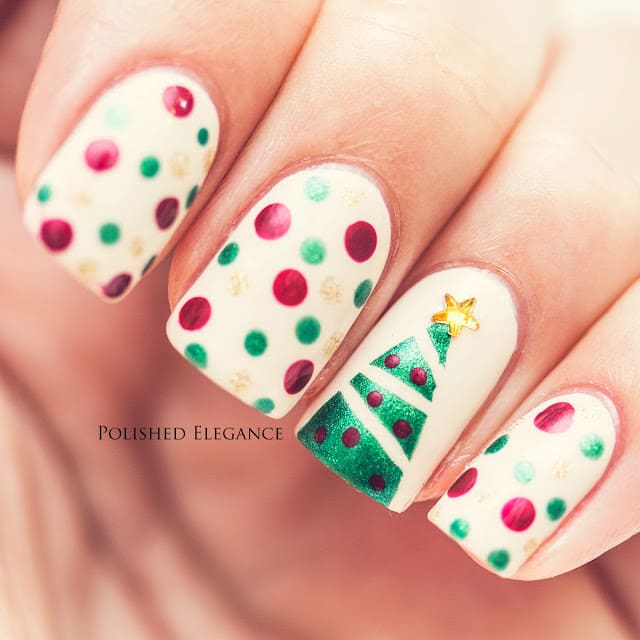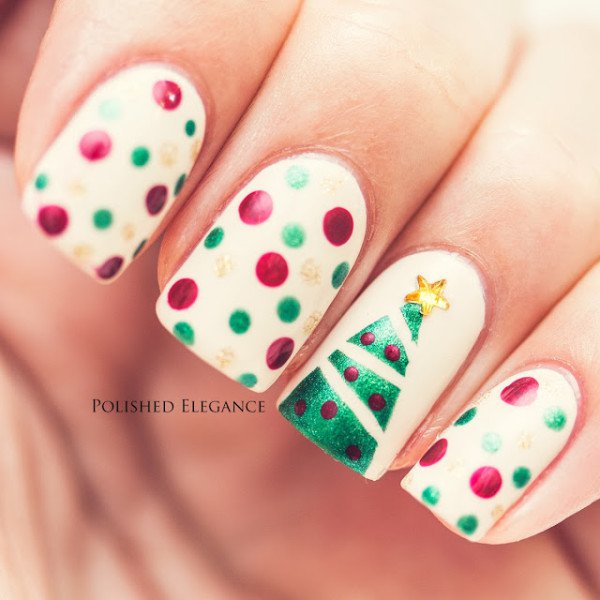 source
Snowflake tips
Another inspiring and good-looking festive Christmas nail design is the one including snowflakes. Snowflakes may not be typical Christmas symbols, but they definitely are winter symbols. That makes them perfect for a Christmas manicure that is both winter and holiday-inspired. You can experiment with different color combinations to create snowflake nail art designs. Grey and yellow, pink and white, the traditional blue and white, red and gold, and blue and silver are only a few of the potential combos to try. They are all so versatile and will perfectly fit any outfit you style for the holiday.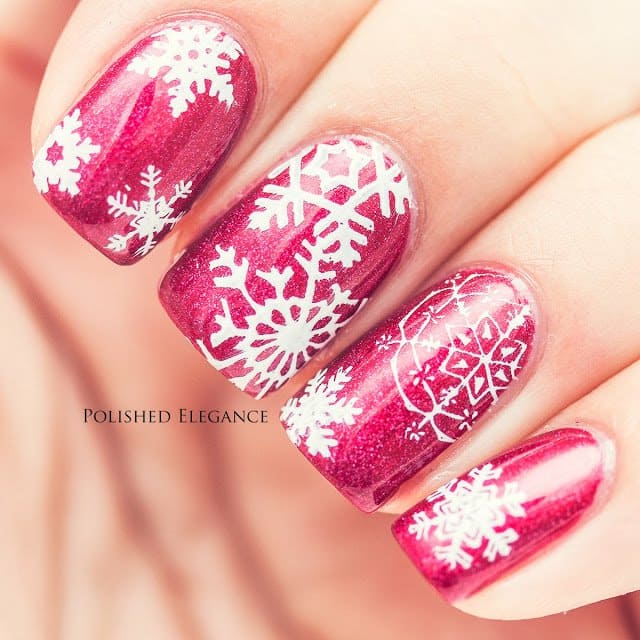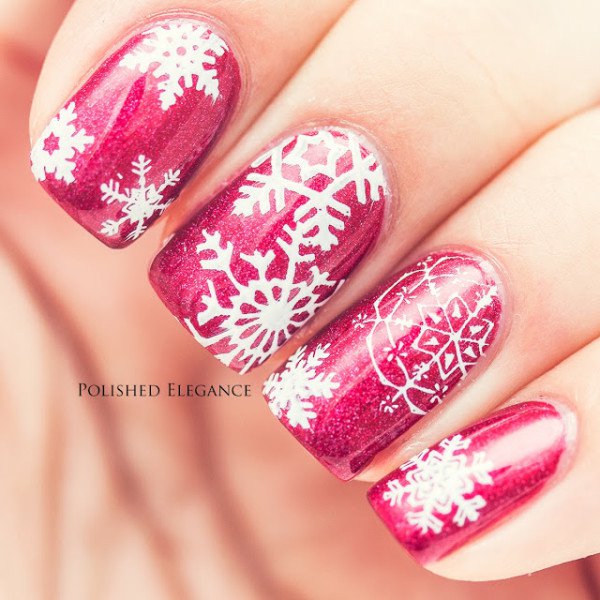 source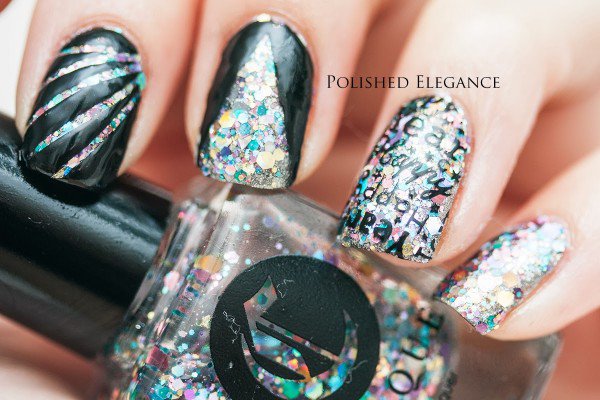 source
Dip nails (red and gold or green and gold)
Are you looking for a simple yet festive Christmas nail art design? If you enjoy simple but at the same time you want to add a touch of the holiday spirit to your manicure, then dip nails are the solution for you. Choose any of the two colors presenting the holiday: red or green.  Then add a little pop of color by adding some details in the color that you didn't choose for a base. Add some sparkle or glitter for an extra pop of Christmas cheer. There is nothing that can catch the attention more than a red and gold combination of the nail art design. If you still want a nail art design that is not too festive but yet in the spirit of the holiday, go for the combo of green and gold. Both combinations are winning ones!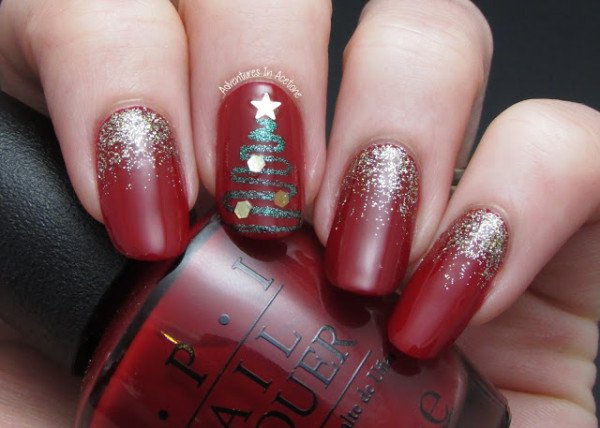 source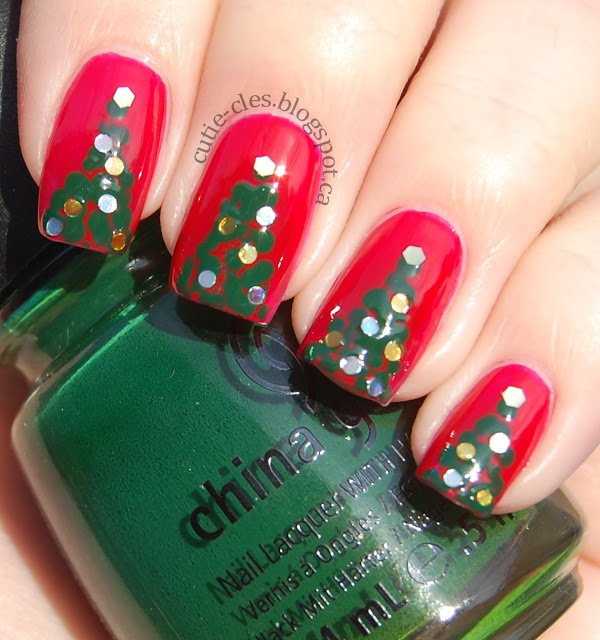 source
Dotty snowflakes with accent colors
Looking for some eye-catching and colorful nail art design ideas? Do you both have colorful and festive Christmas nails? Why don't you try this adorable colorful dotty snowflakes nails art design? You can use any color of your desire. The best would be if you opt for colors that can later match your festive outfit. Experiment with accent and bold colors and step out of the box of traditional red, green and white Christmas nail designs.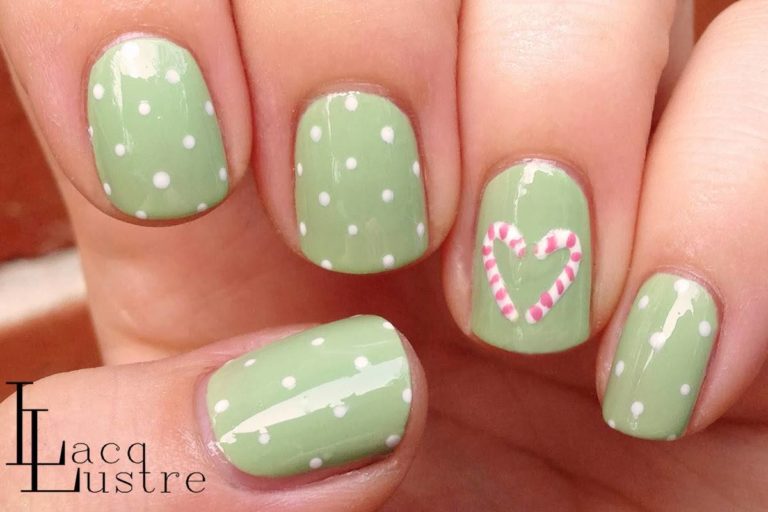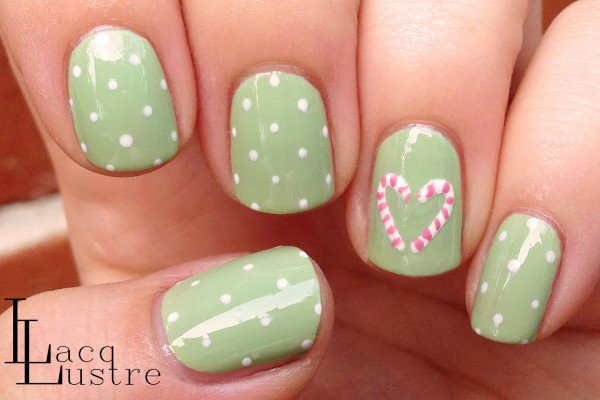 source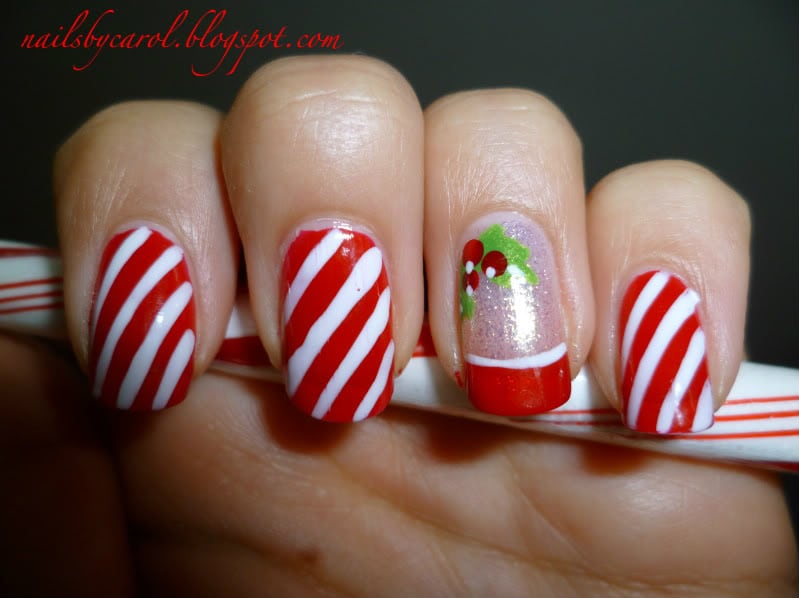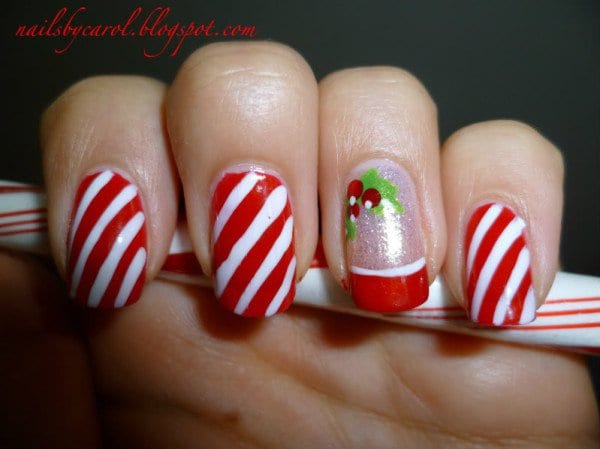 source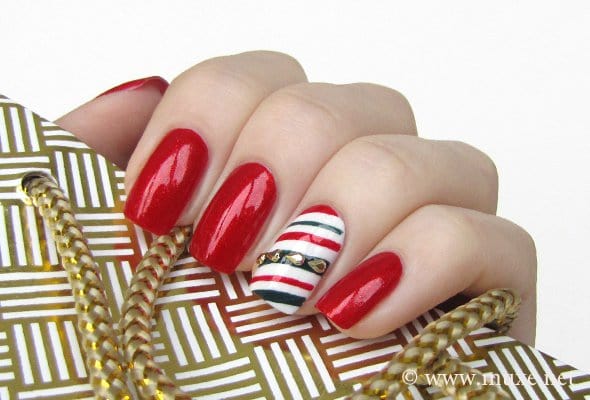 source
Sweet like a candy cane
This is definitely the sweatiest festive Christmas nail art idea ever! Candy cane-inspired manicure is always a great way to show off during the holiday season. Red and white is that timeless combination that never goes out of style when it comes to festive Christmas nails. You can try to match the manicure with a red and white Christmas outfit too. This way you will get a perfectly festive Christmas look.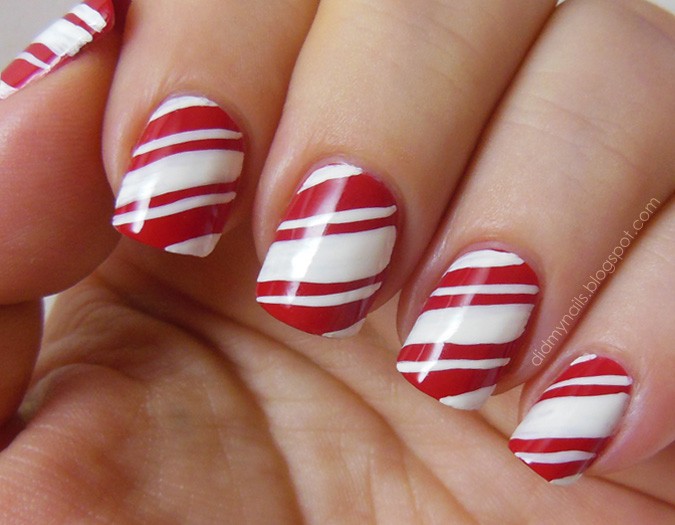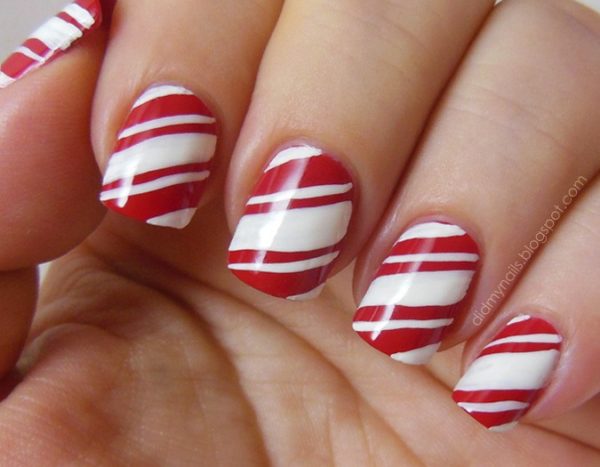 source
Reindeer antlers
This is definitely the most themed and festive Christmas nail design from all the listed above. It is so unique idea because it has an animal rather than a traditional holiday. Reindeers are Santa's favorite animals, so they will definitely bring some festive cheer to your nails. You can draw them on your own, or you can use some stickers if you don't feel creative enough. Both ideas will bring a perfect festive touch to your manicure, so don't miss trying any of them.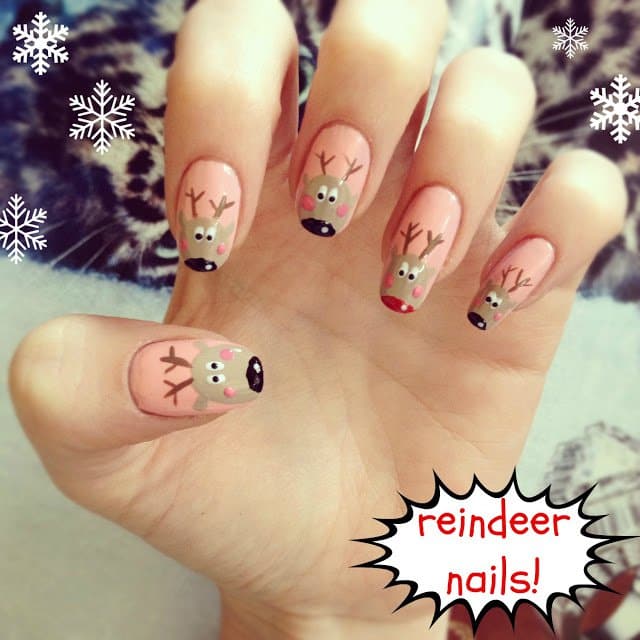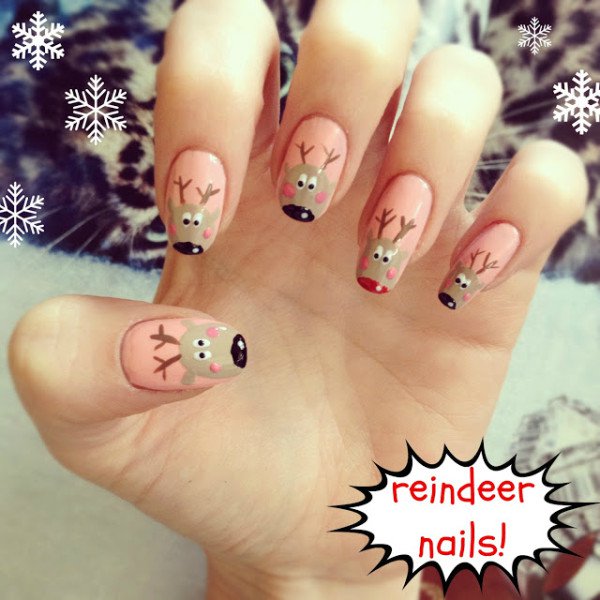 source