Rubber bands are some of those items we all keep at home, but do not use a lot. And, it is really wrong, because, indeed, there are so many uses for rubber bands that can make our lives super easy. Below, we have selected some inspiring and useful rubber band hacks that every woman should know in order to simplify her own everyday life. We invite you to scroll down the page and explore them. You will thank us later for them. Meanwhile, enjoy while teaching some super easy and life-changing rubber band hacks.
1. Maternity Style for Work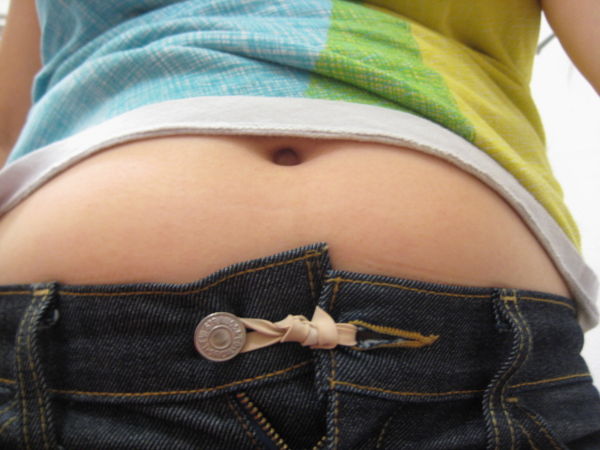 source
2. Reuse rubber bands to keep clothes on the hangers
It has happened to all of us to hang some clothes, especially shirts made of satin material, and then the next time when we open the wardrobe to see them at the bottom of the closet. Time to solve the problem forever! All you need are rubber bands. Attach the rubber bands to the ends of the hangers. Then, hang your clothes on the hangers. The rubber bands will keep clothing from falling off the hanger.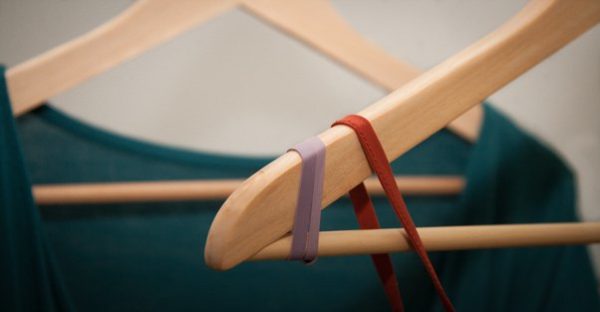 source
3. Which glass is mine? Clever drinking glass markers
Are you having a party at home? That means a lot of glasses since you will definitely be consuming a lot of liquid. In order to make it easier for everyone to remember their own glass, here is an idea on how to avoid confusion. Try rubber bands! You probably have some of them in your home, or if you don't, then you can easily find them at any store close to you. Choose ones in different colors. Each person can choose the color they like. These drinking markers will work perfectly. After the party, store them close to the glasses so that you can have them on hand for the next party as well.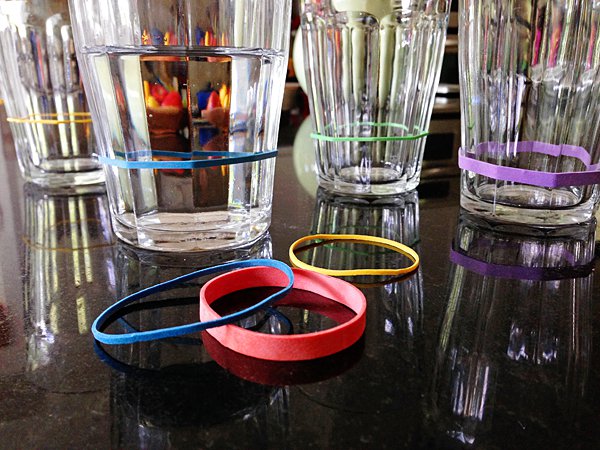 source
4. DIY French Tip Manicure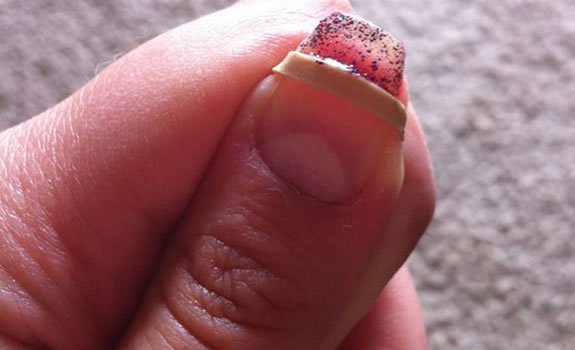 source
5. Get a better grip on stubborn nail polish bottles with rubber bands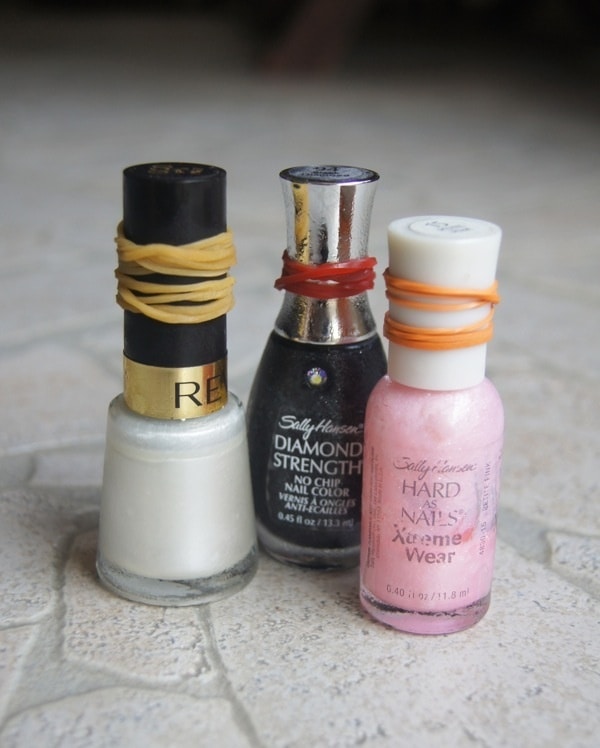 source
6. French Manicure cheat
If you are searching for an easy way for a perfect French manicure at home, then you will definitely adore our French manicure cheat idea. Cheat mean made easier! And, you will adore it. All you need for your French Manicure cheat idea are rubber bands. Here are the steps to follow:
First, pull a rubber band over your nail as shown in the photo below.
Now, take the nail polish and start painting.
Pull the rubber band away.
You may need to fix some little problems by adding either extra polish or a bit of nail polish remover on the tips of the nails.
Let dry. Here is an idea on how to set nail polish faster using a hair blow dryer.
Finally, cover each nail with a clear coat.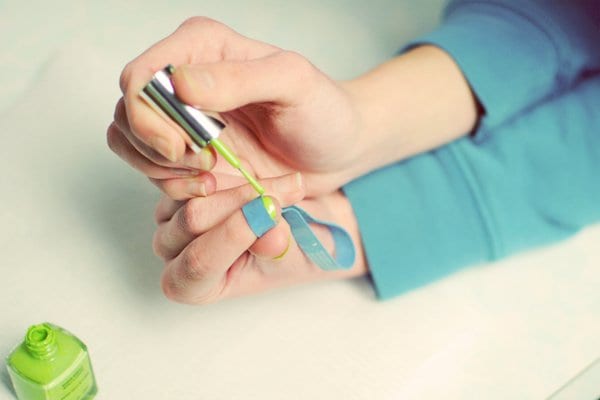 source
7. Keep ribbons from unspooling with a rubber band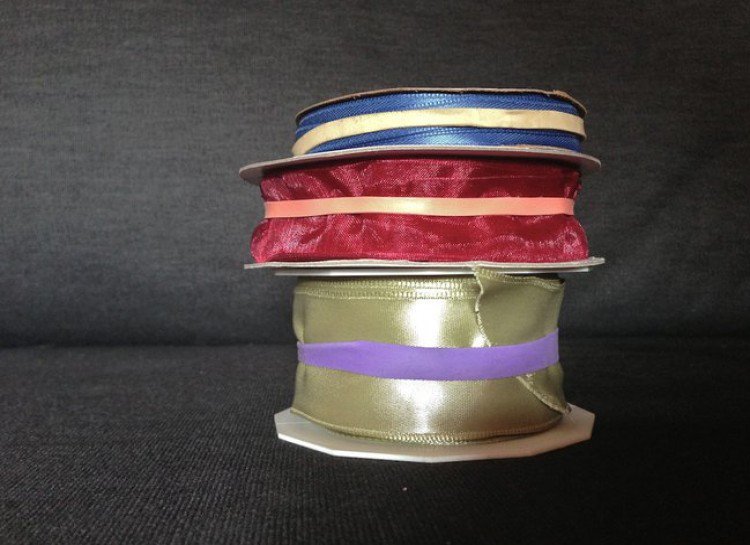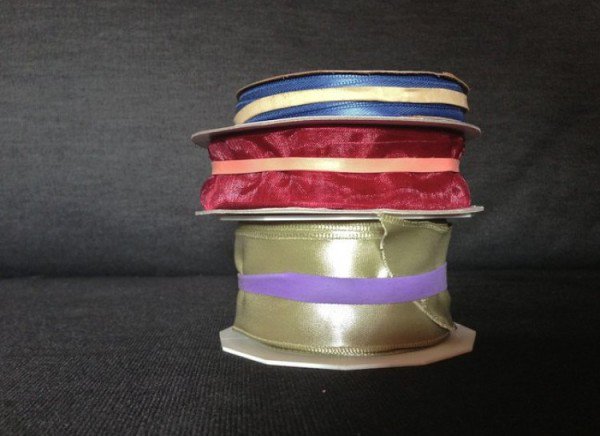 source
8. Packing Tip for Compact Travel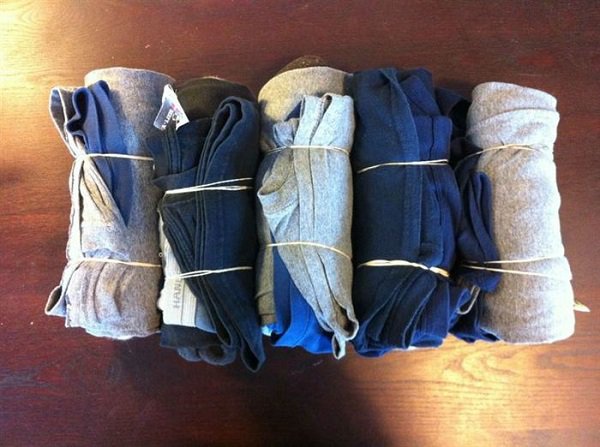 source
9. Loop a rubber band around the door handles
Has it happened to you to come in and out with your hands full? Well, here is a super easy way to keep the door open without the fear that it will close in front of your face before you enter or get out. All you need to do is to loop a single rubber band around the door's inside and outside knobs. Twist it as you do so that the "X" presses the latch open. Once you finish it, hang the band on the inner knobs for the next time you need them.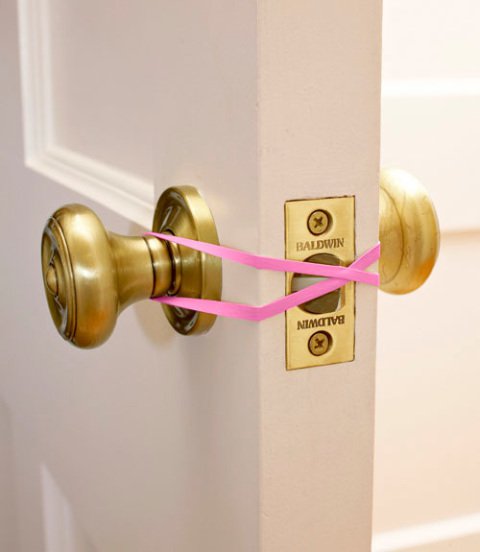 source
10. Portion control pump products (perfect for kids who can't get enough)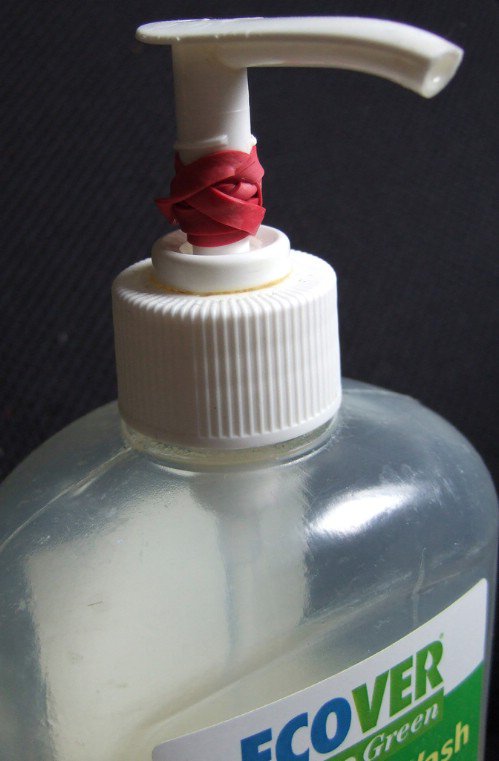 source
11. Craft a statement necklace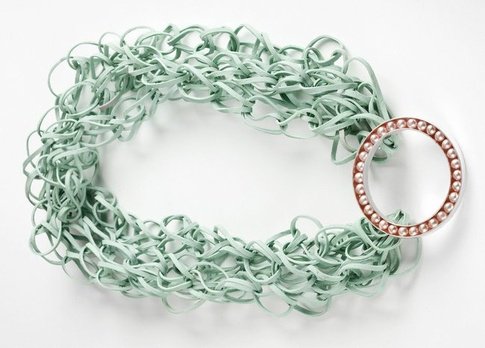 source
12. Tame the wily measuring tape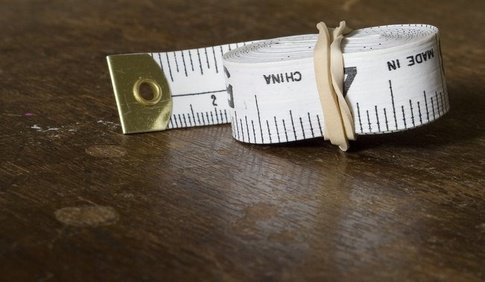 source
13. Make a makeshift tripod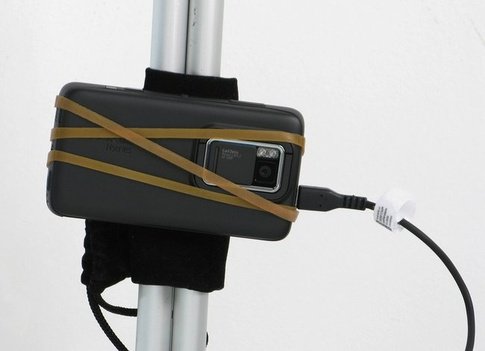 source
14. Use a rubber band to help you turn stubborn pages
Turning pages with your fingers can be a real nightmare, especially if you are turning pages of a new book or notebook. If this seems too annoying for you, then here is a simple solution for you. Take a rubber band and wrap it around your finger as shown in the photo below. Once you do it, turning pages will become easier because your finger won't be slippery when touching the pages.
 source
15. Unscrew a tight lid by wrapping a rubber band around the handle for a better grip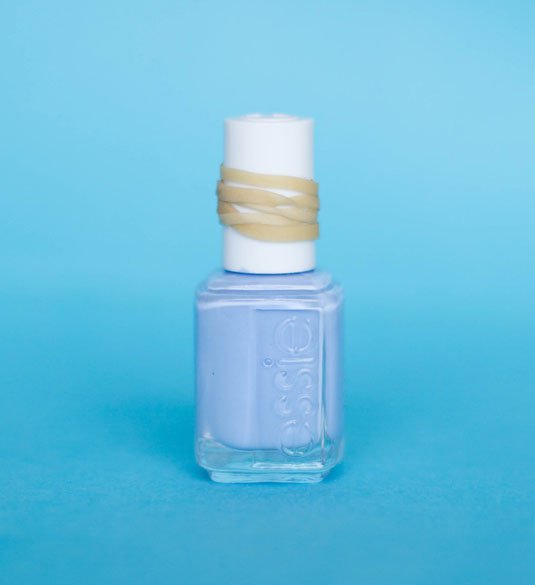 source
16. Keep your apple slices from browning after you cut them
Apples are people's favorite fruits. You need to eat an apple a day to keep the doctor away. But, if you cut the apple and don't eat it immediately, you can see it becoming brown. In order to keep the apple from browning, we recommend you use rubber bands. Tie the rubber band around the pieces of apple that you have cut, and this way you will keep them close together, avoiding the process of becoming brown.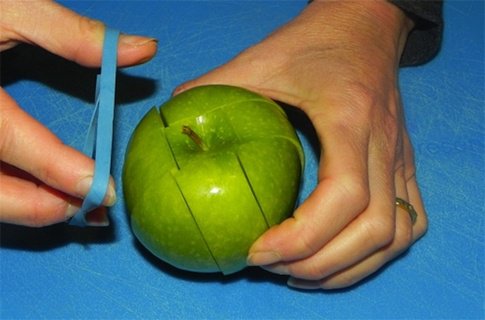 source
17.Brewing Tea in Jars + Keeping Tea Bags in Place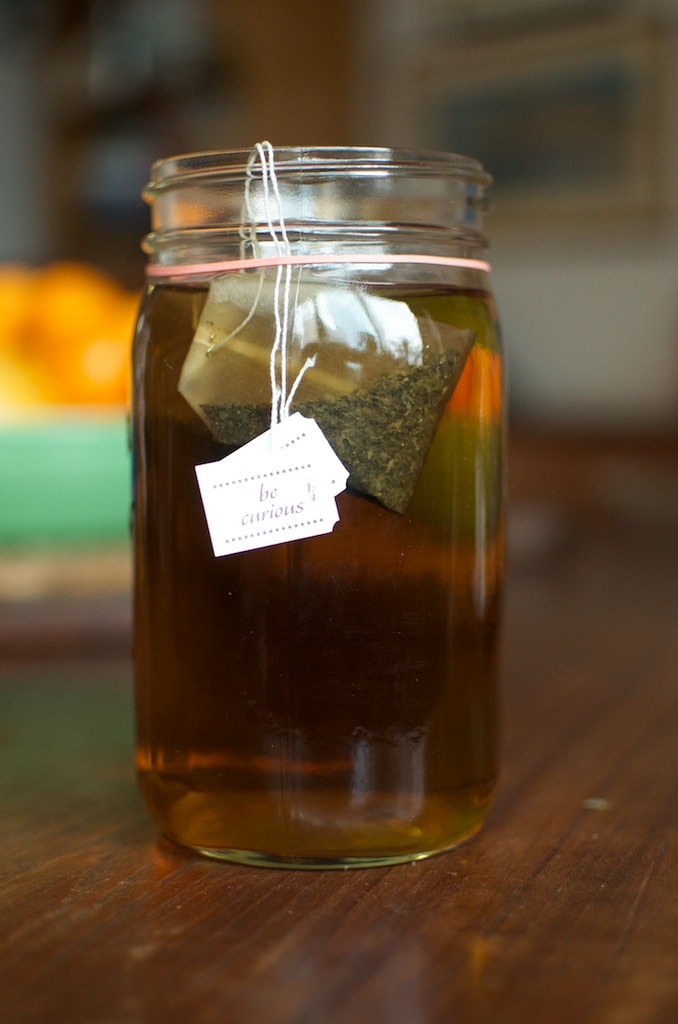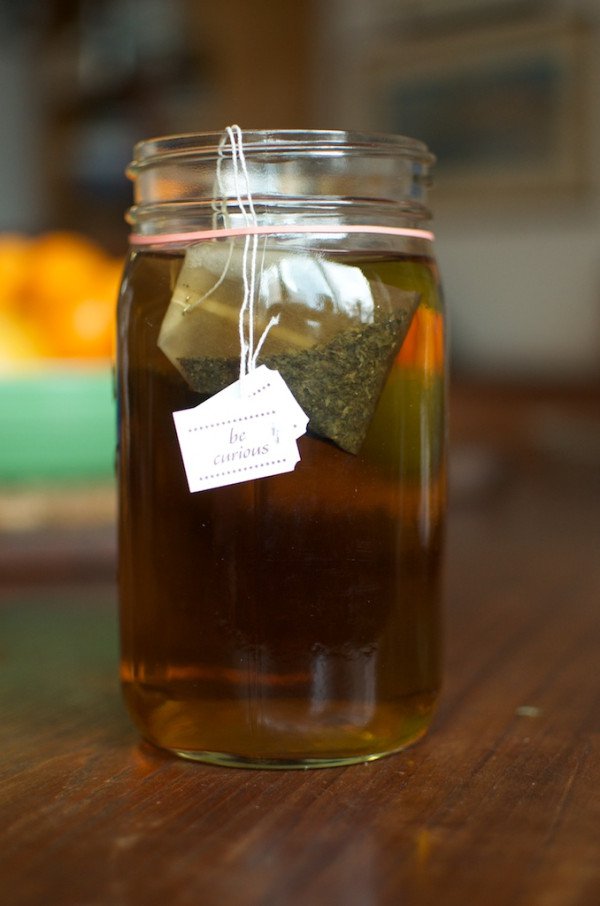 source