It is Christmas! The most beautiful time of the year is about to come in a few days. Are you ready for the festive spirit already? Looking for some fancy holiday manicure ideas to dress up your nails? We have made a collection of the most beautiful Christmas nails to inspire you. Our gallery below will encourage you to try some designs that are a bit more festive for the big day. If you are getting ready for the holidays by painting a winter wonderland on your nails, then don't miss our cheerful Christmas nails gallery.
There are endless cut Christmas nails options that you can choose from. From candy canes to glitter and ornaments to snowflakes there are so many different motifs that you can use for your festive manicure. If you feel like Christmas designs are too much for you, then you can choose some pale nails art designs in any of the colors of winter: red, green, white, blue…. Christmas offers many sorts of inspiration and ideas that will make a statement on your nails. All you need to do is to put your creativeness on max. If you are yet lacking ideas, scroll down the page and you will get absolutely inspired.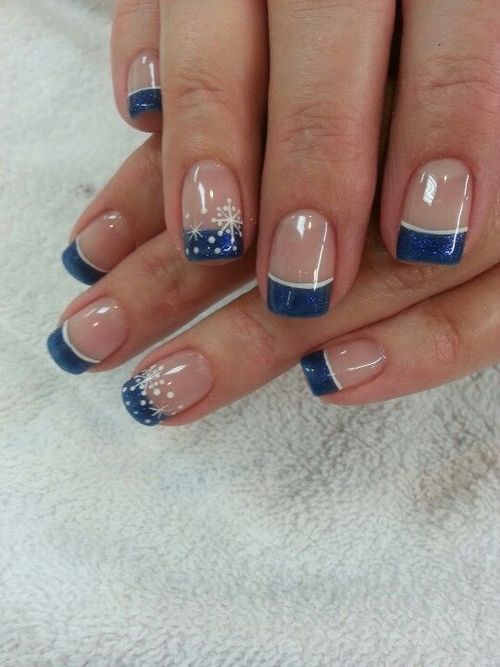 source
Frosted snowflakes
Another way to insert snowflakes into your Christmas nails art design is to try the effect of frosted snowflakes. Make your nails feel as magical as the season with these amazing frosty pearlescent white polished snowflakes over a dark blue base. You can add some glittering elements for a more wintering effect.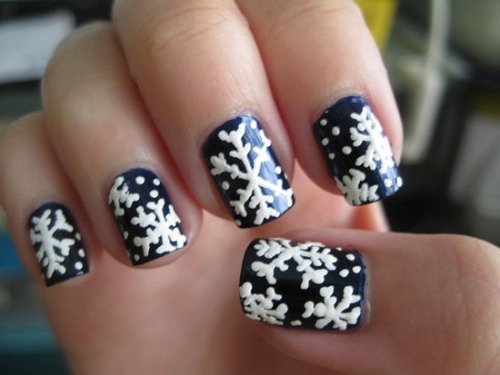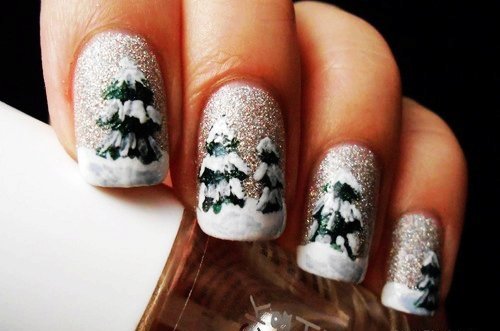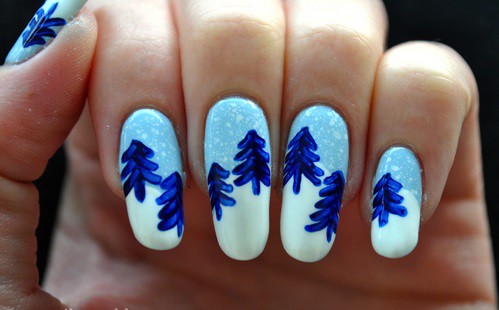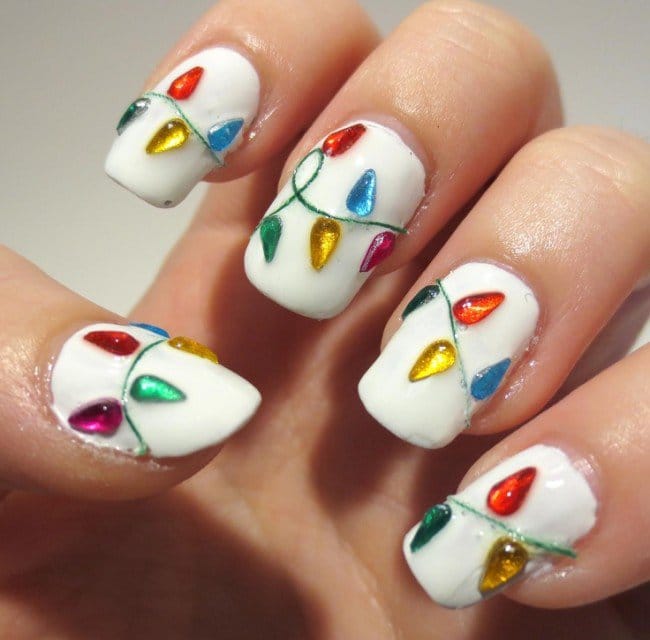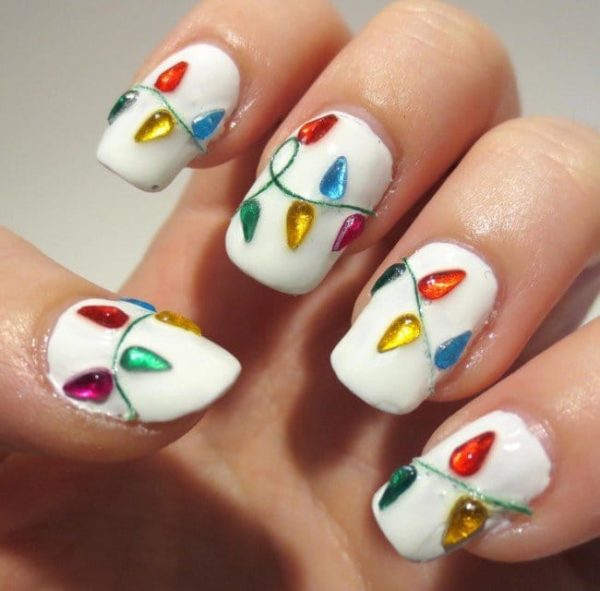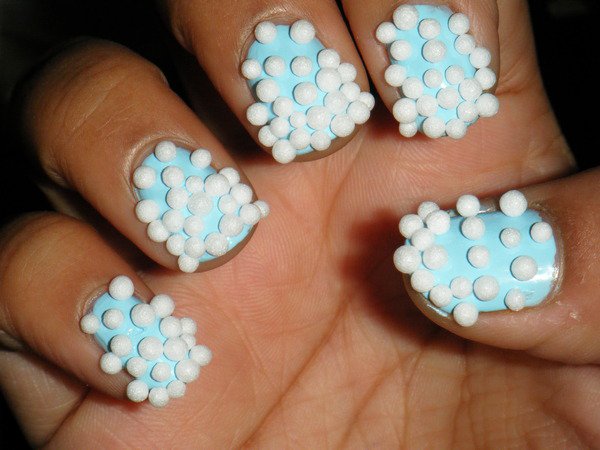 source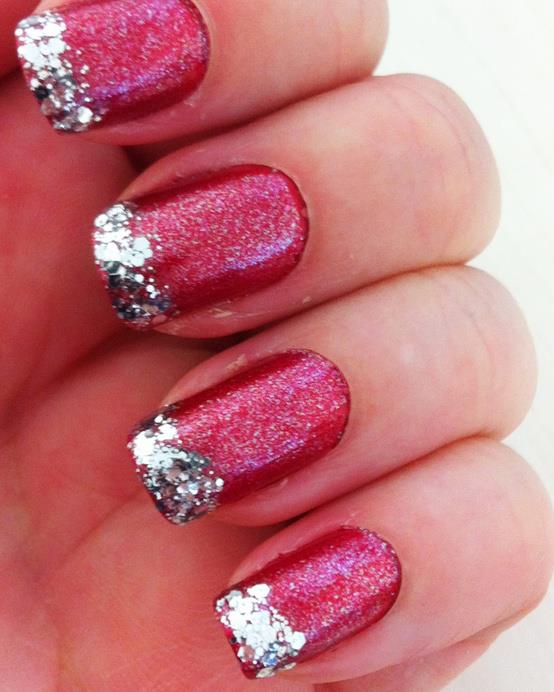 Gold trees
White polished nails with a green Christmas tree over them is always a winning combination when it comes to festive nails. This year, try to mix and match the things! Instead of the green Christmas trees, go for a green nails base. Then paint some Christmas trees over it using white or even gold hues. Decorate with red Christmas tree ornaments for an even more holly effect.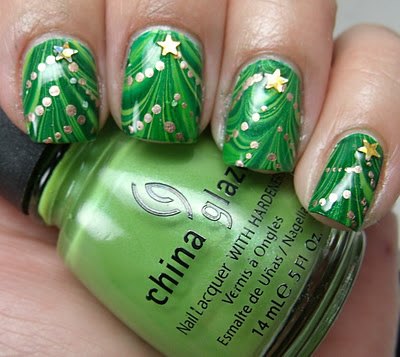 source
Cherry snowflake
If you want some magical Christmas nails, then why don't you try this magical duo of red base and white snowflakes? These nails will pop against your winter wardrobe. Red is the most eye-catching manicure ever! There is no doubt about this. But, when it comes to Christmas, red nails decorated with little white snowflakes are simply the winning combination.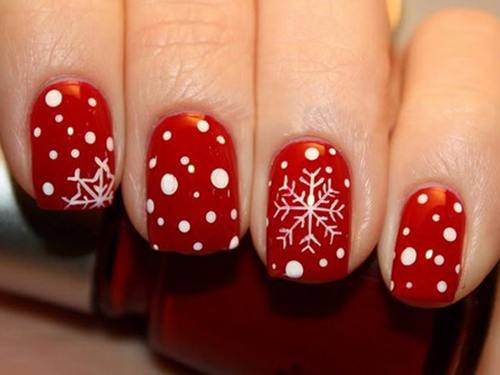 source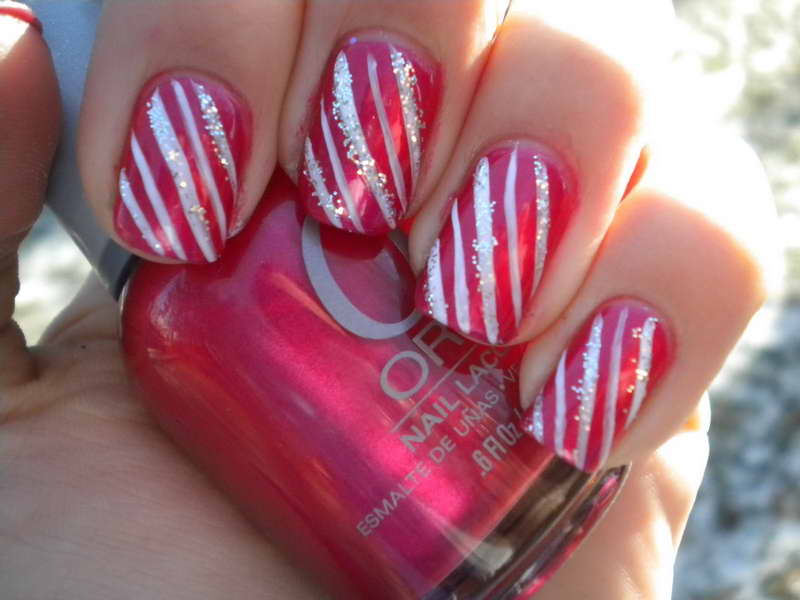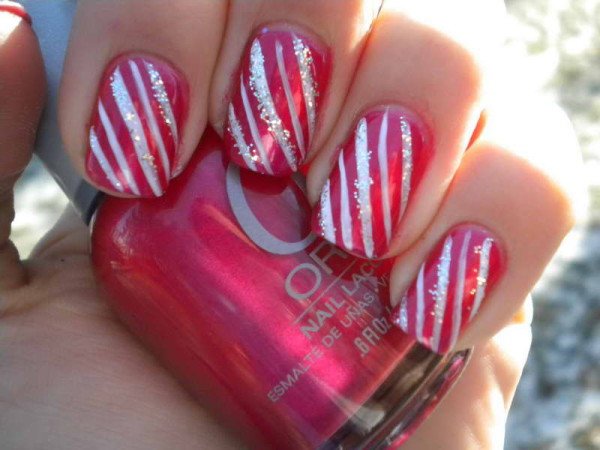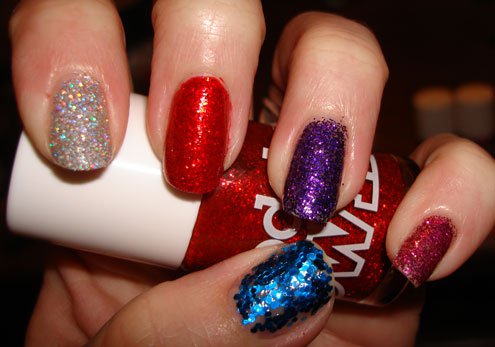 Foil gold tips
If your most favorite manicure idea ever is French manicure, don't worry this winter the timeless French manicure is popular too. The only difference between classic French manicure and Christmas French manicure is that in the festive Christmas nails you can add some gold details. You can teem the classic French tips with metallic glam, or you can add some decorating lines over your white tips. Both designs are super easy to do and are so casual that the design will last you even after the holidays.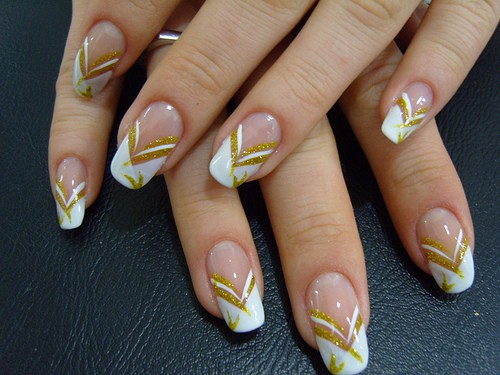 source
source
Gift-wrapped
Presents are another of the details that you can choose to decorate your Christmas nails. Choose some green-colored gifts with red ribbons for a more festive look. You will be surprised by the amazing nails art design you can create this way.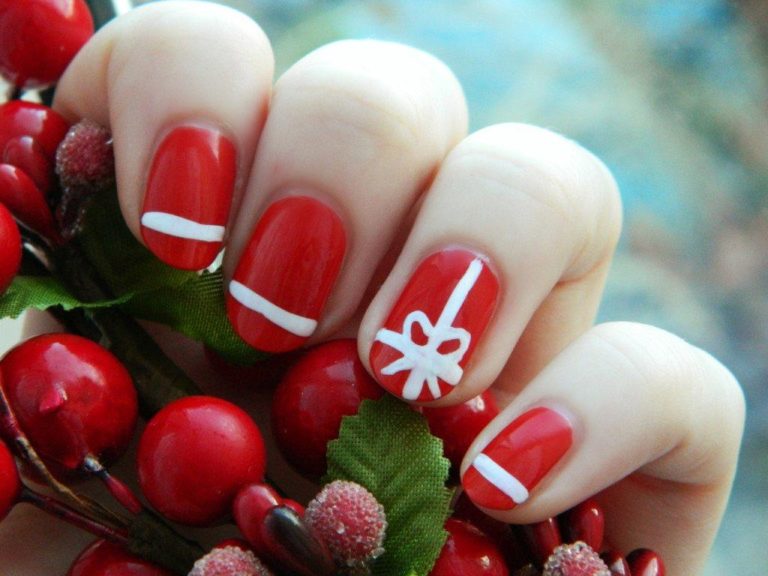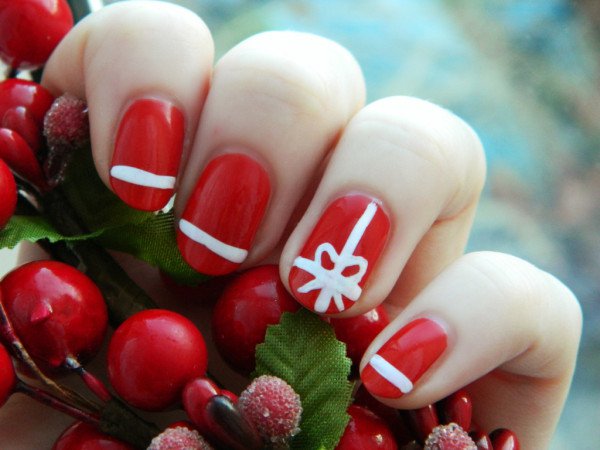 Cherry red plaid
Plaid is definitely the most popular Christmas pattern ever. If you want a manicure matching your plaid outfit, then don't miss trying some cherry red plaid Christmas nails. This nails art design is so easy to do that you don't even need to visit a manicurist. You can easily paint your nails in the plaid pattern on your own. All you need will be red, green, and white nails polish.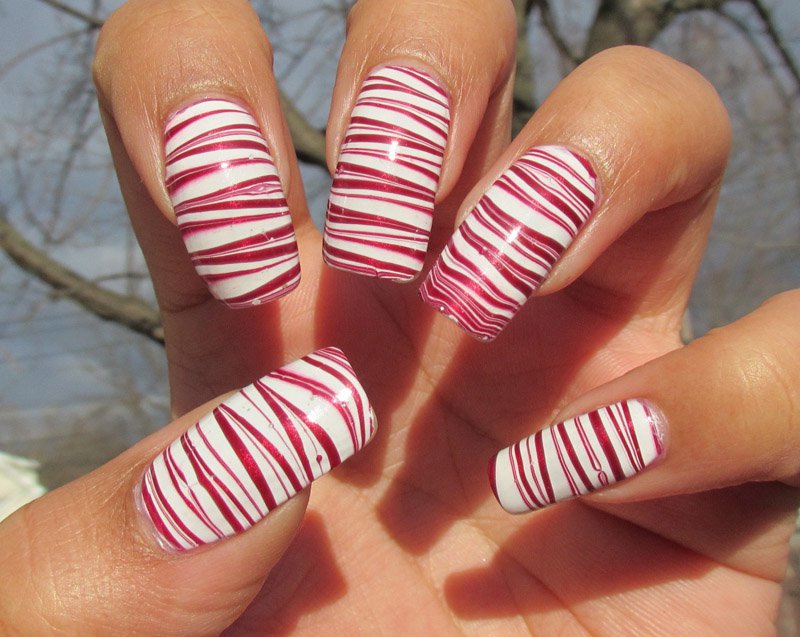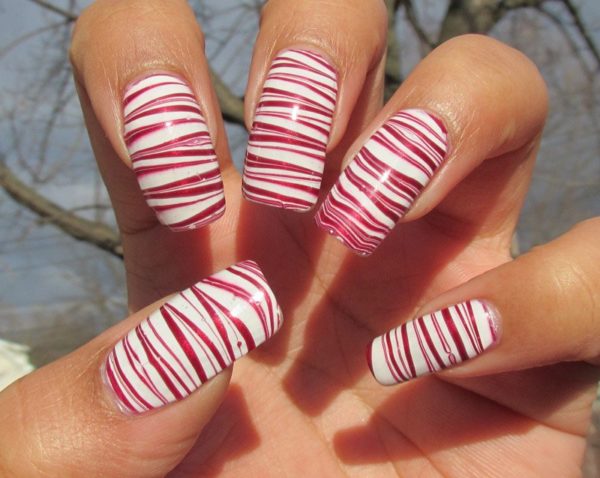 Candy-striped
If candy canes are your Christmas treat of choice, then these Christmas nails will look right at your home. Candy canes are definitely offering you the most playful holiday manicure ever. You can paint one big candy cane on each nail, or you can paint more little candy canes on each or on only one nail. The choice is up to you.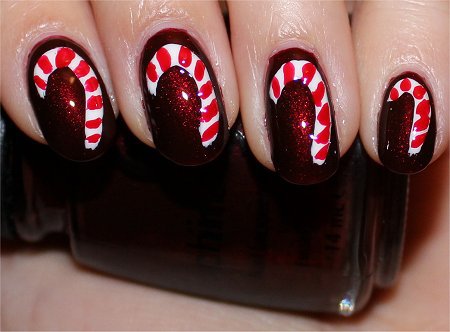 source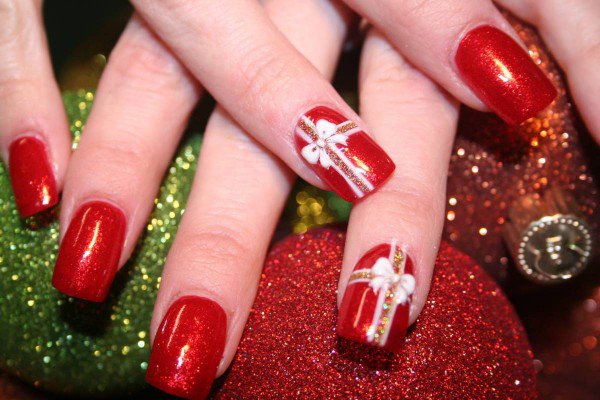 source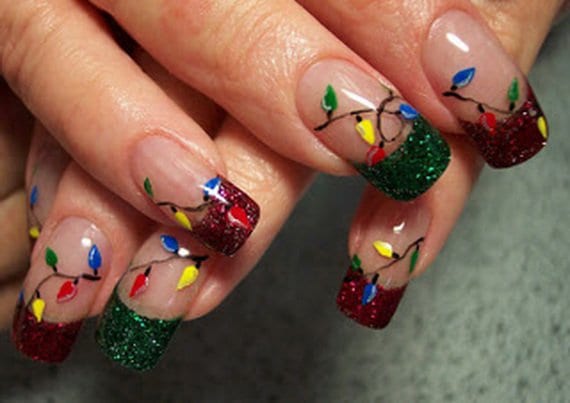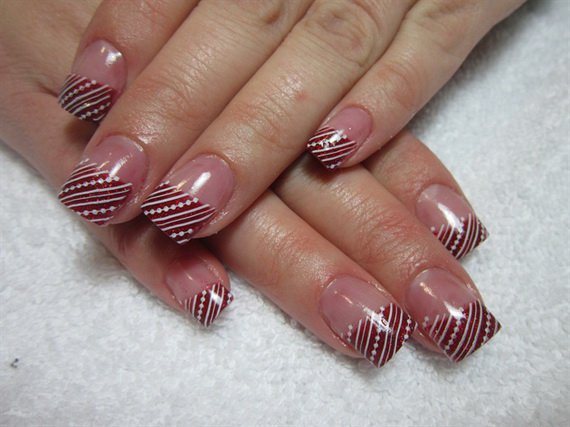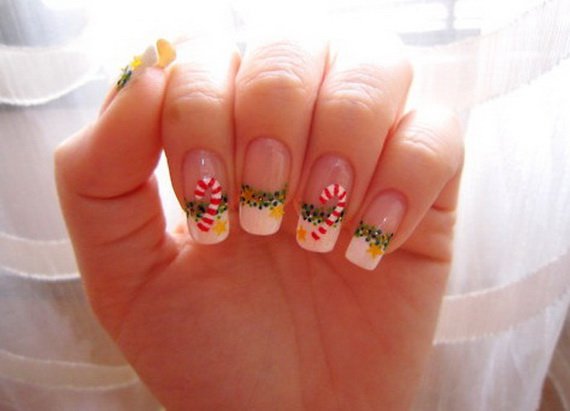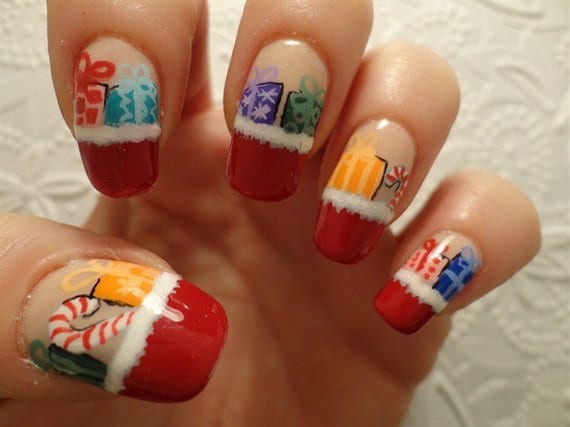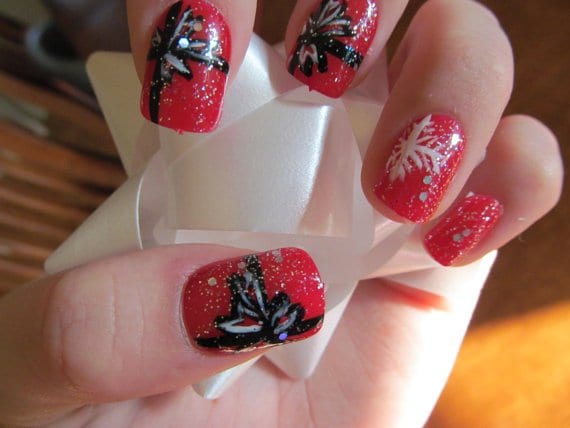 Holiday wreaths
Another inspiring idea for Christmas nails is to paint some decorative Christmas wreaths on your nails. Choose green for the wreath so that you can give it a more natural look. Decorate the wreaths with red or gold ornaments and ribbons and voila, you get your perfect festive manicure.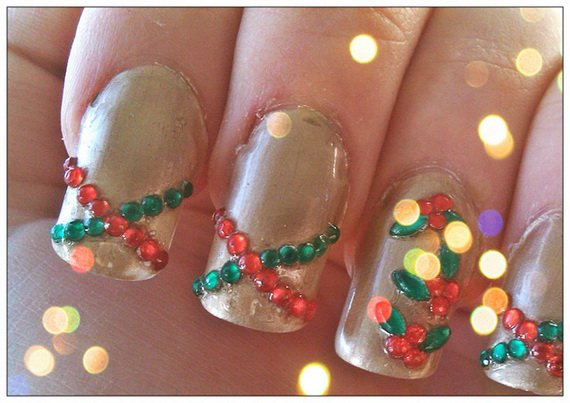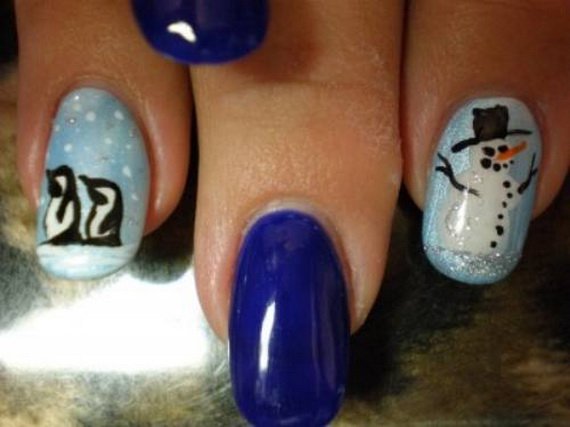 Holly accents
Christmas is the season of decorations. If you have already decorated your home, remember that Christmas greenery does not just belong in the home. It is time to decorate your nails too. Choose some pale nude base for your nails, and then decorate them with some holly accents. Decorations in green and red are the best choice to make.
Did you like our selection of the most eye-catching Christmas nails? Which one is your favorite? Will you try any of them?