With it being the middle of winter right now, you may not be thinking much about buying or wearing bathing suits because you're more focused on staying warm and cozy inside. However, if you're planning a trip to a tropical locale sometime soon or just want to prepare for the warmer months, it pays to keep an eye on some of the latest trends for swimwear.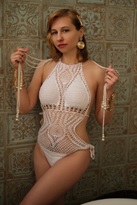 Long Sleeves
With increasing numbers of people getting diagnosed with skin cancer these days, and more focus on having clear, porcelain skin, it's no wonder that long sleeves are having their day in the bathing suit limelight. While it used to be just kids that got kitted out in rash-guard style suits, in 2022, more women will be wearing long-sleeved pieces, and not just in one-pieces either. Choose a product like this to cover up your skin more, especially if you're fair or know you'll be spending many hours at a time out in the sun.
Cutouts
Cutouts have been popular in fashion for several years now and continue to make a regular appearance in bathing suits, with 2022 being no exception. It has been one of the most popular looks so far from various swim week shows, although each designer tends to place their cutouts in different spots. These variations mean, though, that you should be able to find a swimsuit that has cutouts in a place (or two or three) that you feel comfortable exposing more. Choose from slit or keyhole details around the hips, breasts, stomach, or chest, as it works for you and your body shape and comfort level.
One-Shouldered Bathing Suits
When you're next ready to shop for affordable bathing suits for women, think about whether you might like to opt for a one-shouldered option for something a bit different. This is a clever way to show a little more skin while at the same time not putting it all out there. It may not be the most practical option when you're swimming a lot of laps or in the surf or pool with young kids who may pull on your suit, but it does look cool and comes in both one-piece and bikini solutions for you to choose from.
High-Waisted Bottoms
If you're a fan of a vintage-style look or like to have some fabric help hold a tummy in, you'll be pleased to know that high-waisted bikini bottoms are all the rage in 2022. Enjoy the extra coverage they provide you around the stomach and have fun pairing these kinds of pants with tops that are either bandeau style, triangle, halter-neck, or flowy tankinis, among others. High-waisted bottoms look lovely on women of all shapes, sizes, and ages and are both feminine and comfortable. Select from solid single-color options or bright patterns and prints as suits your tastes.
Ruffles
If you're a girly girl who loves adding some cute flounce to her fashion, or you generally avoid styles that are too flirty and feminine but want to start adding some more softness into your closet, you might like to consider buying a bathing suit with ruffles on it. Flounces are becoming increasingly popular on both bikinis and one-pieces, and they can help show off your shoulders and provide a sexy look without being too daring or exposing.
Crochet
If you dig a bit of a homespun vibe, you might be keen to buy yourself a crocheted swimsuit for this summer. You might worry that this trend is a little more risqué than you're used to, but you can pair a crochet one or two-piece with a cute cover-up to match or opt for a product that embellishes a simple suit with crochet designs over the top, so you feel more covered.
Square Necklines
Last summer, sculpted bras and triangle tops were all the rage with swimwear, but now designers are releasing wares with more square-cut necklines, making for something new and different. This trend is good for many figure types since it can allow you to show off some cleavage or a sexy decolletage while still keeping things tasteful.
Pop Art and Other Fun Prints
In 2022, you won't have to look far to find swimwear options that take advantage of daring prints to draw attention and create a wow factor. If you like a bold look, consider products with bright, splashy prints that are fun, fresh, and interesting. For instance, you'll see many colorful prints that pay homage to pop art, plus plenty of options that bring out the wild side, such as those in leopard, zebra, or cheetah prints.
Other trends you might like to get in on in 2022 include bathing suits with pockets, belts, or open backs, or those showcasing tie-dye fabrics or lace-up sides. There's something to suit everyone with this year's trends, so start shopping today to find a new swimsuit to get you ready for beach season.