Luxury brands – especially in fashion – often get associated with women. But men can be luxurious, too! Contrary to the popular belief that men are only into expensive watches and luxury cars, a lot of men are actually getting into luxury fashion just like their female counterparts.
As with women, many lads also carefully choose what brands to wear and patronize. They can also be very meticulous when it comes to the clothes they wear, even if we often associate men with "the same suit and tie." For guys who are just discovering the wonders of luxury fashion, scanning through different brands can take a while. To help with that, we picked five of the best luxury brands for men, as seen on Marcus Sherman.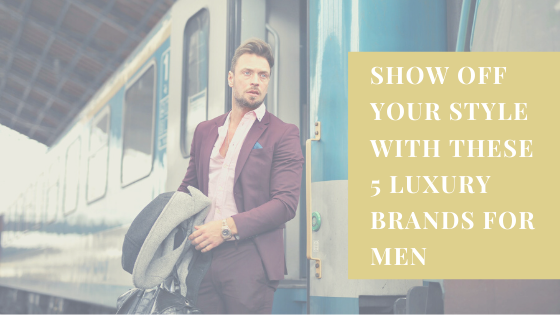 Bottega Veneta
Bottega Veneta is famous for their shoes and bags. In fact, their square-toed sandals and unstructured bags are all the rage in women's fashion these days. However, luxury item enthusiasts know that there's more to Bottega Veneta than its leather goods. Aside from these fashion accessories, the brand also makes ready-to-wear pieces for men such as shirts, jackets, and coats.
Bottega Veneta meticulously designs its products. If you're into styles with a unique aesthetic, you should get Bottega Veneta pieces. The brand's fans love its classic entries that are timeless yet luxurious. As such, men who want to wear clothes that fit any formal occasion can rely on Bottega Veneta suits to get the job done.
Off-White
Off-White is widely known for luxurious streetwear pieces. They're so widely-known that the brand has quite a lot of knock-offs on the market today. You've probably seen a lot of celebrities wearing Off-White pieces with their iconic logo and big-striped designs.
Off-White's now considered to be one of the biggest brands for men, courtesy of music icons such as Kanye West, Drake, and Rihanna wearing pieces from the brand from as far back as 2014. If you want to get that iconic trendsetter look, go ahead and take a look at Off-White's latest collection. They also offer accessories that can cap off your streetwear look.
Salvatore Ferragamo
Aside from leather accessories like wallets and belts, Ferragamo also offers well-crafted and classy pieces that had been designed for smart casual to formal styles. What makes Ferragamo distinctive is its innovative color combinations and usage of materials, which explains why many describe their pieces as the perfect in-between of classy and eccentric. Salvatore Ferragamo's collection is excellent if you want a little spazz without compromising elegance. 
Giorgio Armani
Armani serves as proof that luxurious pieces don't necessarily have to look neat and overly-minimalistic. Aside from bags and watches, Armani also offers well-crafted suits with unique patterns and designs like plaids and other unique motifs. Compared to other luxury brands, Giorgio Armani explores different fabrics such as pure linen and silk twill, which makes each Armani piece stand out. Any man with a penchant for luxury should have at least one Armani in their wardrobe.
Stella McCartney
For quirky, high fashion pieces, Stella McCartney's a virtuoso. The brand isn't afraid to experiment with bold and eccentric designs like leopard-printed suits and pants, as well as bright-colored sweaters. They only have a few pieces in every collection, so every design and ensemble is unique and considered a limited edition. Stella McCartney also promotes sustainability by using recycled materials and vegan products.
The Bottom Line
We may often associate luxury fashion with women, but luxury fashion brands prove that men can be just as stylish. Contrary to what most people think, men's suits and ties can be transformed into unique yet elegant pieces when handled by the right brand. If you're a man passionate about fashion, there are lots of luxury brands out there that will likely tickle your fancy.