One of the best parts about summer is getting a great tan that makes you glow from the inside out. But getting the perfect tan is a lot harder than people think. Between sticky tanning lotions, potentially skin damaging tanning beds, and awkward tan lines, achieving the perfect tan can seem impossible! CoolTan is changing this common frustration with their unique line of Tan Through swimwear and swim shirts and are the coolest way to get a tan this summer.
CoolTan wanted to make getting the perfect tan as easy as walking along the beach. The secret to CoolTan's Tan Through swimwear and shirts is their specially formulated Microsol fabric, which is made with a unique knitting technology to create millions of tiny pores in the fabric. These pores let in around half of the sun's light to pass through the suit, letting you get a tan about as fast as you would with a medium-level sunscreen. The porous fabric allows lets you stay cool and comfortable as it lets water and air pass right through the suit and dries up to 3x faster than regular fabric. The fast-drying fabric makes it the perfect option for bringing to the beach, on vacation, or going boating, as you won't have to sit around in a soaked suit and can stay cool and dry while getting the best tan ever.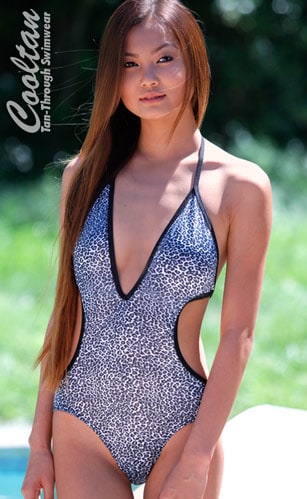 source
CoolTan's swimwear come in a variety of different sizes, styles and patterns to help you find your new favorite swimsuit that helps you get the perfect tan. CoolTan knows that not everyone wants to bare it all in a bikini and offer more modest, but still hot, one-piece styles to choose from as well to fit any comfort level. CoolTan styles include structured, tank, and monokini one-piece suits to two piece string bikinis and halter top bikinis, all featuring their revolutionary Tan Through technology. And even though the suits are incredibly light and airy, they are also not see-through, even when wet.
If you want to stay cool this summer while also getting the hottest tan, check out CoolTan's line of Tan Through swimsuits and swim shirts. You're guaranteed to stay tan, look great, and with no more awkward tan lines!